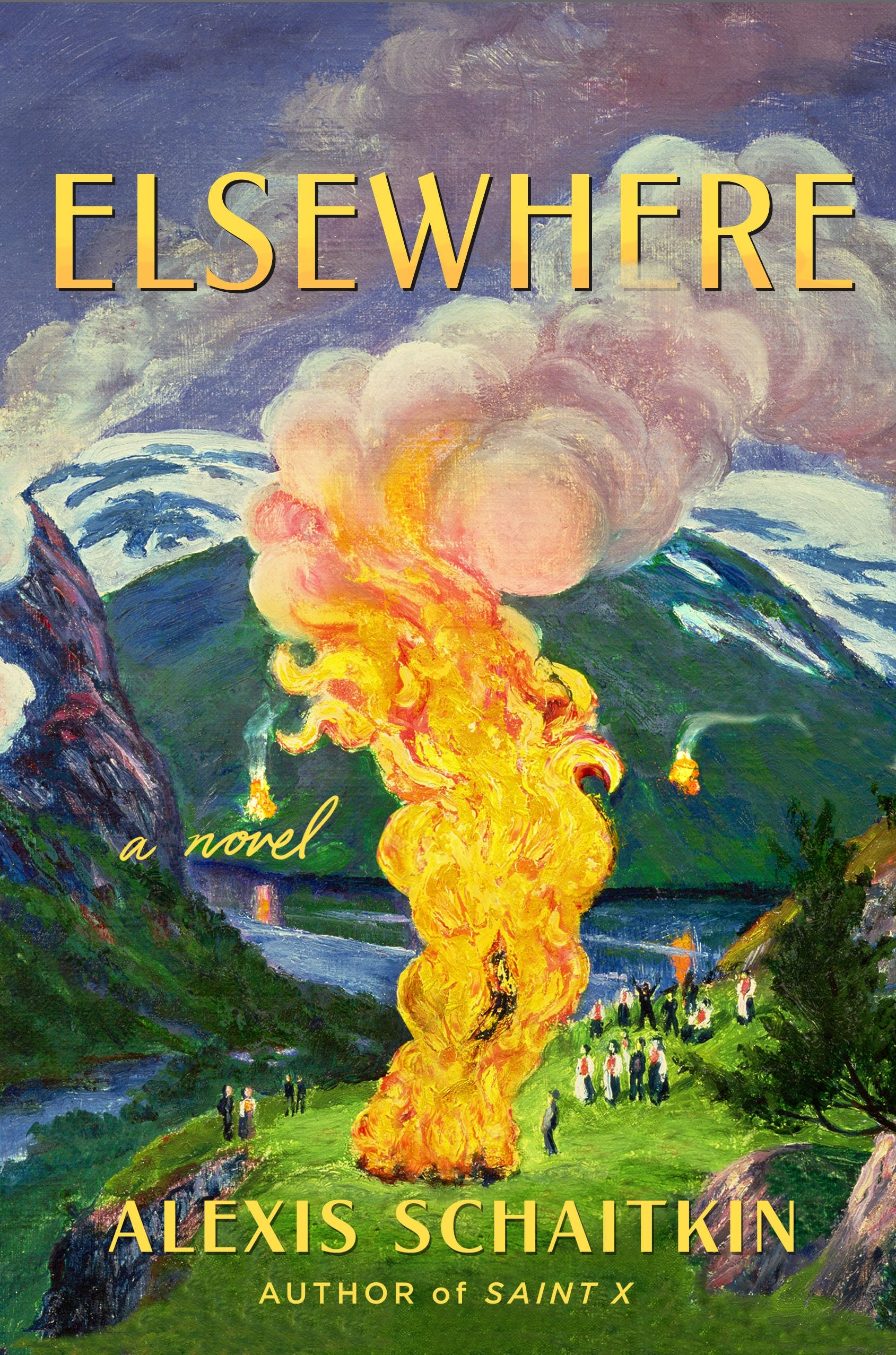 Rating: 9.5/10
Synopsis:
Richly emotive and darkly captivating, with elements of Shirley Jackson's "The Lottery" and the imaginative depth of Margaret Atwood, Elsewhere by Alexis Schaitkin conjures a community in which girls become wives, wives become mothers and some of them, quite simply, disappear.
Vera grows up in a small town, removed and isolated, pressed up against the mountains, cloud-covered and damp year-round. This town, fiercely protective, brutal and unforgiving in its adherence to tradition, faces a singular affliction: some mothers vanish, disappearing into the clouds. It is the exquisite pain and intrinsic beauty of their lives; it sets them apart from people elsewhere and gives them meaning.
Vera, a young girl when her mother went, is on the cusp of adulthood herself. As her peers begin to marry and become mothers, they speculate about who might be the first to go, each wondering about her own fate. Reveling in their gossip, they witness each other in motherhood, waiting for signs: this one devotes herself to her child too much, this one not enough—that must surely draw the affliction's gaze. When motherhood comes for Vera, she is faced with the question: will she be able to stay and mother her beloved child, or will she disappear?
Provocative and hypnotic, Alexis Schaitkin's Elsewhere is at once a spellbinding revelation and a rumination on the mysterious task of motherhood and all the ways in which a woman can lose herself to it; the self-monitoring and judgment, the doubts and unknowns, and the legacy she leaves behind.
Review:
"And we could do nothing but leave our daughters with some trace of ourselves and hope that maybe, someday, they would come find us."
I never expected to love Elsewhere as much as I do. I got an early copy through Netgalley and shamefully let it sit there long after the release. Flash forward to now, where I'm going to buy a personal copy for my shelves because I thought it was such a potent novel.
This book isn't going to be for everyone. There's some people who aren't going to be able to accept that we don't get a word-for-word answer on why these women disappear randomly. I think it makes it even more beautiful that we don't get something concrete. After all, this book is for mothers. Most of us have seen a mother lose her shit. Sometimes it seems random, or they can't explain all of the little things that made the stepping stones to this explosion or breakdown. Or maybe you've seen a mother retreat into herself, losing a bit of what made her stand out as a friend, family member, or partner. This is like that, but told in a dystopian-like literary world.
This book is about society's dependence on mothers and at the same time, their disdain for mothers. It's about how mothers sacrifice a piece of themselves to build the next generation. Sometimes these mothers lose themselves completely and sometimes they come out the other side just fine. Sometimes we stand by and watch the mothers around us emotionally disappear into themselves without stepping in. In Elsewhere, the community is willing to let these women physically disappear if it means that their idyllic world continues.
"I saw then that he was drawn not just to me, but also to the dark potential all women in our town carried inside us, and I was startled to realize he feared me a little. I began to know what women here had always known: We were endangered, but we were dangerous, too; our peril was also our power."
And the thing is, even if we could flash forward into our lives and see how much we would struggle, most of us mothers would take that burden on without a thought if it means we get to love our children, even when they grow up and leave us and have lives of their own. Even during the times that they hate us and don't remember the years we rocked them to sleep or the way we planned their birthdays around their favorite characters. I don't think there's a way you become a good mother without pieces of yourself evolving, but there's no need for the totality of surrender that society has come to expect.
Simply put, Elsewhere encompasses the feeling of motherhood—how we can be simultaneously worshipped, sacrificed, and forgotten.
"They did not exalt mothers as we did here. But then, nor did they sacrifice them."
At the same time, this book is about community and the feeling of home. How the place you grew up in is the only place that could feel like home until you go elsewhere. Then, when you are elsewhere, you'll achingly miss the things that were unique to your childhood home. Some of those things will always be an intrinsic part of your being, and then you come back and certain things are a bit dingier or smaller than you remembered. You worldview is larger. Yet, when you leave, you still carry that place with you, whether it's the sense of community, or a certain food that you'll crave, or a shop you loved to visit. It's a cycle, a yearning for the familiar while craving new and exciting things.
Elsewhere is an immersive, visceral novel. Not everyone will connect with it, but I sure did. Alexis Schaitkin evoked feelings in me that I didn't fully realize until hours after I finished the novel. Stunning, intelligent work. The comparison to The Lottery is apt, for me personally, if only because the same powerful feelings were awoken in me. It is a brutal tale that stuck with me for life and Elsewhere will be the same. If you mashed up The Lottery and The Grace Year or Handmaid's Tale, you'd have Elsewhere.
Thanks to Celadon on Netgalley for my review copy.
"He didn't understand that a mother and daughter cannot be protected from one another, that the harms that pass between them cannot be mitigated because they are also expressions of love."