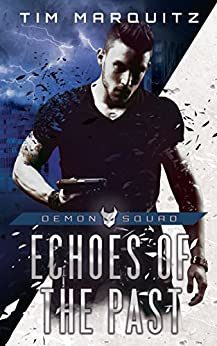 Rating: 9.0/10
Synopsis
Absence makes the heart grow fonder? Not when you're the Devil's nephew.
An unexpected message gives Frank the answer he's sought for years–Where did God and Lucifer go?–but the knowledge brings its own dilemma as inter-dimensional war looms, threatening to engulf the Earth.
Tasked with the planet's defense, Frank scrounges for a plan and finds a piece of his past better left behind. If the aliens don't kill him, what he learns just might.
Review
As I've said in previous reviews, I'm a huge fan of this series. The world building is excellent, creating a town in Texas called El Paseo that bears a striking resemblance to a similarly named town in West Texas, only with more demons and supernatural shenanigans. We also get some peaks into the afterlife realms, especially Hell, since Frank has a familial connection with the departed Lucifer. It really helps to differentiate the series from the usual New York or Chicago based urban fantasy.
As in the previous books, the characters really shine. Frank Trigg is such a fun character, with his constant snark and self deprecating humor, who is always expected to go bad because of his demonic heritage. Yet somehow he always ends up doing the right thing, even if its only by accident. Its hilarious how many times Frank, who has above human level strength and abilities, ends up on the losing end of a fight, in the most hilarious ways possible.
The supporting cast is just as good. Frank's cousin Scarlett is just such a great foil to Frank. She is serious, righteous, and takes fighting seriously. She also calls him on his crap constantly. She is definitely the voice of reason Frank needs sometimes. Katon, the vampire with a conscience, is, as ever, a reliable fighter to help Frank in the most dire situations, and Chatterbox, Frank's "friend", basically an animated zombie head, is always there to provide comic relief, and a timely warning or two. Frank even has a love interest who isn't insane for once. Karra, daughter of Longinus, a serious badass in her own right, is becoming a more integral part of Frank's life, and this leads to some interesting situations, as Frank now has something to lose for the first time in centuries.
This book adds some new antagonists to Frank's life. These include Rebecca Shaw, head of the Department of Supernatural Investigations, which has been tasked with controlling the supernatural outbreaks that have been happening more frequently in the public eye. She is a supernatural herself, and a serious threat to Frank as he tries to head off supernatural disasters. There are also some new demonic threats left over from when Lucifer was still on earth, and these threats spill all over Frank's life. The tension and danger levels in this story are cranked up to 11!
The narration for the audiobook was performed by the very talented Noah Michael Levine. Four books in and he has really made these characters his own! He does such an amazing job differentiating the characters. Hell, he brings a talking zombie head to hilarious life, and his narrative pacing is literally some of the best in the business. If you are into audiobooks at all, I recommend checking out this version as well.
Sometimes it seems like a series can start to run out of steam after the first trilogy of books. That is definitely not the case with the Demon Squad. The characters keep evolving, the world building gets better with every book, and you become seriously invested in where the story is going. Echoes Of The Past is an excellent addition to the series, and I hope more people discover Frank and company as well. Everyone needs some snark in their lives. I will highly recommend this book, and this series as a whole!