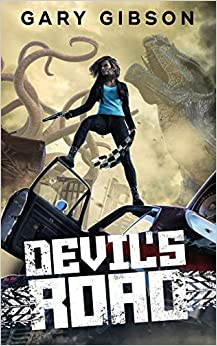 Rating: 8.0/10
Synopsis
GUNS, CARS AND KAIJU: Fast & Furious meets Pacific Rim
Nobody has taken part in the Devil's Run annual road race as often as Dutch McGuire and lived to tell the tale. The racecourse circumnavigates the post-apocalyptic ruins of Teijouan, and with a choice between being eaten by the monstrous Kaiju that prowl the island's devastated cities or murdered by her fellow racers, the odds against surviving another Run, let alone winning it, are slim.
Dutch doesn't care about the odds nearly so much as she cares about getting back behind the wheel of her beloved Ford Falcon – except for one problem: she's spent the last five years incarcerated in a high-security prison for her part in a heist.
So when a crooked billionaire offers to put her back in the race on condition she uses it as cover for a secret retrieval operation, she can't refuse.
Can Dutch survive assassins, monsters, and psychopathic drivers long enough to complete her mission as well as take part in the race – or is this the year death finally catches up with her in a blazing tangle of wreckage?
Review
What can more entertaining that a pedal to the metal death race through Kaiju infested ruins? It's a mashup of Wacky Races, Fast and Furious, Death Race, Mad Max and Pacific Rim all rolled into one!
This is a short read, more of a novella that injects adrenalin straight into your veins.
The blurb is what the book is. No frills, lots of thrills. We get straight into the action from the get go, as Dutch is sprung from a high security prison and offered a deal of a lifetime by a mysterious billionaire. Participate in a death race that nobody has won, retrieve a mysterious cargo and get rewarded….if she survives.
The action is rapid and unrelenting as we find out along with Dutch that a even a death race with Kaiju is not straight forward as it seems. Throw in mad scientists, shady billionaires, gangsters and a mission that barely scratches the surface of the plot, all packed in this dynamite of a novella.
As a reader my only gripe is the shortness of the book. The world is so fascinating that I wished the author would write a full trilogy. We barely get to see the world outside of the immediate plot of the race, which was a shame!
Overall it was so much fun to read. We get to see all kind of souped up super cars, shady schemes but throw in rifts, kaijus and sci-fi gimmicks and it's just super enjoyable.
Does Dutch manage to survive the race? Does she outwit the forces pulling the strings from the shadows? Red the book, get to the finish line and find out!