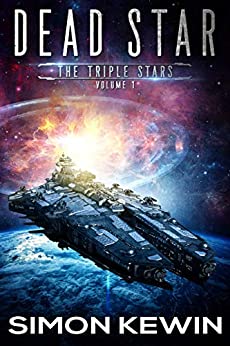 Rating: 8.5/10
Synopsis
A hidden trail among the stars

The galaxy is in flames under the harsh theocratic rule of Concordance, the culture that once thrived among the stars reduced to scattered fragments. Selene Ada, last survivor of an obliterated planet, joins forces with the mysterious renegade, Ondo Lagan.

Together they attempt to unravel the mystery of Concordance's rapid rise to galactic domination. They follow a trail of shattered starship hulks and ancient alien ruins, with the ships of the enemy always one step behind.

But it's only when they find the mythical planet of Coronade that they uncover the true scale of the destruction Concordance is capable of unleashing… 
Review:
I came across this book as part of our blog's allocation for SPSFC (Self Published Science Fiction Competition) and boy, am I glad that I did. This was a lights out knock out read and pretty much my personal favourite from our bunch.

As the blurb says, Selena Ada is the last survivor of her planet that got obliterated with her watching. Her family gave it all up, so she could escape and survive, which she barely does. Waking up from the terrible ordeal with a mysterious renegade, Ondo Lagan, she not only finds herself mentally traumatized with the losses of everything she has ever known, but also physically recovering from the 'exotic' treatments that Ondo had to resort to, just to keep her alive. As if her ordeal wasn't enough, she realizes that everything she thought she knew were just the first layer in a maze of hidden mysteries with some far reaching (sometimes literally) consequences.

The book starts off as we see the tragedy and recovery of Selena with no clue on what is about to come. The segments were written bring out the physical and mental anguish realistically. Then we get to the segments where mystery begins and the plot takes off in leaps and bounds. Making things worse is that she's going up against the Concordance, the preeminent, totally dominating and ultra powerful religion that is dead set of keeping the mysteries as such and doesn't mind dishing out disproportional punishment's … like the destruction of entirety of Selena's planet! Why is the Concordance intent of keeping mysteries hidden and history blurred? Who is Ondo and what to make of his shattering revelations of her own past? The rest of the book makes up for her following the crumbs left behind trying to unravel the events that led to her loss and her planet's destruction.

The world building is spectacular and sublime. The all powerful dominance of Concordance feels like a evil that cannot be even contested far less beaten. With their Cathedral Ships and weaponry, they make for a top notch sinister opponent. There's some political machinations at play which just adds to the complexity of the mystery. Ondo and his technological and medical marvels and his stealth ship just adds another angle to the mystery. The plot alternates between current while dropping hints of the historical war that lead to rise of concordance and rewriting of history. Inter-spread with advanced tech, FTL travel, remnants of historical lost civilizations, which get clearer as we follow Selena on her adventures. The prose flows smoothly as the world unravels organically as Selena tries to figure her way out of her predicament. It's just easy to read and just lead me one page after another as I got lost in the universe till the end!

Overall, this is a brilliant sci-fi read. If not for the other reads in our allocation, I'd have dived into the trilogy back to back and binge finished that as soon as possible. I still am eager to get back to Book 2!

A definitely must read for all sci-fi fans!