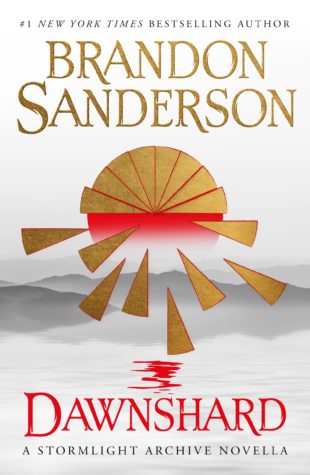 Rating: 7.5/10
Synopsis:
From Brandon Sanderson author of the #1 New York Times bestselling Stormlight Archive and its fourth massive installment, Rhythm of War—comes a new hefty novella, Dawnshard. Taking place between Oathbringer and Rhythm of War, this tale (like Edgedancer before it) gives often-overshadowed characters their own chance to shine.
When a ghost ship is discovered, its crew presumed dead after trying to reach the storm-shrouded island Akinah, Navani Kholin must send an expedition to make sure the island hasn't fallen into enemy hands. Knights Radiant who fly too near find their Stormlight suddenly drained, so the voyage must be by sea.
Shipowner Rysn Ftori lost the use of her legs but gained the companionship of Chiri-Chiri, a Stormlight-ingesting winged larkin, a species once thought extinct. Now Rysn's pet is ill, and any hope for Chiri-Chiri's recovery can be found only at the ancestral home of the larkin: Akinah. With the help of Lopen, the formerly one-armed Windrunner, Rysn must accept Navani's quest and sail into the perilous storm from which no one has returned alive. If the crew cannot uncover the secrets of the hidden island city before the wrath of its ancient guardians falls upon them, the fate of Roshar and the entire Cosmere hangs in the balance.
Review:
I received a copy of this in exchange for an honest review.
Let's start by saying this is my first ever Brandon Sanderson book, I've always been intimidated by the length of his books and the series as a whole so I've never gotten around to picking one up. So when Titan got in contact with Dawnshard I wanted to see if I could jump in and get a feel for Sanderson's writing without committing to a gigantic book.
For me, the answer is yes. I jumped in with zero knowledge of The Stormlight Archive (I haven't even read the synopsis') and I found Dawnshard a fascinating and completely compelling read. I am sure that there are spoilers for the first 3 in the series (although I wouldn't know what they are), and I'm sure there are things I didn't understand, or get the significance of. BUT, I had a great time reading Dawnshard and I found Sanderson's writing so accessible that I actually found it really easy to understand what was going on.
Rysn makes for a strong main character who starts off lacking the respect of her crew, and almost looking for her next adventure. Her quest to save Chiri-Chiri, her companion creature, is what sparks the story and I found it hard to put down once it began. I found her story to be heart-breaking but also satisfying as you watch her grow.
While I still find The Stormlight Archive intimidating, being able to experience Sanderson's writing in this novella means that I'm no longer worried that the writing will be dense or hard to get through. If you don't mind spoilers and are looking for a way in, Dawnshard might just be that.