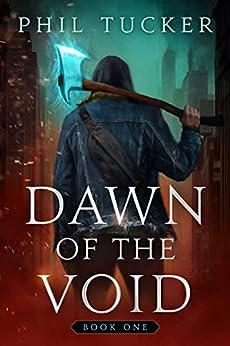 Rating: 8.0/10
Synopsis
Tragedy had reduced James to a nobody. Washed up and homeless in NYC, he thought his life was over.
Then a message appeared in his vision:
60,000 year countdown has ended
Nemesis 1 released
Please acknowledge
As the world falls apart, as billions die, as society collapses and all hope seems lost, James discovers a powerful truth: he was wrong to think himself a nobody. Summoning every ounce of grit and determination, he'll help forge a resistance that will defy humanity's near omnipotent enemy by taking the fight from the streets of NYC to the stars themselves.
And with the dawn of the Void, he'll become the most important person to have ever lived.
Review:
A raw, dark and haunting portrayal set during a apocalyptic event that is gripping from start to end.
Most LitRPGs I've read are usually post-apocalyptic in nature with the theme of MC picking up the pieces after the event. Phil goes a different way and set this book during the event as the MC and the rest of humanity try to cope with seeing their species being destroyed and unable to do anything about that.
The setting is dark and the tone sticks to the theme. We follow the MC who's trying super hard to barely survive far less help others. It's like trying to scoop out the ocean with a teaspoon, coming to grips with the fact that they can only save thousands while unable to stop billions from dying. The good stuff that happens is just a silver lining while the dark black cloud still rules the sky. I would stop short of calling this a Grimdark, but is certainly one of the darker LitRPG's I've read till now.
The character work is exceptional. Our MC James is a tragic "lost cause" of a human even before the apocalyptic event. A tragedy takes away his will to live and he just ekes out a survival as a depressed homeless man in NYC, floundering in the dark. His supporting cast is as f*cked up as him. From fellow vagrants, to those seeking to profit from the misery, it certainly is a bunch of mixed cast that you love and hate at same time. Beggars cannot be choosers and that's the themes that manifests itself in various ways.
The world building is realistically done. The political leadership foundering like headless chickens unable to cope, the bureaucracy and self delusional superiority of the US Military leadership who cannot come to terms with the fact they aren't the big dog anymore it is a unhealthy mix of chaos of streets coupled with lack of leadership or direction. Even those who adapt and are poised to cope are held back by the machinations of an inept leadership, which frankly is how I'd think we'd fare in real life when facing a apocalyptic event.
There's a lot of OP scenes we we see short term success but they are done well paling into comparison with the wider global conflict. The progression of MC is done well. At some point you realize he's getting OP powers, way ahead…but again there's a reality check forthcoming that reminding me that those OP powers are cool, but still not enough.
The closest I can think of something similar is the sci-fi TV show, Falling Skies (one of my favorites), so if you have seen that you'll like this. If you like this, but haven't seen the show…give it a go. The plot as a slight hint of Deus Ex Machina in the way it ends, but then it's a minor gripe to a series that has a whole load of positives.
Highly recommended!