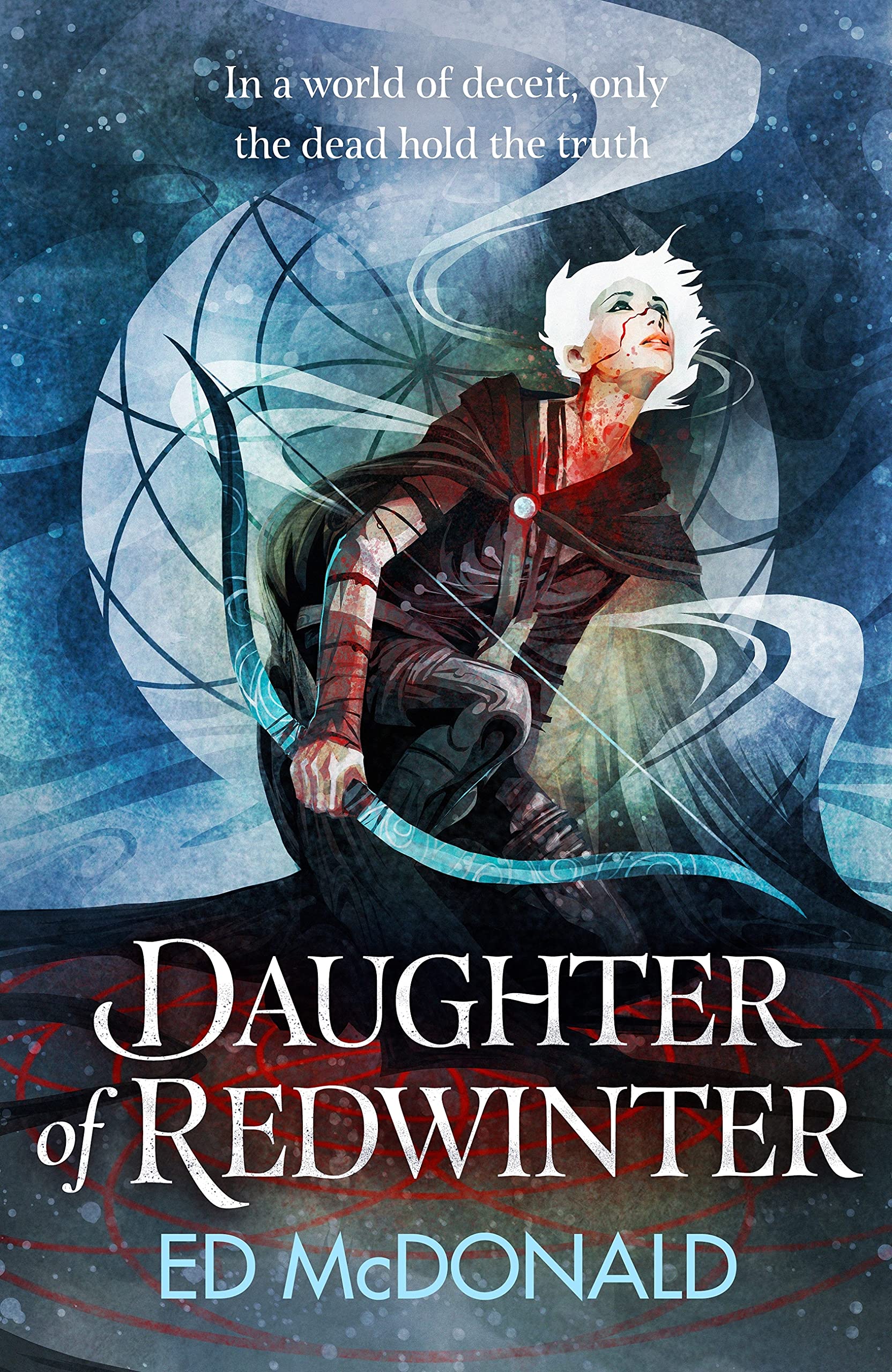 Rating: 9.5/10
Synopsis
Raine is seventeen-years-old and still on the run. She can see the dead, a secret that could get her killed. Seeking refuge with a deluded cult is her latest bad decision but rescuing an injured woman in the snow is soon revealed to be a horrific mistake. Hazia endangers not just Raine, but the whole world: she's escaped from Redwinter, fortress-monastery of the Draoihn, the warrior magicians who answer to no king or queen of the land, but to their own Grand Master. They will stop at nothing to retrieve what she's stolen.
Raine must survive by her wits, and her skill with a bow in a world turned upside down. A battle, a betrayal and a horrific revelation finds her herself inside Redwinter, where anyone caught communing with ghosts is put to death. As conspirators plot to release an ancient enemy, Raine's ability to see the dead might be their only hope, but to use her power would see her condemned.
Review
I like to start my reviews with some sort witty, funny or, on occasion, clever remark. But this time I just have this to say: Daughter of Redwinter is beauty and brutality personified, a perfect melding together of coming of age fiction and the pursuit of finding ones own identity in a world that doesn't accept you, the exploration of mental health and a character study of one of the most interesting and well realised protagonists I've ever had the pleasure of being in the head of.
We follow Raine, a 17 year old who at the start of the novel, is on the run with a band of cultists, thieves and ne'er-do-wells, and over the course of this 350 page story, we stick solely in her head, with the narrative being near laser focused on her journey through this Celtic folklore inspired land. The plot of this book (and series overall) doesn't really raise it's head until the final third, but to me this doesn't matter. McDonald's prose & character work is so pitch perfect for this kind of story – a tale of trauma, repressed emotions, ghosts of the past and, most importantly, hope for the future and overcoming emotional battles – that I was hooked on every one of Raines words & thought. Her actions, no matter how small, felt like they always held weight, especially considering that she hides her ability to see the dead from everyone, a magical power that, if discovered, could see her executed.
Couple all this with a three-dimensional supporting cast, LGBTQ+ rep, a fully-realised and lush, if brutal, world to live in, some incredibly cinematic action scenes and endless quotes and passages that have stayed with me, given me moments of self-reflection and others that have made me straight up get teary-eyed, then this is for me a near-perfect character driven story.
This review may be short, but that's because you should stop listening to me and just go and pick this one up! This is my first Ed McDonald novel and it won't be the last. I truly believe that this is one of the ESSENTIAL fantasy reads of 2022 (I know it's 2023 now but it's sequel, Traitor of Redwinter, releases this year so you have plenty of time to catch up before it's out). It's a truly unique, passionate and emotional journey. I highly recommend this to anyone who loves intricate character work and tragic but hopeful tales of broken people.
"To be anything has to be better than being nothing."
With thanks to Gollancz for sending me a review copy of this book. I am extremely grateful and also sorry that it's taken me so long to put out this review!