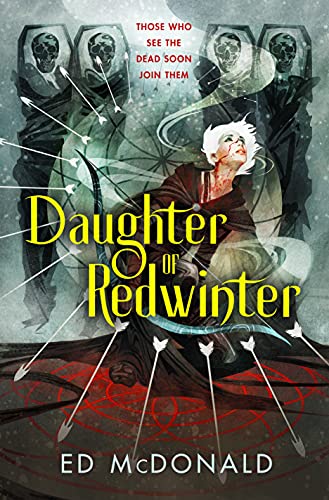 Rating: 9.5/10
Synopsis
Raine is seventeen-years-old and still on the run. She can see the dead, a secret that could get her killed. Seeking refuge with a deluded cult is her latest bad decision but rescuing an injured woman in the snow is soon revealed to be a horrific mistake. Hazia endangers not just Raine, but the whole world: she's escaped from Redwinter, fortress-monastery of the Draoihn, the warrior magicians who answer to no king or queen of the land, but to their own Grand Master. They will stop at nothing to retrieve what she's stolen.
Raine must survive by her wits, and her skill with a bow in a world turned upside down. A battle, a betrayal and a horrific revelation finds her herself inside Redwinter, where anyone caught communing with ghosts is put to death. As conspirators plot to release an ancient enemy, Raine's ability to see the dead might be their only hope, but to use her power would see her condemned.
Review
"To be anything has to be better than being nothing."
Raine is our teenage protagonist in this epic start to a new fantasy series. She is a young female with a dark secret. The story starts when Raine is part of a group that's held up in a monastery as they await attack from forces trying to arrest their leaders. When trying to escape the group Raine comes across a young woman injured and fleeing from the Draiohn of Redwinter. Raine helps her and in the process gets mixed up with these warriors and our story goes from there.
This book as such a rollercoaster ride! I found Raine to be a great protagonist. Often with teenage protagonists I find them hit and miss, but Raine was a character I quickly got interested and invested in. She possesses a power that allows her to see the ghosts of the dead and sometimes interact with them; a power hated and forbidden in the society of the story. The journey Raine goes through is full of suffering, pain and emotion and I loved following her as she learns where she wants to make her stand in the world. This really is a coming of age tale at heart, that deals with healing after trauma and finding your place. Raine is a great example of a strong female lead, something I always love to see in a fantasy book.
The world building is done slowly and purposefully. The setting is really interesting and seems to me to be quite Celtic-inspired. The world of the story is split into the realm we all live in and another realm that's inhabited by demons and ghostly beings called The Faded. I won't go into too much detail as it's best to discover it for yourself. There is heaps of potential for the lore of this world to take so many different directions. Give me more!
The author feeds the reader just enough information to grab your attention and never too much all at once. I never felt like I was getting 'info-dumped' and I loved how we discovered things slowly and naturally, along with the characters and the story. Things may seem confusing at times but I trusted the author, and he didn't disappoint. Everything came into place in a fantastic way. There was just the right balance between exposition and story-telling; something that's tricky to do in fantasy when there are so many things to explain..
The story has a lot of the feel of a mystery tale as well, much more than a classical fantasy story. It has so many twists and turns. Whenever I thought I had figured out what was going to happen I was taken by surprise.
The only improvements I have were that at times the pace was a bit up and down and things sometimes felt disjointed. But this didn't hinder my enjoyment at all.
This was my first book by this author, but it definitely won't be my last. I would recommend this book to any fantasy reader. This book comes out on June 30th. Make sure you check it out! I'll be eagerly awaiting book two.