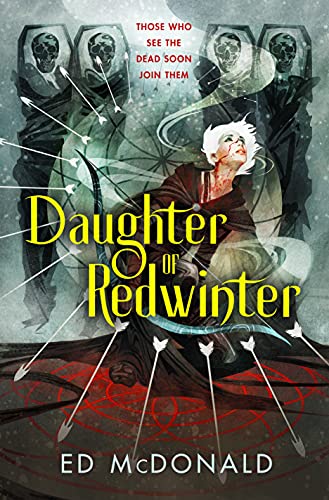 Rating: 9/10
Synopsis
Raine can see—and speak—to the dead, a gift that comes with a death sentence. All her life she has hidden, lied, and run to save her skin, and she's made some spectacularly bad choices along the way.
But it is a rare act of kindness—rescuing an injured woman in the snow—that becomes the most dangerous decision Raine has ever made.
Because the woman is fleeing from Redwinter, the fortress-monastery of the Draoihn, warrior magicians who answer to no king, and who will stop at nothing to reclaim what she's stolen. A battle, a betrayal, and a horrific revelation force Raine to enter the citadel and live among the Draoihn. She soon finds that her secret ability could be the key to saving an entire nation.
Though she might have to die to make it happen . . .
Review
This is a book that is difficult to write a review for, I think you just have to experience for yourself how these written words sweep you away on every single page so that you can feel what I felt while reading this incredible book. Ed McDonald has written an unbelievably good book that takes you emotionally from the first page and holds that feeling until the last page. A world that won't let you go, along with a strong heroine who pulls you in emotionally, in a story that thrills you.
"But how can something that has no form begin in one place and end somewhere else? If a crow begins flying south, but what arrives is a swan, then the crow never undertook a journey."
In this story, you are immediately thrown into Raine's life with little regard for the reader's feelings. Right in the first chapter the struggle begins that Raine has to overcome in the whole book – the struggle against a piece of herself. Because of this fast-paced beginning, you can quickly lose yourself in the story, because you have to be swept along right away. An emotional bond with the character develops early on, which is further strengthened by the first-person narrative. The story takes you through many ups and downs and even if the beginning and the end are the most action-packed of the story, the middle part of the story is no less exciting to read, as more secrets are revealed there, but new ones also emerge. This makes for such a beautifully written story of action, fear for one's life, a little detective work and also always questioning what Raine actually wants in her life. So Raine is thrown from one situation to the next again and again without having any influence on what actually happens to her. The fact that so many things happen that lead you through the book makes it an exciting adventure where you don't know the outcome of the story yourself.
"To be anything has to be better than being nothing."
Raine is a character I will never forget. She has to go through so much suffering, make so many decisions that are hard to make at such a young age and lose many of the friends she once made. Raine is a girl who has become what she is through all her circumstances – a girl without hope, a girl who only has to be afraid and a girl without feelings. Raine suffers from depression, which often makes her seem cold because she can no longer perceive the world with her feelings in the same way. Ed McDonald describes this depression as it must really feel for those affected, not a sadness that surrounds her, but this lack of feeling. I wouldn't want to be in Raine's shoes, but reading her story through her eyes makes you empathise with her like few other characters. I would have liked to show Raine that the world offers more and that she can feel something again and I hope that through this story she will be allowed to experience many more beautiful moments. However, the secondary characters were also masterfully written as they have much to contribute to Raine's character and yet can always give her hope and love. Every single secondary character is exciting in their own way, because there is no white/black thinking here, but everyone carries something good and bad with them. Especially Sanvaunt could do it to me as well and I liked every interaction with him and Raine.
"And then it was all gone. Gates, scar, fire, Gone. And so was I."
There is not only one very interesting magic system, but even two of them! Both systems are very spirtual, which gives the world a mysterious atmosphere, but also something dark. One system is about seeing the dead. Raine has this gift, although you can't really call it a gift. Since access to the realm of the dead is despised and punished with far-reaching consequences, Raine has to hide this ability. I love such gifts that are somehow a bit witchy, it gives a feeling of something forbidden and so mystical. I would have liked to see more of this ability and hope that the next volume will focus more on this ability. The other magic system relates to a complex concept that relies on opening different gates. Each opened gate has its own power that allows the user to better perceive the environment, for example. However, not every gate should be opened, as it also contains powers that are not intended for humans.
"'Braithe isn't thinking clearly,' I said gently. 'He thinks he can find a way through this on a ship built of his own making. People are calling him captain, filling his sails. But he's just a landlocked sailor who fancies the log he's sitting in is a ship. And he's going to sink us all.'"
Read this book! This book is a page-turner that kept you hooked the whole time and pulled the rug out from under me! The questions that keep coming up don't let you stop and you almost want to read through the book in one session. The world is so expressive and different that I am so excited to see what will happen in the next volume. Hopefully it won't be so long in coming…