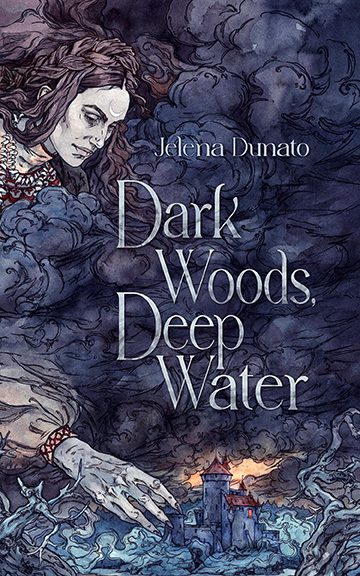 Rating: 9/10
Nothing like the cold wintry chill of a delicious dark fantasy debut
Summary
In the depths of a remote forest, an enchanted castle preys on unwary travellers. The servants of the Goddess Morana sacrifice to their dark mistress every soul who crosses its threshold. One terrible night, three people who should never have met find themselves trapped there: a spoiled lady escaping an unwanted marriage, an aging warrior-prince on a deadly mission, and a resourceful rogue caught up in a botched heist. As their destinies entwine and the dawn approaches, the solution to the castle's riddle becomes clear: if they want to escape, one of them must die.
Review
The first person voice is a formidable weapon in fantasy writing. Used badly, it can wound its user, but used well it can be the quickest way for a new writer to show the reader they mean business. So it is with the opening pages of dark fantasy Dark Woods, Deep Water from indie press Ghost Orchid, where debut author Dunato introduces us to Ida, a young woman and resourceful rogue trying to survive in a cold, tough, Slavic-inspired kingdom. Her voice is arguably the most compelling of any protagonist I've read this year. First she gleefully announces how little you can trust her:
I'm a pretty girl with big eyes, so I am sure you want to hear my story. Which one do you want, the happy or the sad one? We barely know each other, so let us start cheerfully.
Two potential origin stories given, she concludes:
Feel free to choose the story you like the best; it is all the same to me.
You can't always tell if a book is going to be great after the first chapter, but after this introduction, I knew. Later on, Ida gives us one of the lines of the year after another depressing turn in her unforgiving life that she resourcefully navigates:
I have survived this long because I could always guess what people wanted to do to me.
Ida is not the only first-person POV we get; we are also introduced to Telani, the loyal man to an aging warrior-prince on a quest, and Elisya, a young naïve girl brought to a tournament by her father, who wishes to fall in love with a handsome prince.
The world of this book is a hard-bitten, Slavic-inspired (more of this in a second) war-torn kingdom of princes and castles and peasants and old gods and the consequences of old battles and lost loves, beautifully and compellingly drawn by Dunato, and these three characters will eventually, after spinning out their own stories, make their way to a mysterious cursed castle deep in the woods, where they are all united and things get, um, kind of crazy?
Quick but vital aside: what is Slavic fantasy? For me, it's one of those sub-genres that people use without really knowing what it means; I suspect if cornered most would reply "woods, fairy tales, funny names, bad weather, castles" then run away into the night hyperventilating. And there are examples of novels that take a sloppy approach to this. This is perhaps unsurprising given there are thirteen Slavic countries, reaching from the expanses of Russia to the North of Europe and down to the Eastern Adriatic. But when used well – and recent examples include Naomi Novik and Katherine Arden – it references not just the tropes but a feeling; a feeling of poignant lost summers and lost romances made cruel by the pitiless wintry present.
This is a feeling that the Croatian Dunato conveys very well, her story being loosely based on the Slavic folklore of the Eastern Adriatic. The Slavic goddess of death Morana looms large over this story, and no doubt there's more references specific to the region that I'd spot if I was better versed in its mythos. But it's the feeling that matters, and the feeling here is strong.
Structure wise, this is a book of two halves. After the first half of the character's journeys, we get a creepy cursed gothic castle mystery, where the sense of death hangs over the place in a very literal way. Something is very wrong in this place. Depending on what blurb you read, you will be told this up front, but I luckily missed this and it's way more fun if you don't know the premise of the castle.
The tone and pace switches completely here and we get a creepy, slower mystery for a while. This switch might frustrate some enamoured with the first half, and I can see this being the splitting point for many a reader. And I did miss the pace of the first half at times. But the compelling creepiness pulled me on, and it is completely worth it for the end, where all the rules are thrown out the window in favour of an epic, ambitious ending,  including a chilling final encounter that demands a sequel. It's a brave structural choice that Dunato just about pulls off.
This is a cold, angry book – the unapologetic rage reminded me of the best of Novik, painting a world where whether the woman is in quick-witted control of her agenda or being manipulated by it, she still never has the freedom that men do. That cold is also reflected in the heartlessness of the old, Slavic-esque gods and the sense that humans are just tools to be manipulated. Yet at the same time there is a sense of beauty about it all. This is the heart of dark fantasy, and boy is it well written. The prose will pull you along the dark and the cold and the death, and some lines will jump out at you when you least expect them.
Overall, I was entranced and chilled by this cold winter's gothic tale and the marvellous characters that inhabit it. That bugle sound you hear outside your castle? It's me announcing an exciting new voice in fantasy. Hopefully always in first person.