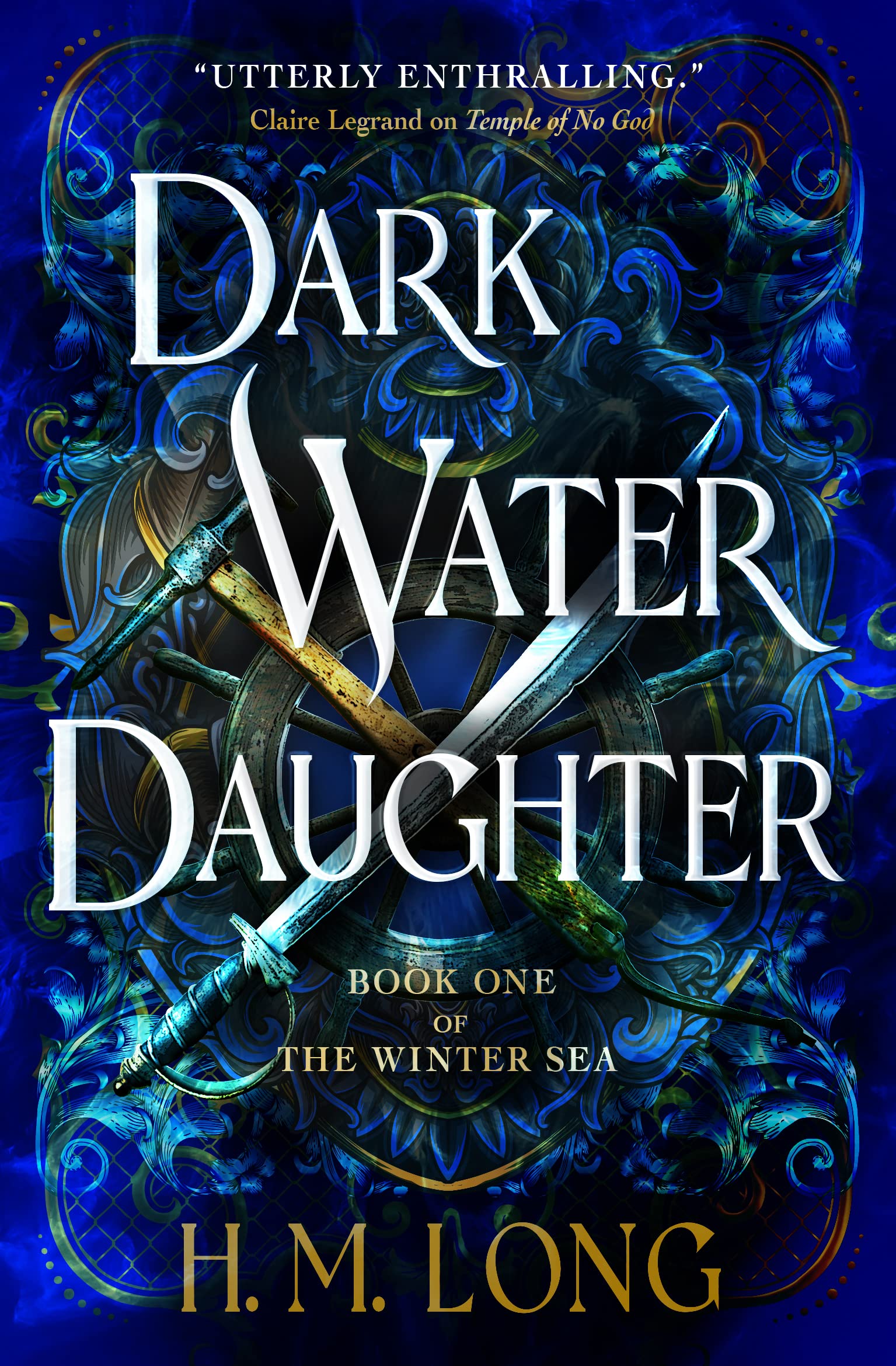 Rating: 9.5/10
Synopsis:
A stormsinger and pirate hunter join forces against a deathless pirate lord in this swashbuckling Jacobean adventure on the high-seas.
Launching the Winter Sea series, full of magic, betrayal, redemption and fearsome women, for readers of Adrienne Young, R. J. Barker and Naomi Novik.
Mary Firth is a Stormsinger: a woman whose voice can still hurricanes and shatter armadas. Faced with servitude to pirate lord Silvanus Lirr, Mary offers her skills to his arch-rival in exchange for protection – and, more importantly, his help sending Lirr to a watery grave. But her new ally has a vendetta of his own, and Mary's dreams are dark and full of ghistings, spectral creatures who inhabit the ancient forests of her homeland and the figureheads of ships.
Samuel Rosser is a disgraced naval officer serving aboard The Hart, an infamous privateer commissioned to bring Lirr to justice. He will stop at nothing to capture Lirr, restore his good name and reclaim the only thing that stands between himself and madness: a talisman stolen by Mary.
Finally, driven into the eternal ice at the limits of their world, Mary and Samuel must choose their loyalties and battle forces older and more powerful than the pirates who would make them slaves.
Come sail the Winter Sea, for action-packed, high-stakes adventures, rich characterisation and epic plots full of intrigue and betrayal.
Review:
Firstly, a thank you to Titan Books for approving my eArc request on NetGalley, my thoughts remain honest.
Hello again dear reader or listener, it is the middle of summer, I have just moved to Greece for my yearly visit to the fam and the seaside home, and my mood reader calls for pirates and adventures on the high seas. In short, Dark Water Daughter is the perfect read for me these days and, even better news, it is an absolutely phenomenal first entry!!
Now dear reader, I need you to understand that not only is the main trilogy in The Pirates of the Caribbean franchise (we do not speak of entries 4 & 5) my favorite movie trilogy of all time, but that I grew up with them and can quote them all line by line. That also means that by default flintlock or gunpowder fantasy has a very special place in my heart, and I listen to epic pirate fantasy music to study or work. Add to that the fact that I found this book thanks to a rec from another favorite author, Anthony Ryan, and really, there was no way this book was going to fall short for me. Or at least, the chances of that happening were slim to none.
Long has presented us with an incredible adventure that hits the ground running, full of fascinating and interesting characters, that are also so delightfully vivid, to open a series that promises so much more to come. The writing is truly atmospheric, fast paced and flowing, without sacrificing any detail, nor weighing down the story with any needless expositing. It all happens so organically that you are fully immersed in this cold pirate world. That was something I found really fresh, pun intended hah, wherein this story isn't set somewhere warm, or during a hot season, like we commonly encounter with these types of subgenres. Instead, our protagonists face the unforgiving elements of Winter. There is such a different dimension to everything this way I felt, and I welcomed it!
Now, the POTC comp title is entirely necessary for sure, because the vibes are definitely there and they are chef's kiss. However!! Long makes sure to distinguish her writing, her story, and worldbuilding, in such a manner that the reader can feel the homages but we are also regaled with something brand new, enticing, and unputdownable. I cannot express to you enough, dear reader, how incredibly beautiful and mesmerizing I found the magic system and the lore surrounding it. This is not a world that is a parallel to our known ones, with a slapped in dash of x fantastical element, but rather a society and history deeply entrenched with and informed by the original magic elements present within. Stormsinging on its own was one badass power and magic but the whole existence of ghistings (sentient woods used for ship figureheads) and their magic, was mesmerising as much as it was enchanting. Not to mention the other kinds of magic within. Long brings it all to life so beautifully and cinematically that I would be willing to sacrifice big things to have a screen adaptation, if only to have an original musical score for it all.
Long's style unfolds the overall plot, as well as the individual backgrounds of each pov character, so cleverly and in ways to keep you hooked onto each word, creating both intrigue and suspense, inexorably engaging the reader till the very end. Mary and Samuel are excellent leads, in that they each have what makes them relatable, as well as something that separates them and makes them unique. You get to feel for them while also ranting at them for questionable choices or actions. They are both naive in the ways of their world in different aspects but when faced with their shortcomings they do their best to take it in stride.
It's not just the protagonist character work that shines though, with side characters also having their moments to dazzle and truly give life to the story in various ways. From stalwart and no nonsense second mates (seriously, the women in this book? Perfection), to scoundrel gambling thieves looking to redeem themselves (Charles you are a gem and you have strong Jaskier energy), and finally, mysterious pirate captains whose true allegiances are never quite clear or what they may seem. Long entertains as much as she keeps the reader on their toes with each of them, all the while weaving a pattern of growing camaraderie among characters that you can only utterly love and root for. Also special mention goes to the villains of the story, with the main big one, the infamous Silvanus Lirr, concurrently being this faraway ominous presence throughout, but also occasionally getting too close for comfort. That is something I particularly liked because the sense of suspense and wariness surrounding him never falters while also avoiding something other stories can fall into; which is to build up this faraway Big Bad that is supposed to be horrific and utterly evil but we the reader, never see them until the very end and they end up underwhelming or being removed from the story so much we don't actually feel their villainy or strongly about them in any way. The secondary villain is on the opposite spectrum almost, where they're very present and there's not that much mystery trailing them, but is rather the type of gross villainy that gets all your hackles up and you (me, dear reader, it was me, every time they were on the page) can't help but swear lots of very improper expletives any time they appear on the page. Simply the fact that Long drives us to that is telling enough, I'd say.
I think I've raved enough for now, dear reader or listener, and if you've taken anything away from all this, please let it be that you simply need to run and grab yourself a copy of this epic start to a gritty yet entertaining and multilayered piratey adventure! I absolutely cannot wait till we get to read on with this story and its characters, also don't mind if I go looking back at all of Long's other books because hers is the type of storytelling I simply can't get enough of.
Now excuse me while I got put on POTC for the Nth time.
Until next time,
Eleni A. E.