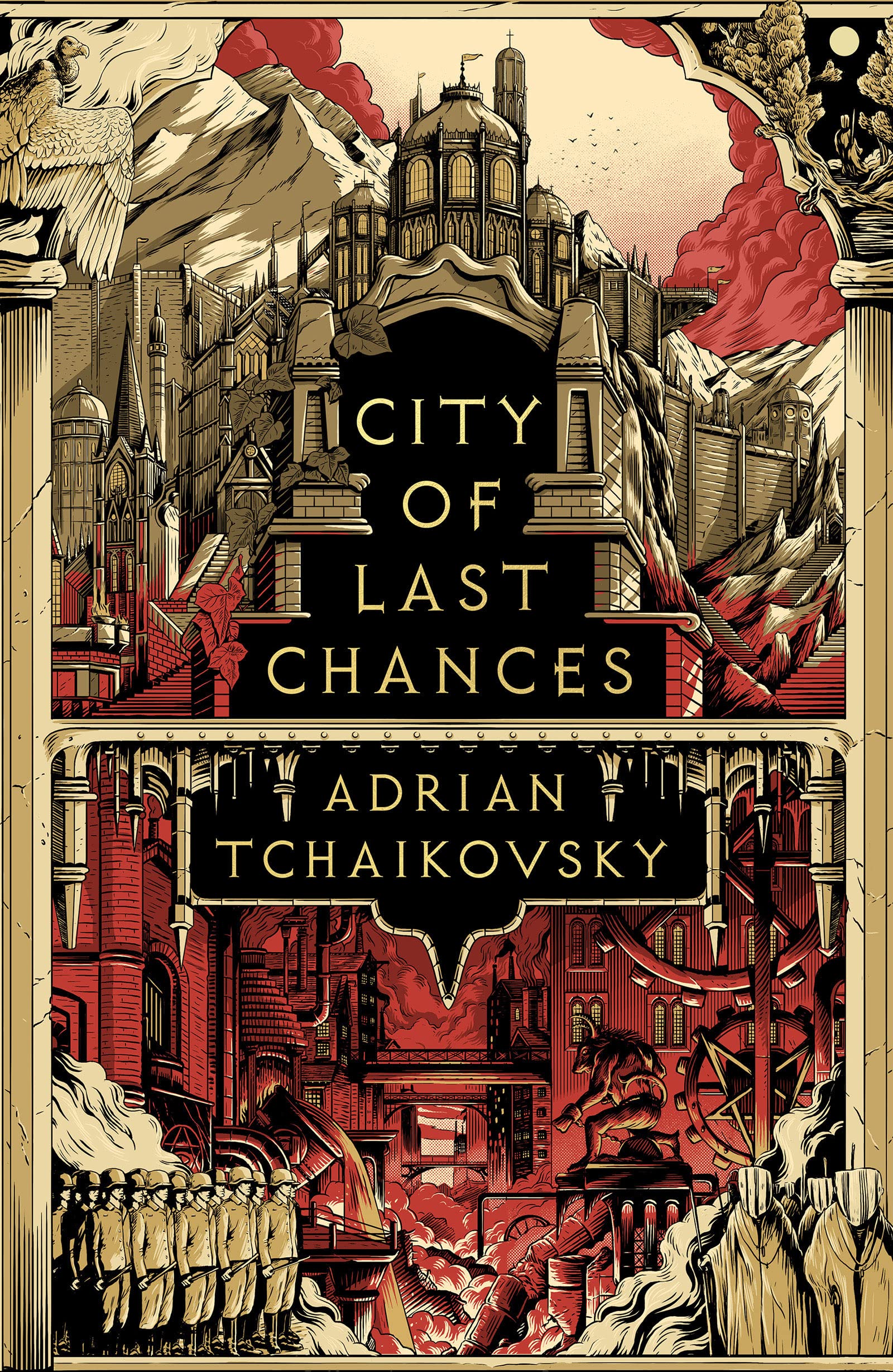 Rating: 10/10
Synopsis
Ilmar, they call it the city of bad decisions. But still the Pallseen decided to take and occupy it, seeking to bring their perfection to a city of ancient curses, a bloodthirsty criminal underworld, tricksters, cheats, murderers, demons, and, of course, the dark and mystical Anchorwood that becomes a portal to worlds unknown when the moon is full.
The Ilmari intolerance for their occupiers sparks with every tighten of the thumbscrew and surely the sparks will ignite soon.
Blog Tour
A thank you to Cassie Waters from Head of Zeus for inviting us aboard the book tour for The City of Lost Chances by Adrian Tchaikovsky. While she kindly provided an arc of the title, this review and my thoughts are my own.
Review
Ilmar, City of Long Shadows, City of Bad Decisions. City of Last Chances. City of Skip to the bottom of the review if you don't have much time because I'm giving this book a 10.
Where to even hone in for this review? Well, Tchaikovsky fantasy is a real heavy duty fair and if you're only familiar with his sci-fi then this is a great entry point into another side of his writing. This latest release, The City of Last Chances, was carved out of granite by an industrial literary automaton. Everything has been precisely placed to full effect. Its demon-powered factories belch black infernal smoke to power the prose as burn you through the pages.
The Pallseen perfection drives the book's antagonistic totalitarian occupiers to hold the city of Ilmar. The Ilmari are very poorly-inclined to kowtow and so we join the plot at a point where something, anything will surely kick everything off … but not quite. And so the pistons of the Tchaikovsky machine whir and play with this pendulum; each swing garnering momentum be it the plotting Pallseen or the intriguing Ilmari.
City of Long Shadows
Ilmar itself is an alluring destination. I loved its denizens and finding out about the city's culture and history through their resistance to the Pallseen occupation. Perhaps befitting of a place surrounded by an ancient and powerful wood Ilmar is full of enigmatic and wonderfully weird characters. Nothing is as weird and chilling as The Reproach, the cursed district of Ilmar. You don't go in there.
Perhaps my favourite character dynamic was Yasnic and … God. Yes, you read that right. God used to be worshipped everywhere in Ilmar yet his followers are dwindling to the point where God can only be seen by his high priest, Yasnic. Following him has rules. Very strict rules. But if you think a cranky old man perching himself on Yasnic's shoulder and demanding fealty is the strangest character quirk in the novel, you really have another thing coming. Tchaikovsky's characters are wondrous. The shifting perspectives blend in the mystical Ilmari melting pot and I was always wanting to read more.
That's just a very small flavour of everything Tchaikovsky has crammed into the story. There's so much about Ilmar to discover and every single section of the city we explore is as captivating as the last.
Perfection
Everything about this book hit just right. Even the cover is outstanding and a fair depiction of what to expect from picking up the story. What a way to round off the year. The City of Last Chances flew straight to the top of my favourite reads of the year and did it in style.
As an aside, readers who enjoyed Head of Zeus' brilliant The Hood by Lavie Tidhar in 2021 will feel very much at home in Ilmar. Certainly, Tchaikovsky's latest fantasy tale scratched a mystical dark wood itch I didn't realise I'd been needing scratching.