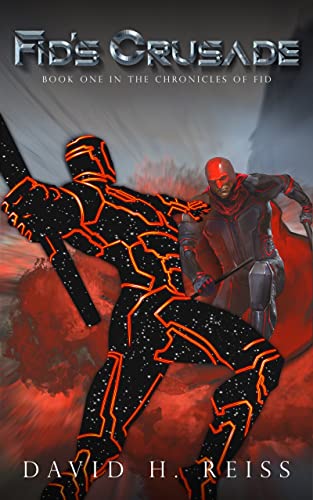 Rating: 9.75/10
Synopsis (Book 1):
Rage, grief and guilt have fueled Doctor Fid's endless quest to punish the unworthy and he has left a long trail of blood and misery in his wake. For more than two decades, the sight of the villain's powered armor has struck fear into the hearts of hero and civilian alike! But when a personal tragedy motivates Doctor Fid to investigate a crime, he uncovers a plot so heinous that even he is taken aback.
Haunted by painful memories and profound guilt, the veteran supervillain must race against time if he is to have any hope of confronting the approaching threat. Every battle takes its toll…but the stakes are too high for retreat to be an option.
In the end, it may take a villain to save the world from those entrusted with the world's protection.
Review:
This review comprises of all 3 books in this trilogy:
#1 – Fid's Crusade
#2 – Behind Distant Stars
#3 – Starfall
This was one of books I read in 2019 and was very impressed. I sat down for a reread again this year and found myself as engrossed as I was the first time around. This has been one of my staple recommendations across various social media, but it's time I wrote a full review and here we go…
To start with the synopsis doesn't really do the book justice. Just reading the blurb, you might feel this is a grim or dark story about revenge and vigilantism. It's technically right, but that's not really what the book is all about. It's a book of hope, of love, of optimism and charm, of redemption and of justice. Despite the MC being a villain who has committed atrocious acts, the book is mostly written on a positive tone that actually puts a smile and leave you in a happy place at the end.
Let's start with the MC, Dr. Fid, a supervillain who even most heroes fear to cross. His deeds and acts have made his a figure of mystery and terror and the story starts from his PoV…right in the middle of a fight with a band of superheroes. The start is a bit theatric with lots of jargons of powers, equipment thrown at us, but it settles down immediately after that. Book 1 alternates between current timeline and a flashback'esque past told from memories of the MC. As the plot progresses, we get a full history of MC, his origins, his evolution as he matures from just being a villain into a justice driven vigilante. He find unexpected love in form of a AI child, a helping hand from some heroes he often fights against and a devilish conspiracy that shatters the definition of good and evil for both heroes and Villains alike. The rest of the books follow suit as we see a person with fluctuating between his character, his agenda and what his hopes for the future.
The book moves at a brisk pace as we get to know more about Dr. Fid. He finds unexpected love in form of a AI in form of a child. And the way that relationship shapes both their lives and the lives of all around them makes for the rest of the trilogy. There's lots of action and adventure and the pace never really lags. The adventures and growth of Fid is definitely one to follow. The world building is fascinating and one that makes you yearn to be there.
Give this a read, even if you hate Marvel/DC and have never tried a superhero book before. I'm sure you'll be charmed, same as me!