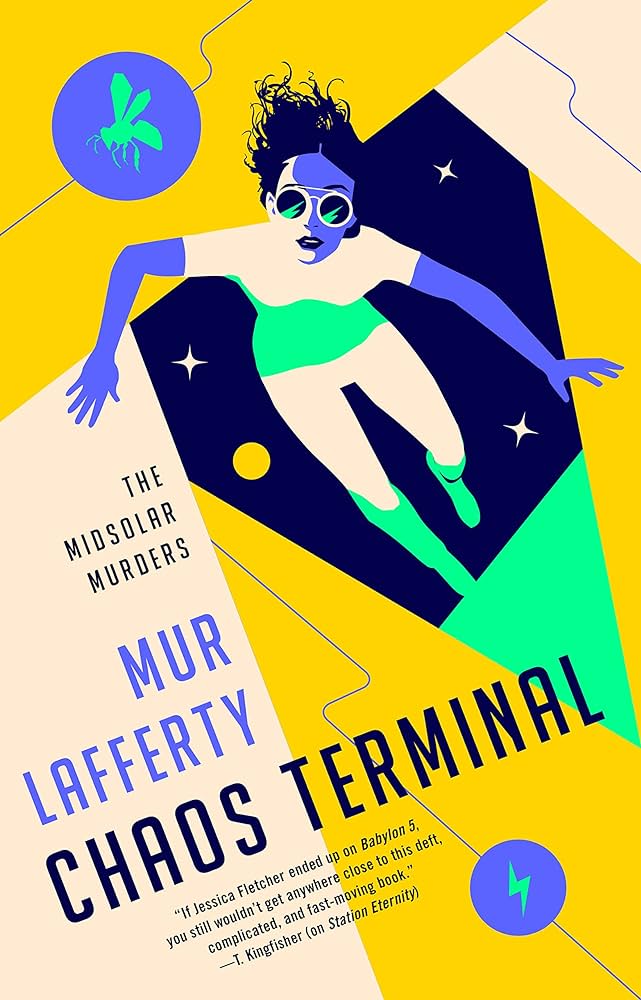 Rating: 8.5/10
Plot
Mallory Viridian would rather not be an amateur detective, thank you very much. But no matter what she does, people persist in dying around her—and only she seems to be able to solve the crime. After fleeing to an alien space station in hopes that the lack of humans would stop the murders, a serial killer had the nerve to follow her to Station Eternity. (Mallory deduced who the true culprit was that time, too.)
Now the law enforcement agent who hounded Mallory on Earth has come to Station Eternity, along with her teenage crush and his sister, Mallory's best friend from high school. Mallory doesn't believe in coincidences, and so she's not at all surprised when someone in the latest shuttle from Earth is murdered. It's the story of her life, after all.
Only this time she has more than a killer to deal with. Between her fugitive friends, a new threat arising from the Sundry hivemind, and the alarmingly peculiar behavior of the sentient space station they all call home, even Mallory's deductive abilities are strained. If she can't find out what's going on (and fast), a disaster of intergalactic proportions may occur.…
Review:
As always, first a thank you to the PRH team for offering an eArc for review to the team. I was eager to read this sequel and my thoughts remain honest.
Hello again dear reader or listener, I'm a few days late on this one perhaps but through no fault of this brand new story in Malory Viridian's ongoing saga as an unwilling hero and amateur detective. Lafferty picks up a few months after the events of book one and, even though I still remembered the story well enough from last year to not feel the need for a reread, I found the recaps to be both extremely helpful and seamlessly integrated into the story. In other words, you could definitely pick this up as a standalone but it would spoil you on a lot from book one so, unless you don't mind going back with prior knowledge to challenge yourself and see if you can see the reveals coming, then definitely do read them in order.
Everything that was fun and entertaining was still as amusing and fulfilling in this second entry, with Lafferty's sharp wit and humor shining as expected. The pop-culture references remained on point and the homages to Agatha Christie continued. Getting to reunite with all of the characters aboard the sentient station Eternity felt like revisiting old friends that you'd almost forgotten how much they can amuse and entertain you. From the ever-reliable Xan, to ex security team member Devanshi the phantasmagore alien and the grouchy and unlikeable human Adrian, to even the trio of Korg-alike Gneiss aliens, Stephanie, Tina, and Ferdinand. Protagonist Malory is also joined by a fresh new cast of humans visiting the station, among which people from her tumultuous past on Earth. Revisiting old favorites while having that new influx of backgrounds and points of view made for a solid mix of getting to enjoy what you already know without the risk of it tasting stale or remaining static. Also, Lafferty has a definite knack for writing slimy characters you can really dislike instantly with one sentence, and as we all know there are few crimes bigger in fiction than being utterly annoying/unlikeable. Any writing that gives you such sudden and visceral reactions to its characters is excellent writing in my book.
This time around the murder mystery was a little easier to figure out in advance as well as some of the big reveals but that doesn't necessarily detract from the overall effect of the novel imo, as I found it more character driven than the first entry in this series. Sure, the reader gets to the points before the characters do but, in fairness, they are all in some way at a disadvantage, or proverbially hobbled for the duration of this misadventure. It was a great way for the author to show us that even though Malory or Xan don't have their biggest advantages at their sides to help them, namely their respective symbiotic alien relationships, they still manage to salvage the situation in some way. For both of them in fact, the events in this book work as a catalyst toward acceptance and better understanding of their new lives in space, among all these aliens and fluctuating social and cultural labyrinths that they need to navigate daily. Just like in the first book and in honor of Christie, with each new pov chapter, the reader is treated to a sort of catch up of the background events that led each character to reaching the present moment in the story which is always interesting and providing a 360 for each character. Some of the flashbacks were perhaps a little overly long and meandering in ways that meant you had somewhat forgotten where you had left off in the present plot line granted, but the ongoing and speedy pace always picked up right away after.
I've used this term in reviews before, but this series is what I'd classify as a popcorn read. In other words, something that is fun, you can't really get enough of and get through pretty quickly, but satisfyingly low effort, even when containing underlying heavier themes. And finally, just like Doctor Who, there is an ever present mix of diversity be it human or alien, hilariously exasperating antics, and characters who just need a long nap yet they are called to rise to the occasion and avoid galaxy wide repercussions if possible. I'm certainly eager to read more entries in this series in the future and see how Malory and co will continue developing and growing through all the various alien shenanigans, while continuing to cultivate great friendships and relationships along the way. I feel like this series has a long and amusing character-exasperation-filled future ahead of it.
Until next time,
Eleni A. E.