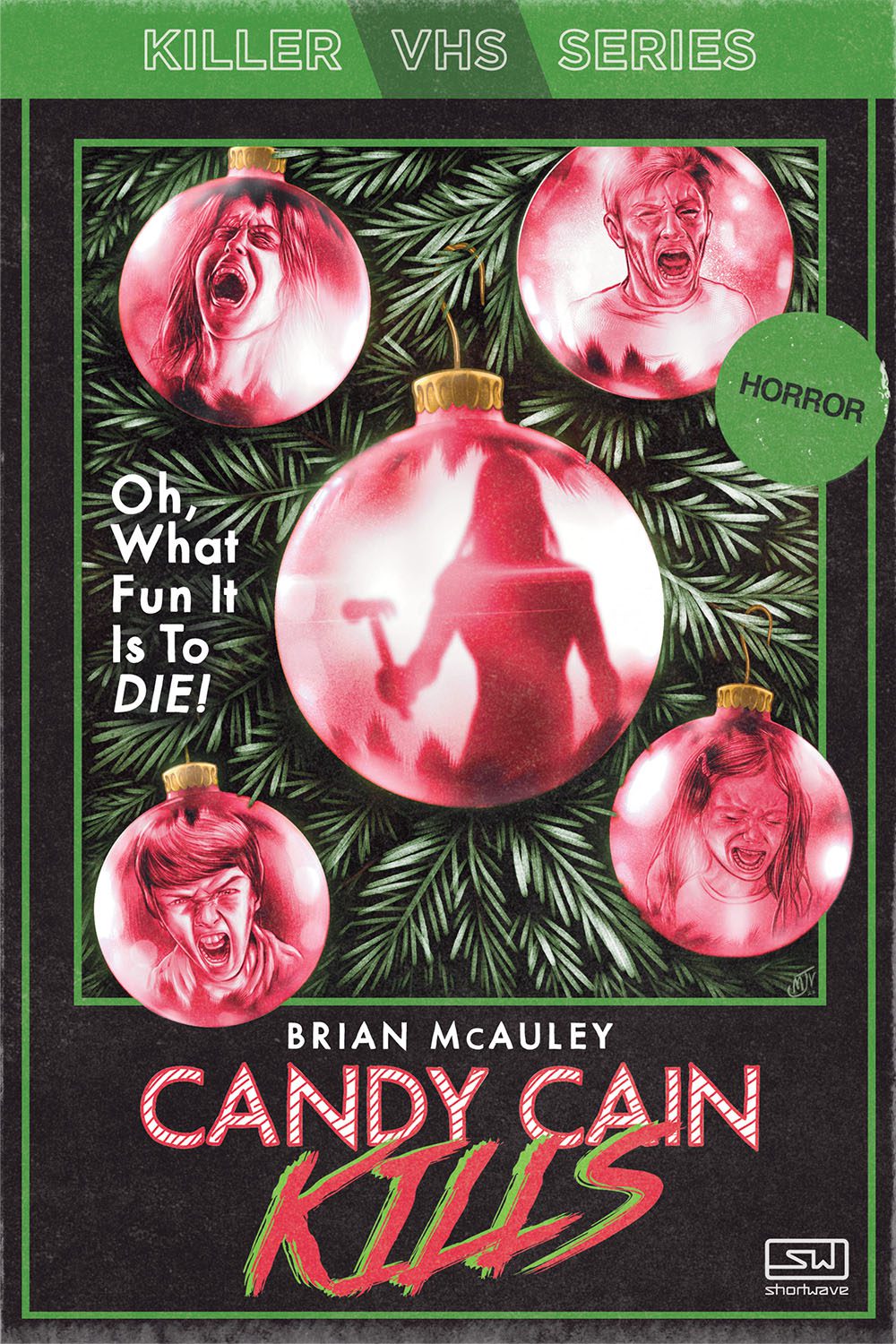 Rating: 9/10
Celebrate your festive season in gore-soaked style with a slasher that does everything right
Synopsis
When Austin's parents drag him and his little sister Fiona to a remote cottage for Christmas, he's less than thrilled about the forced bonding exercise. But after learning that their holiday getaway was the site of a horrific crime, this family on the rocks will have to fight for their lives against a legendary killer… because Candy Cain is slashing through the snow with a very long naughty list.
Review
There's two ways you can approach a slasher story, that king of horror sub-genres that calls to those of us who have Halloween and Scream etc. seared on our brains like rotting meat to a starving hyena. You can go the postmodern/meta route, increasingly the method of choice in recent fiction, as demonstrated by such stalwarts of the new horror age as Stephen Graham Jones and Grady Hendrix. Indeed, Brian McAuley's debut last year, the excellent Curse of the Reaper, involved a protagonist who played a killer in an 80s horror franchise. Can't get more meta than that.
Alternatively, you can just do a more traditional slasher fiction but do it really, really well. And that's what McAuley does in this second entry in Shortwave's cool new "Killer VHS" series (billed as Goosebumps for grown ups, which assumes incorrectly that I am in any way grown up).
Don't get me wrong, this is not a completely old-fashioned slasher story – there's queer rep and disability rep, and there's a couple of great plot twists to keep things fresh – but at its core this is a slasher tale that wants to get the basics right: A family – mum, dad, teenage son and daughter – head to a getaway in the hills for Christmas to try and get the dying family spirit back together, but the house has history and a legendary Christmas killer Candy Cain might still be around to ruin their perfect Christmas. Boom. Doesn't get much more boilerplate than that. And I wouldn't have it any other way. Because what McAuley demonstrates with this delicious bite-sized death-serving is that he has supreme command over all the key elements of a good slasher. Great deaths, a creepy villain and believably written characters – this is a masterclass in slasher fiction.
First, those deaths. Oh, boy. There's nothing more frustrating for us twisted kill-hounds who devour this genre than to be cheated of a well-written death; well, McAuley gives us a bunch of them and they are some of the most gloriously detailed, twisted, imaginative endings you will get in the genre. I won't spoil any, aside from the extract below where I kind of do, but if you're a fan of gleefully described entrails coming out in imaginative ways and ridiculous Christmas-themed ways to die, then you're in for a treat:
The dark room flashes blinding white, and Rick collapses forward on top of his toolbox.

He reaches back to touch the crown of his head, which feels like a hardboiled egg that's been cracked against a countertop. Bits of wet eggshell peel away against his fingertips. When he moves his hand back in front of his eyes to see the bloody white flakes, his battered brain suddenly kicks in:

Not eggshell, numbnuts. Skull bone.
What makes these kills so great – aside from McAuley's penchant for making you really sympathise with the character beforehand, which we'll come to later, is that we get the character's mental view of the awful events happening to them and their shocked assessment of the horrific events befalling their own body, a narrative technique that engrosses you in their end and is as shocking as it is disgusting. As a twisted voyeur of fictional and cinematic deaths, I tip my head to McAuley.
Next, the villain. And… I can't say anything too much here, because part of the great job of this novel is upending expectations and dripfeeding a series of twists regarding the villain's true identity. What I will say is that their every appearance is creepy in the most seasonally appropriate way… they spout a mix of Christmas carols and twisted religious verse in a sinister, insane mash-up, proving that though it's cool that Michael Myers and Jason never talk, sometimes you do want dialogue in your killers.
Finally, the sympathetic and believable characters… McAuley has a real gift for this. Every character, even the cameo ones introduced simply to give us a nice early kill for the titular villain – is made either acutely sympathetic so you root for their survival or gloriously unsympathetic so you cheer for their death. And the main family? McAuley portrays a marriage in turmoil with fantastic accuracy, with bitter and poignant dialogue that shows how the parents' marriage has got to this point, but leaving enough hope for the reader that they might still be able to turn things around (children-of-divorcees readers never fall for this, but children of golden marriages might).
As for the kids, there is a fantastic set-up of the disabled Fiona, whose physical disability leaves her reliant on crutches, and her older brother Austin, who resents her for the attention while hating himself for not being a better, more understanding brother. McAuley paints this troubled bro-sis relationship in acute, realistically agonising detail, begging the reader for them to reconcile, a useful reminder that before the kills must start properly you must really root for the characters in horror if you want to go beyond a simple hack-and-slash:
"You're not nice, Austin." Her voice cracks as she says it, but it doesn't lessen the impact. It stops him in his tracks long enough for Fiona to hammer it home. "You're a bad brother."

His head hangs for a moment, silhouetted by the light on the landing as he speaks over his shoulder. "You want to know the truth? I do think Mom and Dad will get a divorce. And it'll be because of you."

He steps out onto the landing and closes the door, leaving Fiona alone in the dark with his weighted words.

She won't cry. No, she will not cry.

That's what she tells herself as the pillow soaks up her tears.
Oh and a quick word on the disability rep – Fiona is clearly bitter at her position but never a victim and never a shorthand for her disability – she is one of the ones who handles herself the best against the killer and probably gets the wittiest dialogue. A great example of such rep done right.
Overall, with fantastic twists, superlative kills and a family you can really root for, McAuley has a real treat in store this Christmas for those readers who like their festive celebrations served with a side of severed torso.
On this evidence, Shortwave's attempt at an adult Goosebumps has real legs in it, though it's going to be hard to beat this bloody, gore-smeared Christmas cracker.