Rating: 7.0/10
Synopsis
Supernatural meets Stranger Things in award-winning author S. A. Hunt's Burn the Dark, first in the Malus Domestica horror action-adventure series about a punk YouTuber on a mission to bring down witches, one vid at a time.
Robin is a YouTube celebrity gone-viral with her intensely-realistic witch hunter series. But even her millions of followers don't know the truth: her series isn't fiction.
Her ultimate goal is to seek revenge against the coven of witches who wronged her mother long ago. Returning home to the rural town of Blackfield, Robin meets friends new and old on her quest for justice. But then, a mysterious threat known as the Red Lord interferes with her plans….
Review
Thanks to the publisher and author for an advance reading copy of Burn the Dark (Malus Domestica #1) in exchange for an honest review. Receiving this eARC did not influence my thoughts or opinions on the novel.
I remember purchasing Burn the Dark when it was first released in 2015 under the name Malus Domestica (Malus Domestica #1). It was a release that had circled around my social media pages for a while and I picked it up solely based on the synopsis and original cover art (seen below).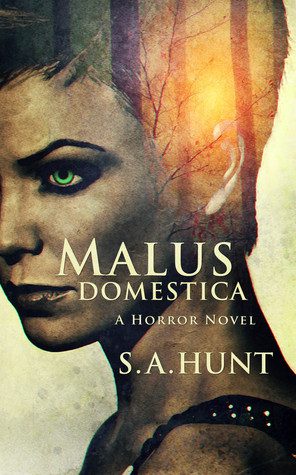 Unfortunately, it became just another one of those ebooks that was purchased and set aside to make way for more. That is the unfortunate think about non-traditionally published novels that go on sale. They are bought and easily forgotten, aging away on your reading device until they are either forgotten about or brought into the fold of Big 5 publishing. Well, thanks to Tor Books, Hunt's novel was resurrected and brought back into my life via a new cover, new synopsis, and an advance reading opportunity.
Burn the Dark (Malus Domestica #1) is only the beginning of what I can expect to be one of the next best urban fantasy series. While it does suffer a bit from a slow-ish middle and doesn't quite pack the hack-n-slashery I was anticipating, Hunt does bring a fantastic new heroine to the fantasy/horror crossover genre and I am absolutely here for her.
Hunt does a great job of immediately pulling you into the Southern Gothic setting of the novel, which fits right at home with me being from Alabama. They perfectly capture the look, feel, sounds and smells of Southern America from the environments to the food, but especially the dialogue between the characters. Believe me when I say this because I can easily picture these characters in my hometown, and I may have even been one of them at one point in time.
While I wish there had been more slaying and less build-up, much like you get with Sean Grigsby's 'Smoke Eaters' from Angry Robot as an example, understanding a bit more about Robin's background and motivations for what she does is required to set up the end of the novel and the rest of the series. Hunt packs enough at the beginning and end to keep the reader on their heels and coming back for more, especially with the inclusion of the Red Lord. Think of it like a beefed up demogorgon, or at least I did.
If you enjoy stories in the vein of Stranger Things, Buffy the Vampire Slayer, or Supernatural, give Burn the Dark a shot. I think you'll find plenty to enjoy and come back for. Honestly, even if those are your cup of tea, I think this one is worth it. Just know that there is some fairly coarse language throughout, but when a novel deals with slaying witches and exacting revenge, it ain't all rainbows and gumdrops.