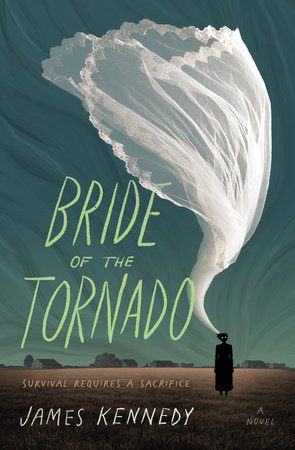 Rating: 8/10
Synopsis:
A young woman's secretive midwestern town is engulfed by a mysterious plague of tornadoes every generation–and she must escape it before it claims her.
Stephen King's The Mist meets David Lynch's Twin Peaks in this inventive, mind-bending horror-thriller.
In a small town tucked away in the midwestern corn fields, the adults whisper about Tornado Day. Our narrator, a high school sophomore, has never heard this phrase but she soon discovers its terrible meaning: a plague of sentient tornadoes is coming to destroy them.
The only thing that stands between the town and total annihilation is a teen boy known as the tornado killer. Drawn to this enigmatic boy, our narrator senses an unnatural connection between them. But the adults are hiding a secret about the origins of the tornadoes and the true nature of the tornado killer—and our narrator must escape before the primeval power that binds them all comes to claim her.
Audaciously conceived and steeped in existential dread, this genre-defying novel reveals the mythbound madness at the heart of American life.
Review:
 I received a copy of Bride of the Tornado in exchange for an honest review.
There's something about spec-fic that I love, and Bride of the Tornado kept me enthralled right until the end. I couldn't give you a blow-by-blow of the plot, but what I can tell you is that there are some utterly bonkers & epic moments that I'll remember for a long time.
When you say 'sentient tornados' it brings to mind slightly over-the-top and ridiculous films. But while Bride of the Tornado may have aspects of insanity it's ultimately a thriller-horror that will have you going '…wtf?!' but in the best way possible. Don't come looking for answers, but come looking for a crazy ride that'll go places you never expected. And, to be honest, I think Kennedy could have gone even further with the insanity & I'd have been right there the whole time.
Honestly I never really liked any of the characters. There's something about all of them that is slightly off-putting, but I think that works perfectly for the story Kennedy is telling. Ultimately all of the characters are somehow involved in the Tornados, either by being complicit in what is happening or by being the next generation to experience the horror. There's one character that I liked by the end but I won't spoil who that is.
Bride of the Tornado is utterly weird. While you won't find yourself scared by the story you'll find yourself horrified by what the townspeople allow to happen in the once-in-a-generation tornado plague. Told through the lens of a teenage girl she's the perfect narrator, she's got no idea what is happening and is innocent enough to go along with some really insane things. But she's also somehow important to the Tornado Killer and it's in following her 'destiny' that she really starts to shine as a narrator.
If you want to dip your toes into spec-fic I'd highly recommend starting with Bride of the Tornado, you'll find yourself utterly enthralled.