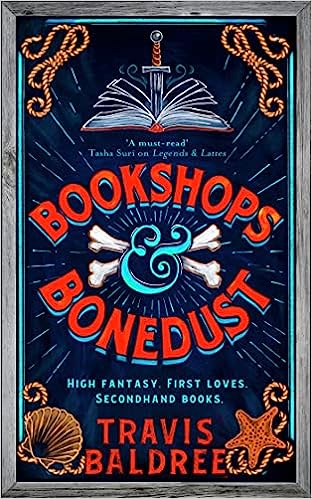 Rating: 9/10
Synopsis
When an injury throws a young, battle-hungry orc off her chosen path, she may find that what we need isn't always what we seek.
In Bookshops & Bonedust, a prequel to Legends & Lattes, New York Times bestselling author Travis Baldree takes us on a journey of high fantasy, first loves, and second-hand books.
Viv's career with the notorious mercenary company Rackam's Ravens isn't going as planned.
Wounded during the hunt for a powerful necromancer, she's packed off against her will to recuperate in the sleepy beach town of Murk—so far from the action that she worries she'll never be able to return to it.
What's a thwarted soldier of fortune to do?
Spending her hours at a beleaguered bookshop in the company of its foul-mouthed proprietor is the last thing Viv would have predicted, but it may be both exactly what she needs and the seed of changes she couldn't possibly imagine.
Still, adventure isn't all that far away. A suspicious traveller in grey, a gnome with a chip on her shoulder, a summer fling, and an improbable number of skeletons prove Murk to be more eventful than Viv could have ever expected.
Review
Thank you to the publisher (Tor UK) and NetGalley for providing me with an advanced reader's copy, in return for an honest review.
Bookshops & Bonedust will be published in November 2023, so you may think this review is a little premature, but I will argue that it is never too early to start the hype train. So, all aboard!
I first read Legends & Lattes when it was a self-published release, and was not surprised when it was picked up by a trad publisher. So, when I heard that Travis was releasing a prequel to his debut release, I was both excited and apprehensive – excited because I loved Legends & Lattes, and apprehensive because I wanted that same magic and cosy fantasy, but knew how difficult second books and prequels can be.
Worry not, as Travis has nailed it with Bookshops. This book is everything I loved about Legends, and dare I say… I enjoyed it more!
Bookshops & Bonedust is as heart-warming, fun, and engaging as its predecessor. If you love books and reading, then you will love this story.
Viv, younger and eager for adventure, is holed up in a port-side town, injured and bored. We soon meet new characters, as well as one first introduced in Legends – I loved experiencing Viv's first meeting with one of her 'old' friends. But what stands out is the new characters and their relationships with Viv. Fern and Maylee are wonderful additions, who don't just add new depth to Viv's story, they are also well developed in their own right.
The dovetailing of the characters' stories and the overarching plot is deftly done, maintaining interest throughout. With an intriguing mystery, a side of romance, baked goods and books, this is a charming and fun read. The author has a natural flair for describing the world in vivid detail – scents, sights, and sounds, are clear in the minds eye – I could smell the sea, see the dusty bookshelves, and smell the scones.
I loved the humour and banter between characters, with a bit of little nudge, nudge, wink, wink, it was spot on. Never has the word 'moist' had me snort-laughing so much.
Bookshops & Bonedust is a story that will warm your heart, put a smile on your face, and leave a tear in your eye. Travis Baldree has truly created something very special with these characters and world – the kind of fantasy that is sorely needed in this sometimes grim reality of ours. In Bookshops & Bonedust, he has taken a winning recipe and improved on it; from coffee to books, I can't wait to follow Viv, et al, in the next instalment of this wonderful series.