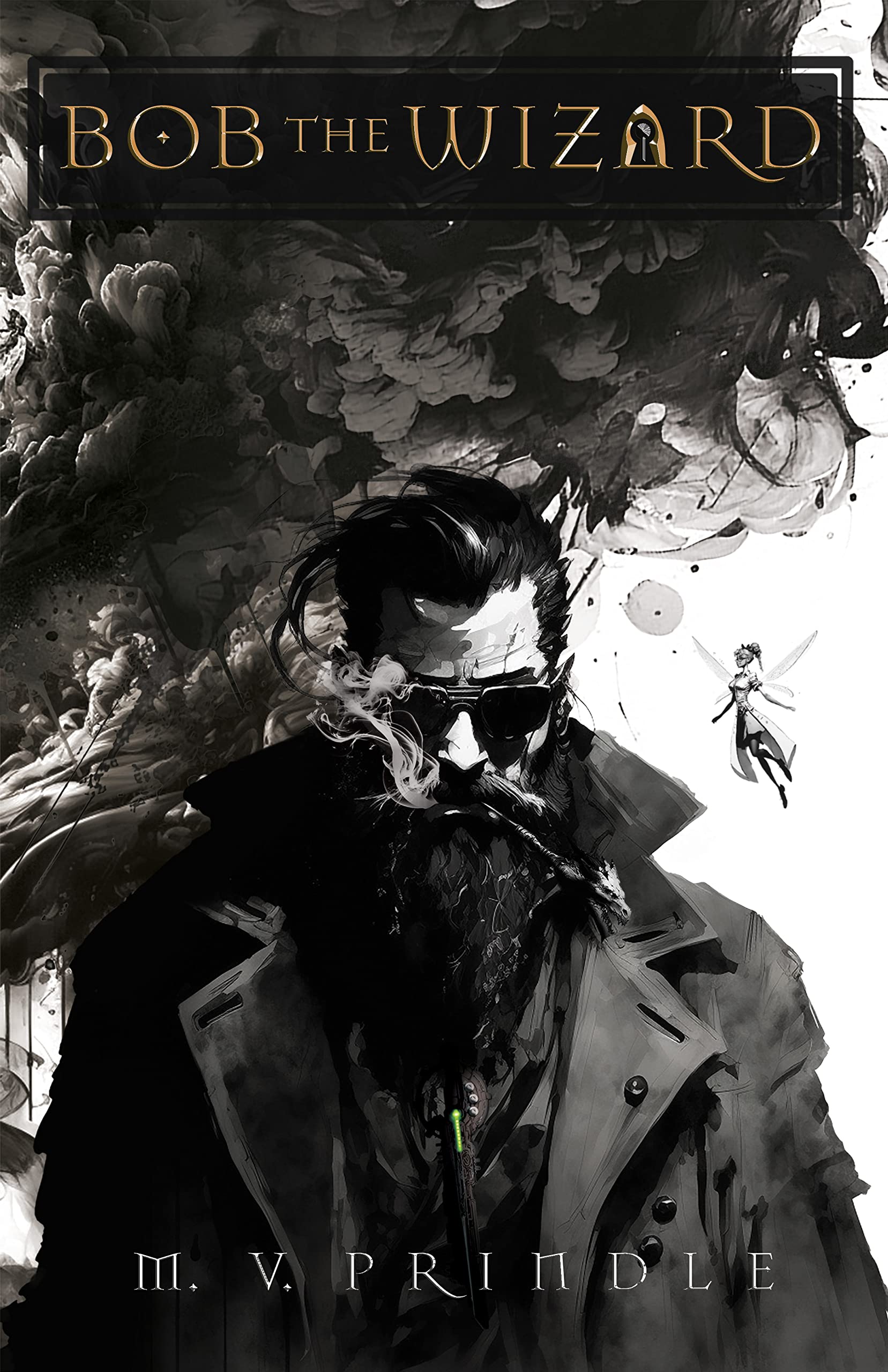 Rating: 9.5/10
Synopsis
Bob, a chain-smoking, foul-mouthed, shotgun-wielding ex-garbage man, chases his family's killer—the gray-skinned Galvidon—through the realms of the mysterious Astraverse. The trail leads him to Hub, a world in turmoil populated by wizards, blue elves, faeries, giants, dragons, and unfortunately, plain old humans. Chained by his addictions and haunted by his past, Bob must find a way through this dark, magical realm and uncover its secrets, or lose all hope of ending Galvidon once and for all.
See through the haze of smoke. Glimpse the dragon. Follow Bob across the Astraverse.
Review
There's something special about Bob.
Bob the Wizard is an epic fantasy adventure with a difference. As the synopsis suggests, Bob is from Earth and is somehow travelling through the mysterious Astraverse, in pursuit of his family's murderer.
Wait. That sounds a little more like sci-fi you might say. You're right, it does. However, despite the obvious, this is truly an epic fantasy adventure – with a difference. And it's the differences that make this stand out from the norm. This is an epic tale of discovery, high adventure, found-family, epic quests, and ultimately self-discovery.
The world building is superb. The majority of the story takes place in a realm called Hub, which is a full-blown secondary fantasy world, filled with elves, wizards, magic, giants, dragons, lizard creatures, and humans. The story begins with Bob chasing his family's killer from one realm to another. He soon finds himself in this strange world called Hub, and this is where the story shifts from what I thought would be a vengeful pursuit through realms, to an epic adventure of discovery and friendship.
Gradually, we start to learn more about the magic of the world, which is linked to natural and elemental spirits that bond with individuals, and through this bond the user can commune with the spirits who in turn influence whichever element they control – wind, light, earth, etc. We also learn more of the Astraverse, which is a great concept and kept comfortably within the realms of fantasy rather than veering towards the sci-fi end of the SFF spectrum (not that there would be anything wrong with that).
The best thing about this story, which is fantastic in its own right, is its characters. Starting with Bob – what can say about Bob? Bob has the potential to become one of my favourite characters. I say potentially because I am hoping for more of Bob in future books. The impact of his story, development, humour, and humanity, is what made this book stand out for me. He's a flawed character, hell-bent on revenge at any cost. But events turn for him – he's enslaved in a strange world with strange people. He forms friendships, he learns about himself in ways he couldn't imagine. Bob becomes more. Let's just say, I love Bob. He's like Amos Burton (The Expanse) meets Billy Butcher (The Boys), with a hint of Dean Winchester (Supernatural).
But it's not all about Bob. There are some truly wonderful characters throughout. Osivia, a faerae, who befriends Bob is one of my favourites. The friendship and humour between the two is heart-warming. Then there are the elves, or the En'harae as they are called. I loved the characters and their culture – enslaved by humans, lands destroyed, their battle to survive is reminiscent of native tribes of Earth through history. And so many others too!
The plot and pacing are perfect. Overall, the pace is quick, with plenty of action, excitement, and humorous moments. There are some darker moments too, and the author slows the pace, giving time to reflect when needed.
Bob the Wizard is a work of pure fantasy escapism that I couldn't stop reading. The story comes to a satisfying conclusion, which makes this book a perfect standalone, but with so much more on offer to warrant a series – there's a whole lot of Astraverse to explore after all. With some fresh takes on tried and tested fantasy tropes, get swept away on an epic fantasy quest, with characters you will fall in love with!