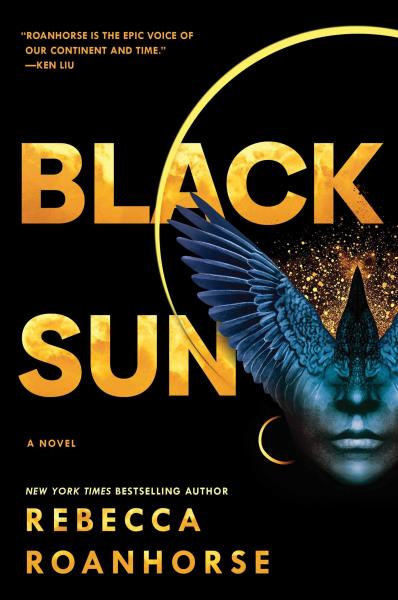 Rating: 9.0/10
Synopsis
A god will return
When the earth and sky converge
Under the black sun

In the holy city of Tova, the winter solstice is usually a time for celebration and renewal, but this year it coincides with a solar eclipse, a rare celestial event proscribed by the Sun Priest as an unbalancing of the world.

Meanwhile, a ship launches from a distant city bound for Tova and set to arrive on the solstice. The captain of the ship, Xiala, is a disgraced Teek whose song can calm the waters around her as easily as it can warp a man's mind. Her ship carries one passenger. Described as harmless, the passenger, Serapio, is a young man, blind, scarred, and cloaked in destiny. As Xiala well knows, when a man is described as harmless, he usually ends up being a villain.

Crafted with unforgettable characters, Rebecca Roanhorse has created an epic adventure exploring the decadence of power amidst the weight of history and the struggle of individuals swimming against the confines of society and their broken pasts in the most original series debut of the decade.
Review
Secondary-world fantasy inspired by Pre-Columbian civilizations, splashed with a heavy dose of seafaring, political intrigue, magic and world-altering prophecies.
From beginning to end, Rebecca Roanhorse's Black Sun is a stunning work of fantastical fiction. Bringing together inspiration from Pre-Columbian civilizations such as the Aztecs, Maya and various tribes and nations of Native Americans, there is a distinct sense of passion on display here. This is wholly evident in Roanhorse's worldbuilding, but her characters are where Black Sun truly shines. And as the start to a trilogy called Between Earth and Sky, it is an epic start to what will surely become a memorable series in modern fantasy canon.
I feel that the best place to start with Black Sun is its worldbuilding, as it's a not-overly-complex but tightly woven and satisfying geographical, cultural and political tapestry. Wrapping around the curve of the Crescent Sea (akin to our world's Gulf of Mexico), there are various city-states and cultures that are interesting and unique, including Cuecola, Huecha and Tova. The latter of those is the pinnacle of civilization in this fantasy world; it is a city built amongst the towering cliffs above a river canyon, serving as a religious epicenter and various citizens from upper to lower classes arranged hierarchically by neighborhood and altitude. The interplay here is fascinating, with the religious classes serving as a focus of tension amongst one of the main storylines. It's also great to see how Roanhorse subtly infuses aspects of various Pre-Columbian civilizations and groups into the world, putting her own unique twists on them. From religion and architecture to geopolitics, mariner culture and more, there is a ton of cool stuff to absorb, but with enough room that your imagination can build it even further.
Beyond the central hub of Tova, other regions serve as outposts and transient places within the greater world. Each of these locales has a distinct atmosphere, serving as interesting stops along the journeys of each point-of-view character, but Tova is the real focus of the novel. With the religious order of the holy city preparing for the Winter Solstice, the broader cast of characters all come together there. Hell, every chapter even starts with a countdown to the solstice, so its significance is not to be understated. In reality though, every time I started a new chapter I was given clear context as to when that chapter was happening and there was an unconscious countdown in the back of my head ratcheting up tension. So, as a narrative technique, that worked really well.
Second to Tova though is the Crescent Sea. This book is as much about the experience as anything, the journey in between more than the destination. And the Crescent Sea serves as an impassable obstacle for various characters, one that is both an opposing force in and of itself as much as a source of history in this strange world. On the part of a speculative fiction author, that is a marketable skill—bringing the world to life through the experiences of the characters in a way that feels genuine for them, and as a reader, through them.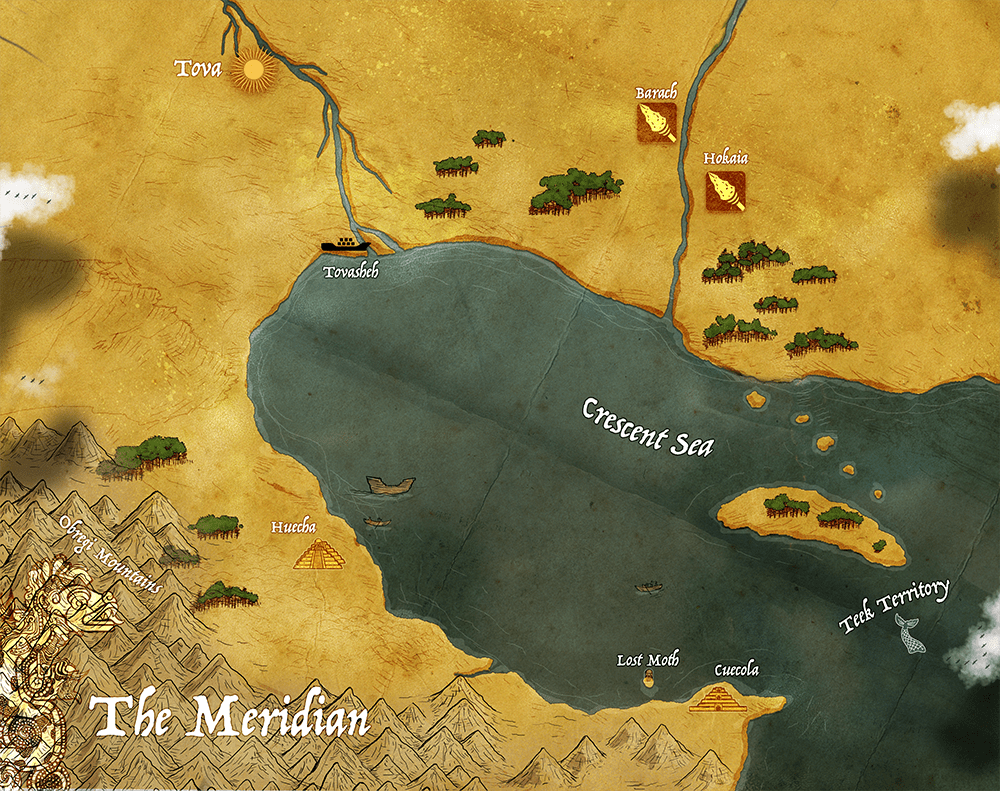 This melding of worldbuilding and character is easily one of Black Sun's biggest strengths. Roanhorse deftly balances the introduction an entirely new world while also bringing to life characters that are captivating in their own ways. First is Naranpa, a Sun Priest in the holy city of Tova. She is an outsider within her own community, and one who rose to power in unlikely ways. As such, she is embroiled in a roller coaster of political and religious intrigue within the city, as various Sky Clans (the factions within the city of Tova) vie for power. Through her eyes, it's an engaging battle of wits and public perception, all the while offering a glimpse into the hierarchies and social norms of Tova.
Also connected to Tova is Okoa, the son of the Carrion Crow clan leader. He is a warrior, through and through, with ideals of honor and family that seem unshakable—on the surface. While training in the village of Hokaia, he hears rumors of the return of the Crow God, manifest in physical flesh. Initially hesitant, Okoa matures in a natural way, opening up to the realities of his duties despite his internal conflicts. This is especially present when it comes to the Crow clan in Tova and the responsibilities of family. What is a warrior to do when duty is placed on their lap? Okoa is trained for war, but what is expected of him from his clan and family makes his arc so solid, specifically as it unfolds with the storylines of other characters.
Then there is Xiala, who is hands down my favorite character in the novel. She is an outcast Teek, siren-like creatures who are both feared and worshipped, especially amongst seafaring folk. She is also one of the best queer characters I've ever read, with an approach to bisexuality that walks a skillful line between exploratory, emotional and exciting. On top of that, her narrative ramps up beautifully, beginning with a seemingly simple job in exchange for getting her out of jail and unfurling into a journey across the turbulent Crescent Sea. That journey is filled with moments of joy, distrust, violent storms, mutiny and bursts of terrifying yet spectacular magic. She feels like a fully realized character, with a satisfying arc from start to finish. Most important to Xiala's story though, is her cargo: a mysterious blind man named Serapio.
Serapio is the most heavily explored character in Black Sun, with Roanhorse placing well-timed flashback chapters of his childhood throughout the novel. And deservedly so. He is the Crow God reborn, manipulated and molded from childhood, eyes sewn shut, mind and body sharpened, all to destroy the Sun Priest as an eclipse covers the sun on the Winter Solstice. It's a brutal tale, one of unrelenting drive towards an equally brutal goal. Regardless, Roanhorse fleshes out Serapio beautifully, giving him humanity despite the monstrous power within him.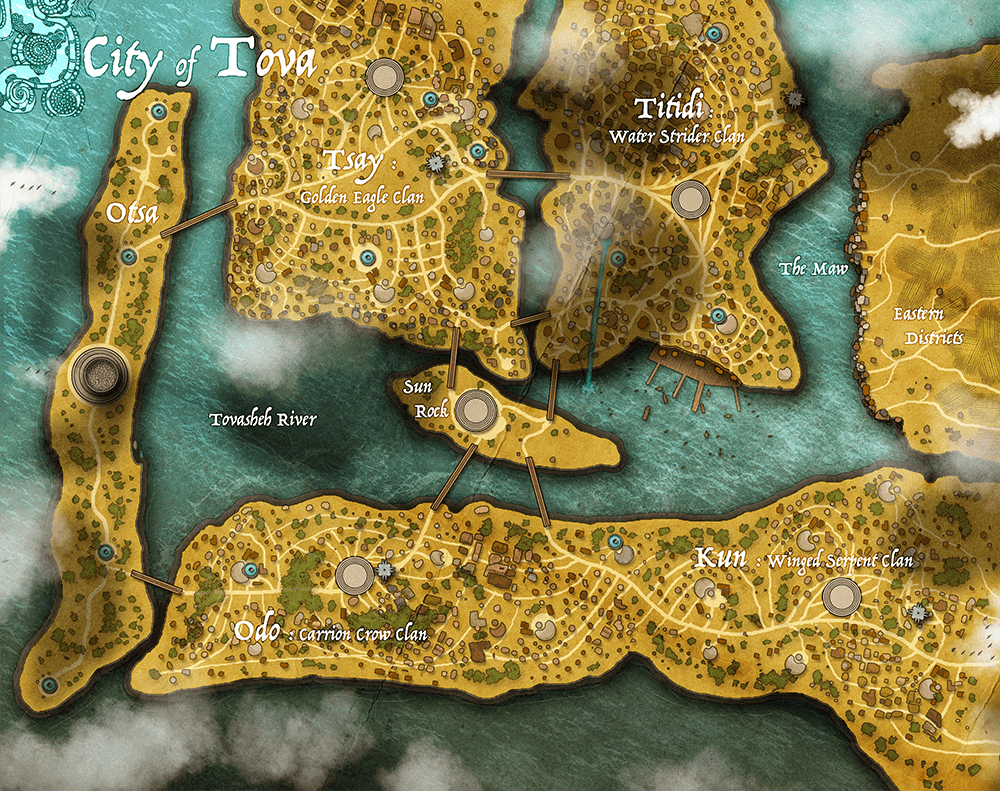 Even more interestingly, as his path intertwines with Xiala, his humanity blossoms and even veers towards romance. But what is romance and emotion and love to a tortured soul with a literal god inside of them? Turns out, Roanhorse delivers a dynamic, realistic portrayal of "will they, won't they?" And thankfully, it's so well done because both Xiala and Serapio both have tangible flaws and unexpected strengths. Xiala is badass and no-nonsense, independent and hotheaded, but she's also kind and compassionate. Serapio, while capable of terrible power, is so charmingly innocent. By the end, I was really rooting for them, and the tragedy of how it all unfolds is… just difficult. But I won't spoil anything more there.
It is difficult to manage multiple POV characters in a single novel, but Roanhorse carries the weight and pulls it off beautifully. Each character chapter is intriguing and multi-dimensional in its own way, with enough to pull you along and keep you invested in the four main characters (as well as some side characters). As all their story arcs converge on the Winter Solstice, the pacing (which was great for the first two-thirds of the novel) picks up with exhilarating, breakneck speed. As much as I enjoyed the ending as a whole, I will say that it was a bit jarring how the pacing ramped up so much, delivered such spectacle and then hit the wall with a cliffhanger. Obviously, this will lead directly into book two of Between Earth and Sky, but it was unexpected and left me feeling a bit unsteady. Especially after how much I enjoyed everything up to that point.
That final gripe aside, Black Sun is a spectacular book, one with engaging characters, a tight story that pulls together so well, and a magical world that begs to be explored even further. I'm so excited to continue with Roanhorse's Between Earth and Sky trilogy, but, for now, I'm wholly pleased with my experience of Black Sun.
This review was originally published on the Mind & Musings blog.