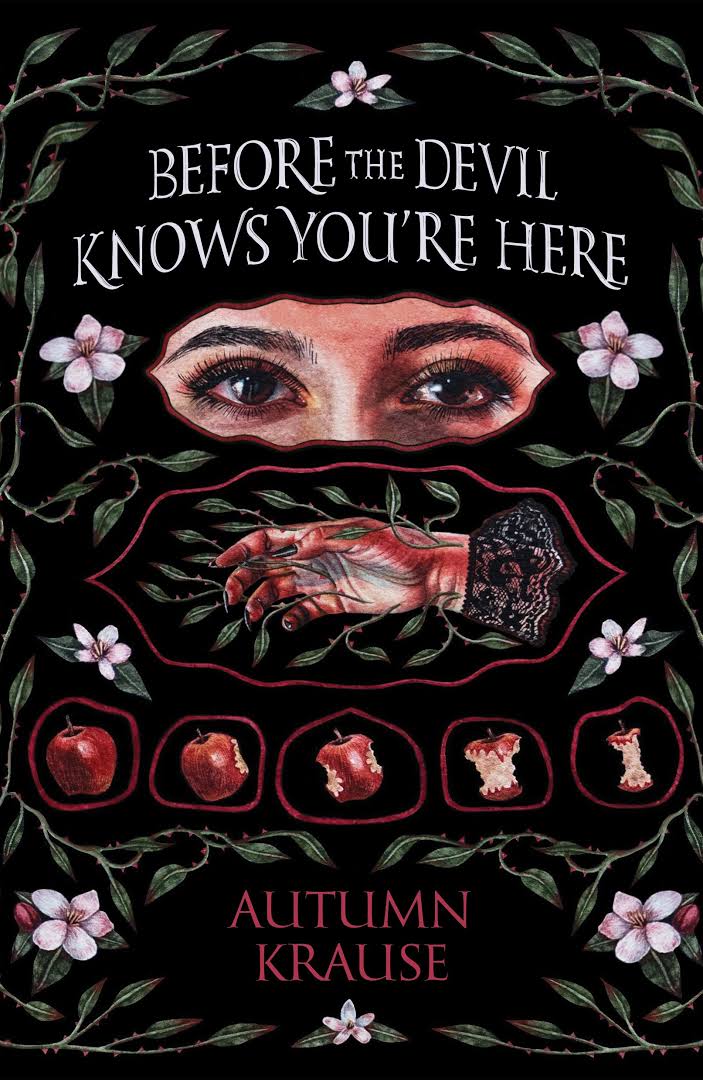 Rating: 6/10
Synopsis:
1836, Wisconsin. Catalina lives with her pa and brother in a ramshackle cabin on the edge of the wilderness. Harsh winters have brought the family to the brink of starvation, and Catalina has replaced her poet's soul with an unyielding determination to keep Pa and her brother alive.
When a sudden illness claims Pa, a strange man appears-a man covered in bark, leaves growing from his head, and sap dripping from his eyes. He scoops up her brother and disappears, leaving behind a bird with crimson wings. Catalina can't let this man-if that's what he is-have her brother. So, she grabs Pa's knife and follows the bird.
Along the way, she finds help from a young lumberjack, who has his own reasons for hunting the Man of Sap. As their journey takes them deeper into the woods, they encounter strange beasts and tormented spirits. The more they uncover about the Man of Sap, the more they learn how deeply Catalina's fate is entwined with his, planted long ago in cursed seeds.
An enchanting mixture of American tall tales and Faustian elements, Before the Devil Knows You're Here centers a fierce Mexican American poet on a quest to save her brother.
Review:
Hello again dear reader or listener, 'tis officially Spooky Season so ofc the eerie reads have commenced. She says as if she hasn't been on a horror, thriller, and gothic kick the last few months, but that is beside the point.
As always, firstly a thank you to the Peachtree team for granting my NetGalley request for an eARC of this book, my thoughts remain honest.
So, here's the thing, sometimes, I am an idiot. And sometimes, that coincides with me seeing a cool cover, reading the intriguing blurb and yet somehow entirely missing the fact that this was in fact not an adult, but a YA novel. I figured it out eventually, but the original expectation did throw me in for a bit of a loop for the first half of this book. Not that it changes much to be fair but still.
It seems that I am making a habit of beginning my October reads with a surrealist folk horror book and I can't say I overly mind. This is a subgenre that tends to either be a hit or miss with me though, and in this case, I am a little sad to say it was mostly a loss. If I am brutally frank here, this was one of those cases where I could neither find something "big" to put me off entirely, but neither something exceptional to praise. I am aware it may sound harsh but yeah, I wanted to keep reading but I did fall asleep doing so every single time I picked this book up. Eventually I decided to read the final hour of it I had left right after I drank a huge cup of coffee to manage. Maybe I wasn't in the right mood for it yet, who knows.
However! As I always like to say, what didn't work for me may work for others so let's try and break down the positives in here.
Krause brought a multicultural point of view into the American folk stories that have informed and entertained generations, giving a more sinister twist to the Johnny Appleseed tale while sprinkling in some Paul Bunyan and Mexican American folk monsters. However, the detail I appreciated the most was the Faustian element. And nobody was shocked. As you may know, dear reader, I love me some Faustian deals, sometimes I think I am worse than Ben Barnes in that regard. The best way I can think to summarize this book would be to say that Krause writes up an atmospheric homage to a mixed cultural background and the memory of a person dear to her, depicting a different, darker, and more folk gothic side to early 19th century americana. Bringing to life that solid and vivid mix of folk tales and myth that were also paired with the Christian overtones informing the 1800s American short story. Think Washington Irving's The Devil and Tom Walker but add more monsters and a gutsy young woman willing to do anything for her family.
Krause's writing is evocative and blunt in the stark ways she depicts grief, horrors, or unexplainable events. Plot wise however I can say that, one final reveal aside, which was pretty solidly unfolded, I found myself caring more about the John plot line that is shown in parallel to Catalina's search for her brother. I am a huge fan of misunderstood monsters and, when you pair that with a devil deal gone awry, it has the potential for something awesome. I can say that for the most part, the author delivered there. It was probably the most emotionally involving part of the book to me, seeing his tragedy slowly transpiring and the unavoidable descent toward his dark fate. His helplessness and good intentions gone to hell (pun intended) were probably the best written part of this novel. The character of the Banker along that plotline, was probably my favorite throughout, even in his quality of rarely on page but shady and archetypical villainous figure. There truly were some short instances of him having the most depth out of the whole character cast in my opinion, oddly enough.
When it came to Catalina's story however, I simply couldn't connect. I understood her but I never really felt for her if that makes sense. We get to be in her head and see all her emotions but they just never felt like they sunk in. Her connection with her family and then later with Paul were told but not shown in any way that might get me more invested . With Paul especially, I just think the author fumbled that one. We have these two characters allying through necessity, spending all of three uneasy days together, not really getting along and mostly just becoming acquaintances through shared struggle, and then out of the blue we have a love declaration, the depths of which you expect at the end of a slow burn romance spanning months if not years. Don't get me wrong, it was really cute, and Paul is a cinnamon roll, but aside from the romantic subplot coming across as entirely shoehorned to fit a genre requirement, Paul felt more like an accessory to Catalina, than a character in his own right.
There was a lot of potential for it all but ultimately it fell flat and could've benefitted from being less rushed. Catalina goes through unimaginable horrors be we barely get any chance to see how it affects her in the long run or have the time to actually feel for her struggle in the final chapters. I was so removed from what was happening by then that even her final triumphant plot twist was just something I was simply expecting to happen rather than hoping/rooting for.
So that's about it, dear reader. Unfortunately for me, I was left a bit indifferent overall, aside from the few things I mentioned but, if you're into the above-mentioned folk tales, enjoy vibes leaning towards the folk horror side, and need something to pass the time but not something that'll have you so utterly hooked you can't put the book down, then this would be a good book for you. I could argue this novel works well as an entry level for a teen looking to dip their toe into folk horror and see what their gore tolerance is perhaps. Especially if they're looking for a more multicultural perspective on it all.
Pretty sure the strongest effect this book had on me was making me crave a ridiculous amount of apples.
Until next time,
Eleni A.E.