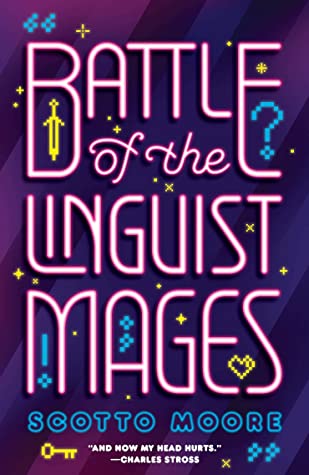 Rating: 6.5/10
Published by: Tordotcom Jan 11 2022
Length: 448 pgs
Audiobook: 17 hrs and 14 mins
Narrated by Justis Bolding
Synopsis:
"It reads like Snow Crash had a dance-off with Gideon the Ninth, in a world where language isn't a virus from outer space, it's a goddamn alien invasion." —Charles Stross

Isobel is the Queen of the medieval rave-themed VR game Sparkle Dungeon. Her prowess in the game makes her an ideal candidate to learn the secrets of "power morphemes"—unnaturally dense units of meaning that warp perception when skilfully pronounced.

But Isobel's reputation makes her the target of a strange resistance movement led by spellcasting anarchists, who may be the only thing stopping the cabal from toppling California over the edge of a terrible transformation, with forty million lives at stake.

Time is short for Isobel to level up and choose a side—because the cabal has attracted much bigger and weirder enemies than the anarchist resistance, emerging from dark and vicious dimensions of reality and heading straight for planet Earth!
Review:
::deep breath:: Alright, settle in. Lets see if this is even going to sound SOMEWHAT coherent. So I'll start with some interest-catching buzzwords or phrases to get you into the headspace of this glitter-bomb of a science-fantasy adventure.
– Dance Music
– Dungeon Crawler
– Transmutation
– Morphemes
– Interpunct
– Logosphere
Did i lose you there a little at the end? Yeah, it gets weird.
First off, lets talk a little about the author of this 'multiversal' dance party Mr Scotto Moore himself. Author of the novella YOUR FAVORITE BAND CANNOT SAVE YOU (which i loved!) Scotto Moore is not only an author but also a Seattle playwright who wrote and starred in the horror/comedy play H.P. LOVECRAFT: STAND-UP COMEDIAN! and written and produced 3 seasons of an online scifi/comedy web series 'The Coffee Table'. He had also wrote 2 other plays to note 'The Balcony' and 'Duel of the Linguist Mages' which produced the seeds of inspiration for this book. This is a Science-Fantasy prevent-the-destruction-of-the-world story.
Getting into the story itself was quite the experience. For the first third of the book I was absolutely loving it. Isobel was hilarious and the descriptions of the Sparkle Dungeon game was gold. Kicking 'feral rainbows' always got a chuckle out of me. The slights to streaming music services and all things disco balls and weaponized EDM artifacts was also great.
Then things get turned up a little. We're now traversing through 3 different worlds. The logosphere, the Sparkle Realm, and reality with a cast of characters that got a little muddy to follow. Alliances fell and then mended, we encounter aliens and apparitions and sentient NPC (OH MY!) all the while going deeper into the rabbit hole to defeat this impending threat of the 'unraveling' that will destroy humanity. The only way to get enough power to defeat it is to suck the essence out of a few million people to power 'god mode'.
(side-note: I watched an interview where Moore cites 'The Library at Mount Char' as a book that inspired his writing, and I feel like that's a really good companion to this book because things get crazy.)
This is a book that looks light and fun on the surface, and keeps you smiling through the beginning. But I think it's in the latter half that some readers will lose that 'spark' (no pun intended) and fall off the wagon. You have to really swim through some multiverses and psychological coercion to get through to the end, though a satisfying end it was.
After finishing the read there are a lot of thoughts that start to bubble up and, upon reflection, there were pieces that were overly complex and I don't feel were fully necessary. (I will not mention to avoid spoilers) But also, it's that same complexity that makes this book admirable praise-worthy to some, though confusing to others.
All things considered, do not take this book at face-value. What looks like a fun 'Ready Player One' sparkly video game book is actually a mental exercise in reality-bending concepts and world-ending stakes with a sharped-tongue main character who loves a good groove and hates capitalism. There are a couple plot holes and loose threads that left me with questions at the end, but, did I have a good time? Yes. Yes i did.
File under: Science Fantasy, LGBTQ, Multiverses, Outlandish Use of Glitter-bombed Techno
Follow Scotto Moore:
https://scotto.org/
https://twitter.com/scottomoore
https://www.instagram.com/scottomoore/
https://vimeo.com/scottomoore