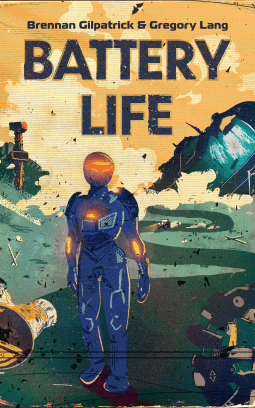 Rating: 8/10
Summary:
Equal parts Z for Zachariah and Mad Max, Gilpatrick and Lang's darkly funny debut follows a girl from outer space and an aging scavenger who must learn to trust each other in order to survive.
Welcome to the Junkyard, a toxic wasteland where humans, machines, and everything in between fight for survival among the ruins of a long-forgotten war. This is where Diane Three-One-Seven finds herself after the arkship Cradle–the only home she's ever known–falls out of the sky.
When a mysterious scavenger named Virgil stumbles upon Diane's escape pod, the two strike a deal (if it can be called that). Virgil's spare mechanical battle suit, nicknamed the "Grave Walker," can help Diane survive the ruined atmosphere–but it could kill her if it runs out of power. And Diane's untainted blood, a precious resource in this radioactive hellscape, could keep Virgil alive long enough to finish one last mission–but at what cost?
The two will have to wait to work out their differences, however, as a new threat appears on the horizon: a masked man called the Messenger, who hopes to subdue the Junkyard with a mysterious new power. With the help of a ragtag team of misfits, Diane and Virgil may just have a chance to stop him–if they don't kill each other first.
Review:
This book was quite the surprise of 'Fallout' mixed with a 'Fifth Element' kind of unlikely companion story. A Woman falls from her posh life amongst a generation ship into a treacherous wasteland of Earth to be discovered by this 'Han Solo' of the junkyard. A swindler and scrap dealer, he knows people, the ins and outs of this world and now Diane has to rely on him for her survival.
We know that Virgil's motives aren't entirely pure and well-intended. He's in it for himself though there's something about seeing the hope in Diane that just starts to plant the sed of becoming a better person.
This story is rich with action, mad-max chases, battles with giant leviathans, technology-enhanced humans, sewer monsters, raiders, and an overzealous leader that can't seem to be touched. Though there was also plenty of mistrust, moral struggles, funny dialog, and overconfident heroes that never let their nerves show.
Virgil's arc was wonderful and i really enjoyed it, Diane was well played and she eventually got her gusto rather than being the scared out-of-place visitor to a new land. I loved her character shift as well.
All in all it was a really great hidden gem for those who love some post-apocalyptic action with quippy dialog and a imaginative cast of side characters and monsters.