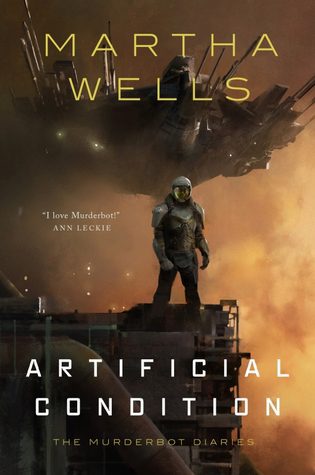 Genre: Science Fiction
Publisher: Tor.com
Hardcover: 158 pages
Audiobook: 3 hours and 23 minutes
4/5 Stars
First off, thank you to the publisher and author for an ARC of Artificial Condition in exchange for an honest review. This is no way influences my thoughts on the novel.
Murderbot…. Murderbot…. does whatever a Murderbot does.
On a voyage of self-discovery, Murderbot goes back to its roots to find how and why it went rogue. Helping Murderbot along is a Research Transport vessel humorously coined 'ART' (you'll find out the meaning when you begin reading) and the two head off toward the mining facility where it all went down.
What keeps me coming back to these novels is the character study that is Murderbot. The personality that Wells has instilled in her main character shines through on each and every page, and the addition of ART adds another much needed element to the storyline. ART challenges each decision Murderbot makes, which creates multiple internal dilemmas and forces Murderbot to reveal details otherwise kept under wraps.
Compared to All Systems Red, Artificial Condition offers a little more world-building and a smidgen of character development for a couple of the humans, but you really don't read these novellas (hence the word NOVELLA) for fully fleshed out environments or characters. You read them because Murderbot is, oddly enough, a protagonist you can get behind; one you can Netflix & Chill with, and I don't mean sexy time. Murderbot loves soap operas and wants you to enjoy them just as much.
If you loved All Systems Red, of course you will read Artificial Condition. If you haven't given the series a chance, I implore you to do so.
Amazon | Audible | Barnes & Noble | Google Play | Kobo
-Review by David