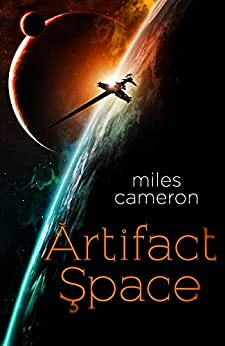 Rating: 8.0/10
Synopsis
Out in the darkness of space, something is targeting the Greatships.

With their vast cargo holds and a crew that could fill a city, the Greatships are the lifeblood of human-occupied space, transporting an unimaginable volume – and value – of goods from City, the greatest human orbital, all the way to Tradepoint at the other, to trade for xenoglas with an unknowable alien species.

It has always been Marca Nbaro's dream to achieve the near-impossible: escape her upbringing and venture into space.

All it took, to make her way onto the crew of the Greatship Athens was thousands of hours in simulators, dedication, and pawning or selling every scrap of her old life in order to forge a new one. But though she's made her way onboard with faked papers, leaving her old life – and scandals – behind isn't so easy.

She may have just combined all the dangers of her former life, with all the perils of the new…
Review
Oh, what a enjoyable read this was!

The story follows our MC, Marca Nbaro as she fakes and forges her way out of a horrible life in a orphanage into into her dream job of heading out into space in a Greatship. Little did she realize that her new life would be exciting…just not the way she anticipated! The book takes us through her life and adventures as she is thrust into situations far above her competency with not just her life but that of everyone in the Greatship hanging in the balance.

First off is the prose. It is very engaging and so easy to digest. We get snookered into the intrigue and action from the get go and the book was unpredictable and kept me guessing all the way to the end. I certainly binge read this in phases and couldn't really let go till the last page! The overall feel is that of fun, adventure and daredevilry which is right up my alley! In many ways this book reminded me of Jake Graton series by Stephen Coonts but set in space rather than Aircraft Carrier.

The worldbuilding is just special. We get treated to a futuristic world of space travel, trading with alien species mixed with some old world politicking and backstabbing. The book achieves a perfect balance between the strategic plot drivers with the tactical side of life within a Greatship. The Grestships are so big that they are a microcosm of martial (naval) society with a built in ecosystem of it's own. I got introduced to the world with the same awe of Marca and the experience of adapting to life in space, life in Greatship and life in the role Marca faked her way into all are perfectly aligned to make this a truly immersive read.

As to characters, the big chunk of PoV is that of Marca as she navigates her way though the tumultuous events she's gets thrown into repeatedly. It certainly is a thrilling ride as the plot fluctuates between the local events whilst easily tying into the macro plot. Though I immensely enjoyed Marca's trials, at the end of the book, I felt she was a bit OP (overpowered). She gets thrown into situations requiring skills which are not her core competency but still navigates them with ease. At some point I was thinking of her a the sci-fi version of Kvothe! The plot surrounding these events also felt a bit manufactured as we repeatedly find Marca in events where she's the only hope and savior and the entirety of the rest of crew are conveniently disabled. Though this was fun when reading, it certainly got a few mental eye rolls from me. Nothing to complain about though as it was still fun! The rest of the characters have all been done well and are unique and leave an good impression despite their lack of page time, which I really appreciated! My other peeve was that of the villain, which was telescoped quite blatantly.

The book neatly ties up the arc but still left me wanting more as I wanted to see more of the macro plot unravelling and things coming to a head with Marca's past.

Highly recommended!