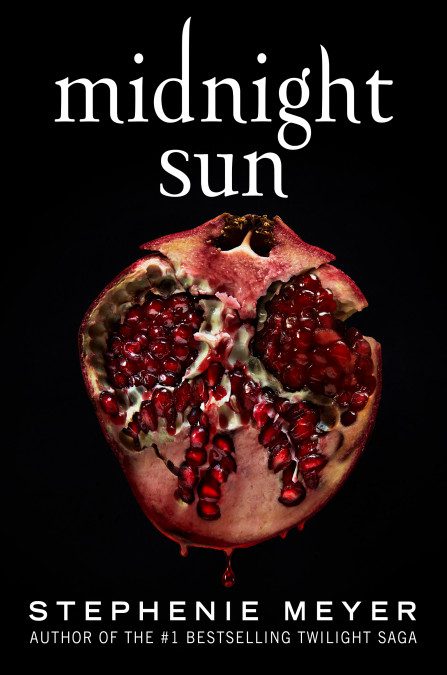 Rating: 6.5/10
About the Book
When Edward Cullen and Bella Swan met in Twilight, an iconic love story was born. But until now, fans have heard only Bella's side of the story. At last, readers can experience Edward's version in the long-awaited companion novel, Midnight Sun.

This unforgettable tale as told through Edward's eyes takes on a new and decidedly dark twist. Meeting Bella is both the most unnerving and intriguing event he has experienced in all his years as a vampire. As we learn more fascinating details about Edward's past and the complexity of his inner thoughts, we understand why this is the defining struggle of his life. How can he justify following his heart if it means leading Bella into danger? 
Review & Essay
Before I dive headlong into this rant, I want to clarify that I ADORE the Twilight Saga. I'm in on the jokes and I swoon at the very mention of Edward Cullen (Isle Esme, amirite?), but I am also painfully aware of the series' shortcomings. I'll be tackling this review from a somewhat academic standpoint, so if that isn't your cup of tea, I understand. Also, this book came out in 2020 and my piddly little essay isn't gonna mean SQUAT to ole Smeyer, but I've been chewing on these thoughts for a couple of months. So, without further ado, enjoy.
Let's first talk about everything that Twilight presented us with: a funny and charismatic Bella Swan, whose quirky antics led her to be the obsession (and, in turn, be obsessed with) Edward Cullen. The timeline of their hot-and-heavy romance is startlingly short. From the time they decide to become a couple to the time Bella wakes up in the hospital after nearly getting killed by James, NINE DAYS have passed. Before that, their whole will-they-won't-they lasted roughly a month and a half, excluding the entire month(ish) that Edward avoided Bella in Alaska.
And that's just the beginning of their relationship. All through Twilight, Detective Bella is putting two and two together. She isn't stupid by any means (yet) and she has more than enough sense to see through Edward's gaslighting. Which, by the way, is Red Flag #1. Like, we get it, dude. You're the mysterious, brooding villain in your own story. You don't have to be an ass about it. Anyway, after Bella falls "irrevocably" in love with ole Eddy, things happen pretty fast. And this is where Midnight Sun takes over as our frame of reference.
Through Edward's eyes, we get to see the outside of Bella. The nuances of her actions, the thoughts of her "friends"—I'll come back to that— and all of the things that all us fangirls/boys/thems wish people would notice about us, dammit. Anyhoo.
Bella becomes something desirable and interesting, which we didn't really get in Twilight. Granted, it's hard to do that in a first-person POV without the character sounding like an egotistical POS. Still, she becomes something out of the ordinary. And Edward becomes obsessed. And folks, it ain't healthy. This boy, whose brain was literally frozen in development at seventeen years old, becomes what is essentially a stalker. Enter Red Flag #2. Sorry, Eddy-boy, you can't watch secretly watch someone sleep for weeks and claim that you just want to protect them from meteors (I'm not kidding, that was in the book). We're not even going to talk about the sexist implications behind that. JK, we are.
In 2015, Stephenie Meyer released Life and Death, the gender-bent version of Twilight to prove that no, she wasn't sexist, thank-you-very-much. The whole purpose was to show that Bella was a "human-in-distress" and NOT a damsel. It wasn't well-received. Basically, she was wrong. Bella is very much a DID and Edward makes it a point to constantly point out how very fragile she is and how much of a danger to herself she is. Yeah, so am I, but you don't see ME asking for a night watch. I digress.
The whole situation is very gendered. Edward is determined to be her knight in glittering armor whilst simultaneously condemning himself to self-inflicted purgatory? He goes on and on about how he is damning her to his eternal world of night (the Hades and Persephone allusions get old real quick). It's 2005, Edward. 3rd shifts exist. Anyway, tangents aside, his attitude toward Bella is very "silly girl can't care for herself so I must do it because I am a big strong man." I don't entirely think this is intentional (hence Life and Death), but more of a byproduct of the author's religious beliefs. And no, dear readers, I am not bashing Smeyer for being religious. Her beliefs are plastered through the series, and while they may rub some people the wrong way, it is ultimately her book. She can do whatever she wants. The real problems are Jasper and her sexist treatment of Jessica Stanley and Rosalie (or any woman who isn't Bella). And then there's Renee. We hate Renne.
Speaking of, let's go ahead and talk about Bella's "loving, erratic, harebrained mother." Yes, that was from memory. Anyway.
When Bella wakes up from being NEARLY KILLED, Renee is there. And this is where Edward's perspective becomes intriguing. Through him, we learn that Renee is a TERRIBLE mother. The entire time, she is loudly broadcasting her thoughts like a PA system and is she thinking about her poor, broken daughter? Nope. She's thinking about her husband and whether or not he's called her yet. She even proudly tells Bella that she's been sleeping at the hospital. But it wasn't out of worry. Nope again. It was because she was too afraid to be by herself.
It begs the question: is this what Stephenie Meyer thinks becomes of young mothers? Renee and Charlie were both barely out of high school when they had Bella, and Renee left Charlie because he wanted to stay with his dying parents in Forks, and she didn't. Let me repeat that. DYING. PARENTS. HER IN-LAWS. She wanted more out of the world, fine. Again. Dying. Parents.
One of Bella's big character points is that she raised herself. This is problematic because it suggests that young mothers are inherently irresponsible. Through the entire exchange in the hospital in Midnight Sun, I was going insane because Renee just kept looping the conversation back to herself. Even when she was doting on Bella, it didn't seem genuine. It seemed like Renee didn't know how to be a mother. And yes, young parents and their children sort of grow up together, but this goes beyond that. It's like Stephenie created Renee as an example of what happens if you have children while you're still young. I could be reading too much into this, but it just rubbed me the wrong way. Twilight Renee was bad, but Midnight Sun Renee was so much worse.
That brings me to the other two prominent women that I feel were wronged by Bella's Main Character Syndrome: Rosalie and Jessica. Jessica is Bella's first "friend" when she moves to Forks. But Jessica is downright cruel. She is the popular girl who knows everyone, and she gets irritated when Mike (ugh) starts paying attention to Bella over her. Then Edward does the same thing and her internal monologue becomes nearly vicious. And then, there's Rosalie. I was so excited to finally see Rosalie aside from hating Bella. I was hoping to really get to know her, see her interact with her family, and finally be able to be herself.
I was disappointed.
Rosalie is the most mistreated character in the entire series. She is given no more development than the vapid blonde who is solely concerned with herself and, admittedly, Emmett. We get one instance of Rosalie doing something brave and it was when she saved Emmett without killing him. The rest? Snide remarks to Edward and mean glares at everyone around her. If Narcissus himself ever had a rival, it would be Rosalie Hale. And that just isn't fair. Pretty people aren't inherently mean. And Jessica and Rosalie both deserved better.
Then, there's Meyer's treatment of the kind-hearted women: Alice, Angela, and Esme. All are seen as odd outsiders. Esme literally never leaves the Cullen house until the training starts in Eclipse (except for New Moon when all the Cullens yoinked out of Forks). Not once. Alice is literally called the "little weird girl" in the movie. Do with that what you will. Angela is quiet and kind, and Edward likes occupying her thoughts because they aren't mean like Jessica's. But then, Edward plays matchmaker for her because she's kind. Again, Eddy, you are not every woman's savior.
All of this doesn't even BEGIN to encompass the racist treatment of the very real Quileute Nation (please see https://quileutenation.org/ and https://mthg.org/ for information about their culture and customs, and to learn of ways to support them since they didn't receive a single penny from Smeyer & Co.). ScreenRant has an article on some of the problematic things that came as a result of Meyer's work. The Quileute people are not characters and their culture is not a backdrop for a love story. I don't want to come across as a white knight, but I feel very strongly about Native issues, and this one weighs heavy on my mind. I don't have as much to say about this issue because I am more comfortable talking about the sexist treatment of women, but this is an issue that cannot be ignored. Native culture deserves to endure, and not just in Twilight. Please, do some research and donate where you can.
Also, I haven't even mentioned the fact that Jasper is a proud Confederate soldier and does not express any kind of remorse for his part in the Civil War ONCE. Instead, we get…"battleshcars" and a deep dive into his creator Maria's bid for territory, which somehow excuses Jasper for being a Confederate. Not in my book. It's been over 100 years, Jazz. It's time to own up.
I don't think I touched on everything I wanted to touch on, but this is by far the longest thing I've ever posted on FanFi. Truthfully, I don't know how many people will read this as it is very rambly, but I do hope that you enjoyed whatever you did manage to get through. And if you made it this far…well, you just became one of my favorite people. If you ever want to talk Twilight, you know where to find me. Until then, loca.