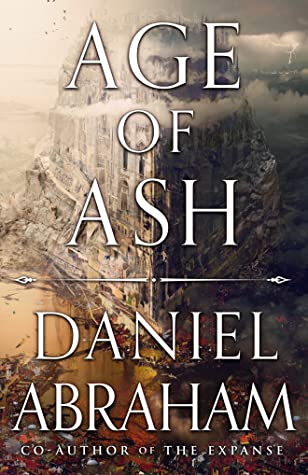 Rating: 9/10
From New York Times bestselling and critically acclaimed author Daniel Abraham, co-author of the Expanse, comes a monumental epic fantasy trilogy that unfolds within the walls of a single great city, over the course of one tumultuous year, where every story matters, and the fate of the city is woven from them all.
Kithamar is a centre of trade and wealth, an ancient city with a long, bloody history where countless thousands live and their stories unfold. This is Alys'.
When her brother is murdered, a petty thief from the slums of Longhill sets out to discover who killed him and why. But the more she discovers about him, the more she learns about herself, and the truths she finds are more dangerous than knives.
Swept up in an intrigue as deep as the roots of Kithamar, where the secrets of the lowest born can sometimes topple thrones, the story Alys chooses will have the power to change everything.
'An atmospheric and fascinating tapestry, woven with skill and patience' – Joe Abercrombie, author of A Little Hatred
'This outstanding series debut… instantly hooks readers with dual mysteries… Readers will eagerly anticipate the sequel' – Publishers Weekly
'Kithamar is a spectacular creation, a city brought to life by dance, intricate worldbuilding and subtle magic. Fans of Scott Lynch… will enjoy this one' – Django Wexler, author of Ashes of the Sun
Review

Something stirs dark in the Heart of Kithimar itself. An abandoned sister seeking revenge for the loss of her brother, a man that was respected in his community. Murderous Princes vie for the throne of Kithimar, and priestesses, monks and figured shadows all have a role to play in this world of treachery and deceit. Another woman makes her own path throughout this novel. This novel is a bit of a slow burn, but when it picks up the pace, it becomes really good.

Summarising this plot would take some time. But the gist is, that Allys embarks on a journey that changes her forever. It exposes the rot of Kithimar's rich nobility, and that their ideas and ideals of the order are nothing more than devices meant to hold them forever in their power. Corruption runs deep in this city. I was impressed by Daniel's ability to include a ton of worldbuilding for each region of the city that I went into. Be it Longhill, Greenhill and many such locations. I think this novel would have benefited from a glossary – which would be very helpful for the locations and names of other cities. There is a rich array of characters, a rich display of action, and sometimes, even fantastic moments of prose that is hard to replicate anywhere else.

What I liked about this novel the most is that each character has their own motives and their own agendas. And it doesn't need to contrast with Allys's personality. However, I did sometimes end up disliking Allys purely because her quest to discover the truth behind her brother's murder lead her into dark avenues that made her eviler than anything else. But she is young, and at that age, grief can drive any person mad. Sammish was a terrific character that often was far more opportunistic, making her own moves, and driving the story forward. This story is so rich, deep, and complex that at times I am amazed it is has been amazingly written. Really, this is a great novel.