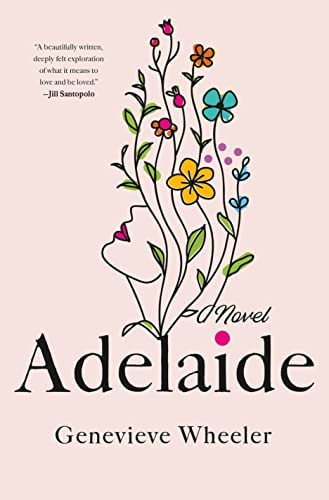 Rating: 10/10
SYNOPSIS:
In love . . .
For twenty-six-year-old Adelaide Williams, an American living in dreamy London, meeting Rory Hughes was like a lightning bolt out of the blue: this charming Englishman was The One she wasn't even looking for.
Is it enough?
Does he respond to texts? Honor his commitments? Make advance plans? Sometimes, rarely, and no, not at all. But when he shines his light on her, the world makes sense, and Adelaide is convinced that, in his heart, he's fallen just as deeply as she has. Then, when Rory is rocked by an unexpected tragedy, Adelaide does everything in her power to hold him together—even if it means losing herself in the process.
When love asks too much of us, how do we find the strength to put ourselves first?
With unflinching honesty and heart, this relatable debut from a fresh new voice explores grief and mental health while capturing the timeless nature of what it's like to be young and in love—with your friends, with your city, and with a person who cannot, will not, love you back.
REVIEW:
I connected with Adelaide by Genevieve Wheeler from start to end. I felt the despair and the longing to be loved in the way she loves, giving her heart for little in return. I loved the Say Anything and Sufjan Stevens references and related to her joy in tattooing her favorite books onto her body. She even talks about wanting a dog named Fitz, which I happen to have. There's references to Sally Rooney (one of my favorites) and this book has some Rooney-esque qualities to it. Yet, the writing is something I think might be enjoyed by people who found Rooney's work not quite their style. It's just as emotive but a bit warmer and inviting.
Wheeler captures a *particular* brand of teen boy; the insatiable drive for sex and the lengths they're willing to go to get it, the impact of which is scarred onto women and their perception of their own worth. Adelaide's relationship in her formative years showcase the damage that can take root. We see Adelaide claiming sex as a way of empowerment, though it eventually becomes part of a cycle that isn't the healthiest for her mental wellness. This novel dives into mental despair and how the mind can find it hard to recover once it experiences the depths it can hit. Throughout the novel, I found the focus on Adeline's female friend groups absolutely beautiful and loved that such genuine relationships were expressed in this manner.
I found myself physically rolling my eyes at Rory because his character was so believable. I have come across many versions of Rory in real life. I've seen friends date Rory, I've dated a Rory. Though there were times I sympathized with him (as these sorts of people are good at manipulating those feelings in others), I really hated him. I wanted to hug empathetic, lovely Adelaide as if she were one of my own friends. I felt like it was ME getting gaslighted by Rory, Wheeler is THAT skilled at writing dimensional characters and putting us in their shoes. The prose is gorgeous but unpretentious. The timeline flows seemlessly, and I loved that we occasionally got POVs other than Adelaide. Every bit of it added to the building of this novel.
Thank you to Macmillan Audio for the review copy. Narrator Caitlin Kelly was fantastic. The ease at which she switched from the many accents and genders presented in this novel speaks to her abilities as a voice actor. I felt like Adelaide's personality was perfectly captured in her performance.
This is a stunning exploration into the journey to finding oneself through love, sex, friendship, and mental health.
Adelaide comes out on April 18, 2023 from St. Martin's Press and Macmillan Audio.