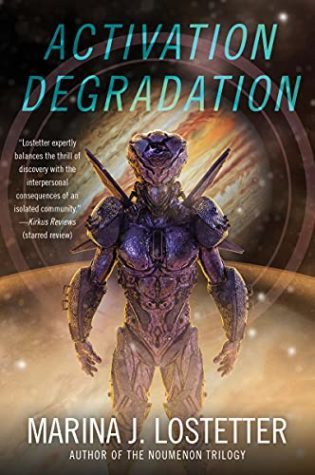 Rating: 8.0/10
Synopsis
When Unit Four—a biological soft robot built and stored high above the Jovian atmosphere—is activated for the first time, it's in crisis mode. Aliens are attacking the Helium-3 mine it was created to oversee, and now its sole purpose is to defend Earth's largest energy resource from the invaders in ship-to-ship combat.
But something's wrong. Unit Four doesn't feel quite right.
There are files in its databanks it can't account for, unusual chemical combinations roaring through its pipes, and the primers it possesses on the aliens are suspiciously sparse. The robot is under orders to seek and destroy. That's all it knows.
According to its handler, that's all it needs to know.
Determined to fulfill its directives, Unit Four launches its ship and goes on the attack, but it has no idea it's about to get caught in a downward spiral of misinformation, reprograming, and interstellar conflict.
Most robots are simple tools. Unit Four is well on its way to becoming something more….
Review
Activation Degradation is well-known author Marina J. Lostetter's latest published novel, and I found it to be a really interesting story. Dubbed as "The Murderbot Diaries makes first contact…", I only found a tertiary connection to the famous cyborg. Honestly, though, it does not need the comparison, as the story is able to stand on its own two feet.

The main character in this book is Unit Four: a robot designed to protect interstellar mining operations that currently serve planet Earth and its people. What makes Unit Four so different from most of the robots/cyborgs/AIs that reside in many recent science fiction novels is that, while oftentimes the robotic units in question have complete access to all the information they can handle (which is pretty much everything), Unit Four's access seems to be limited. Thus, when its mission goes awry and it is captured by aliens who do not seem to fit within its knowledge base, it does not really know what to do.

I like the premise a lot, because it sets up a situation where beings from different sides of town ("town" being "the Universe") are put in a situation where they are forced to learn to understand one another. That is a big theme of the story, and I love the way it was addressed. The "first contact" nature of it actually reminded me of another book I finished recently called A Psalm for the Wild Built. Activation Degradation overall isn't quite as calm and meditative as all that, but it is the idea of meeting someone so different from you and trying to see the world through their eyes that makes the plots of the two books somewhat synonymous (while also being incredibly different), and this theme really appeals to me.

I could have used a bit more of an action-y plot in certain areas, as there were times the narrative felt a little flat to me. But, Lostetter balances that out by creating intrigue in other ways, so I will not complain too much about that aspect. The other drawback in my opinion is that I felt certain plot points could have used more development. A few times I felt like certain events just kind of became important pieces of the story, and I think there was room to add some depth.

Overall, I really liked Activation Degradation. Lostetter's take on the future of technology and how it intertwines with the existence of organic life is really thought-provoking and unique. I definitely recommend this book for fans of sci-fi.