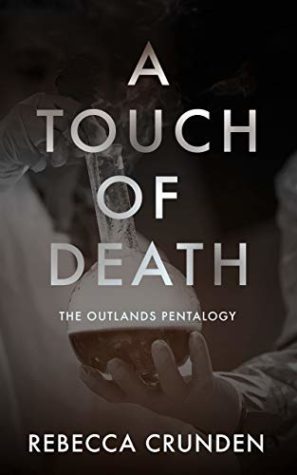 Rating: 8/10
Synopsis:
A thousand years in the future, the last of humanity live inside the walls of the totalitarian Kingdom of Cutta. The rich live in Anais, the capital city of Cutta, sheltered from the famine and disease which ravage the rest of the Kingdom. Yet riches and power only go so far, and even Anaitians can be executed. It is only by the will of the King that Nate Anteros, son of the King's favourite, is spared from the gallows after openly dissenting. But when he's released from prison, Nate disappears.
A stark contrast, Catherine Taenia has spent her entire life comfortable and content. The daughter of the King's Hangman and in love with Thom, Nate's younger brother, her life has always been easy, ordered and comfortable. That is, where it doesn't concern Nate. His actions sullied not only his future, but theirs. And unlike Thom, Catherine has never forgiven him.
Two years pass without a word, and then one night Nate returns. But things with Nate are never simple, and when one wrong move turns their lives upside down, the only thing left to do is run where the King's guards cannot find them – the Outlands. Those wild, untamed lands which stretch around the great walls of the Kingdom, filled with mutants and rabids.
Review:
I read A Touch of Death as part of the SPSFC Semi-Finals.
When I read the synopsis for A Touch of Death I knew that this would be a book I would enjoy, and I was right. This book takes the apocalyptic sci-fi genre and somehow makes it it's own.
I think one of the most interesting things about this story is that the main characters actually don't know what happened to the world. They know that they had to live underground for an amount of time and that a couple of generations ago they emerged from underground to live on the surface. They know there are humans who survived above ground by they are changed. Their lack of knowledge makes for an interesting story here as the reader is also in the dark along with them. While finding out what happened may not be the main plot it is definitely a plot thread that really intrigued me.
Catherine and Nate are our two main characters and they do not like each other. They may seem friendly enough but as you go through the first section of the book you realise they have been thrown together by their situation, not by choice. I loved seeing their friendship grow and their secrets come out.
There's something wrong with the way the world is run, people are killed for the smallest of infractions and it seems that they live in a dictatorship. The story isn't bogged down in politics but I really hope this get explored more later in the series and while it isn't the main focus of the story it definitely has big implications for what happens.
I really did enjoy this one, if you're looking for a good post-apocalypse story that doesn't entirely fall into all the same tropes I'd recommend checking A Touch of Death out.