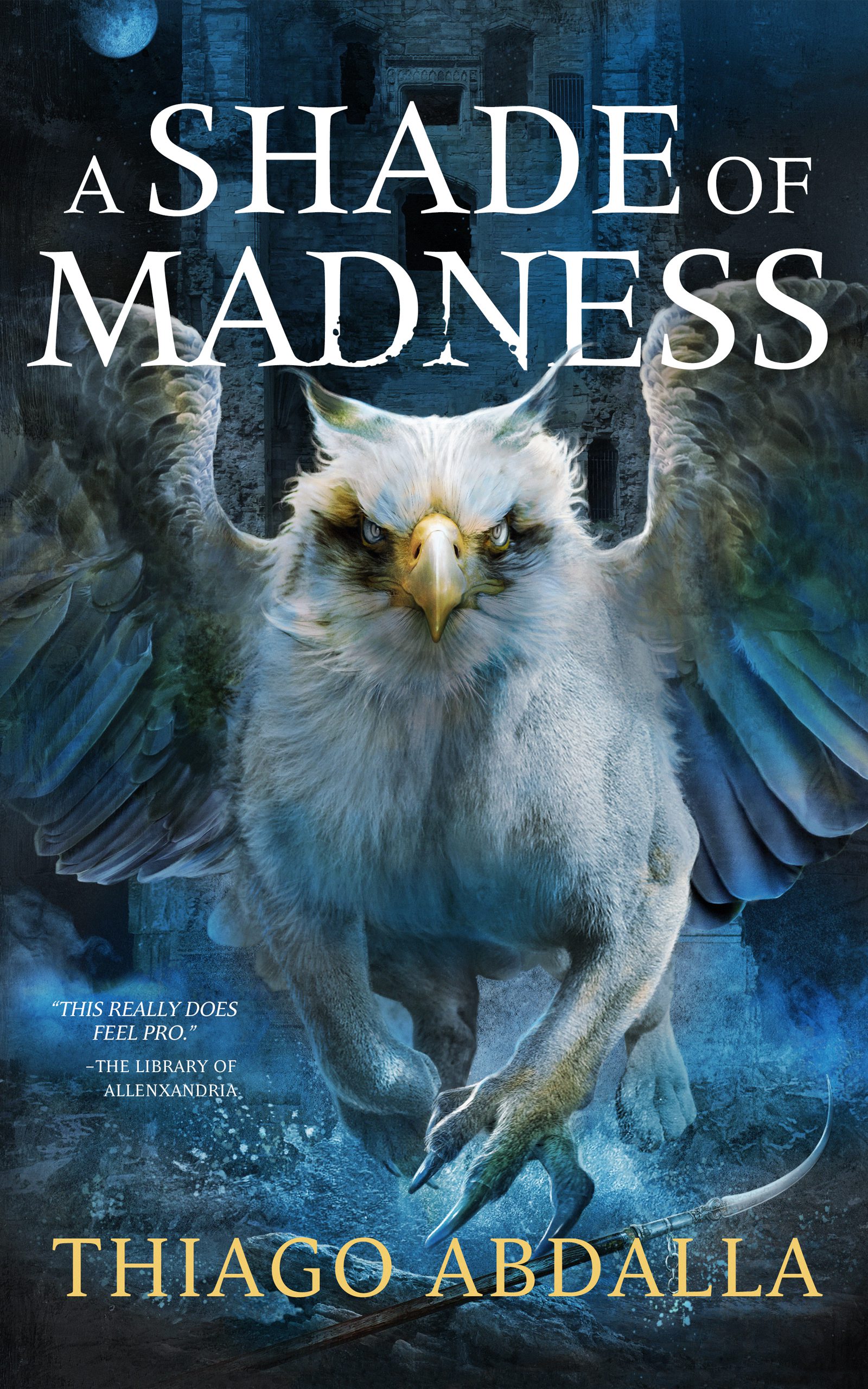 Rating: 9.2/10
Synopsis
Avarin tumbles into madness through the shattered ruin of a centuries-old peace.
As griffin riders clash against airships above and hordes of madmen below, Lynn finds herself surrounded by enemies. Ones that will test the limits of her faith. To defeat them, she must risk everything… including her sanity.
Adrian has lost the Legion, but new magics on foreign shores might be the answer he needs to rebuild his army. His return to the Domain will bring vengeance, and the hope that he will finally prove himself to his father.
Nasha's curse has taken on a new, terrifying shape. She dreads it could be just what the dead goddess needs to escape from Her prison within the Silent Earth. Will she be strong enough to resist, or will Nasha's curse give rise to the monster she fears to become?
Madness is spreading and it cares not for the borders of men.
A Shade of Madness is the second book in the Ashes of Avarin series, picking up straight after the exciting conclusion of A Touch of Light.
Review
Thank you to the author for sending me a review copy of A Shade of Madness.
Brimming with intrigue, betrayals, plot twists, frenzied madness, and fervor worship, A Shade of Madness is aptly named and an extraordinary showcase in characterization and well controlled pacing.
Following a much appreciated "story so far" summary of A Touch of Light, the sequel picked up exactly where we left off in book one. A Shade of Madness propels the story forward through the perspective of Adrian, Light of the Legion; Lynn, griffin-riding Sentinel of the Church; and Nasha, Ronar hunter. The addition of a new point of view (Kadmus) greatly enhanced the world building and character development. The new perspective provided a deeper understanding of the events and motivations of the characters, creating a more rich and compelling narrative. The introduction of his character was well executed and immediately pulled me into his character.
"The dead are unworthy, but to deny the use of death as a weapon is to make ourselves weak before it."
The characters are the beating heart to the story. In all of the characters lives there are notes of taking control of your fate and using their pasts to fuel their futures. These characters are finished letting things happen to them. Striving to achieve success in their own right, they desire to break out from the shadows of expectation and measure. They are willing to become whatever they need to be to make that happen. The growth and change that each character went through created empathy in me as a reader. The showcase of human nature was well received. I loved how Abdalla explored and played around with themes of redemption, transformation, loyalty, guilt, doubt, death, and so many more.
We are learning so much more about Nasha and Lynn as the sequel continued to flesh out their stories. As a number one Adrian fangirl, Lynn and Nasha grew on me in this sequel.
I am personally loving the magic representation, especially the blood magic. I like how it's described in vivid detailed. "The gestures seemed to amplify the pain. It dug deep, like a hook in his arm– spreading through his veins and ripping through him until it reached his heart." You really get a feel for how it's the life force of living beings and the balance that comes with how much a person is willing to give. It's dark and dangerous because it requires sacrifice in order to fuel its powerful spells and incantations. Practitioners are often portrayed as willing to do whatever it takes to achieve their goals and I think this played perfectly in the hands of one of the main character's arcs and motivations.
The world building and setting is extensive. A list of characters and names of places at the beginning helped a lot and it was easier to keep track of everything happening as I settled into the story. The characters were positioned in various parts of the world. This helped illustrate current affairs, customs, and culture through a natural unfolding of the setting that continued to build upon elements from the first book. The atmosphere and tone was urgent and dark. Where at times I couldn't easily visualize the details in book one, Abdalla has stepped it up here. He was specific and used sensory details to create clear imagery. Scenes were enhanced and the plot never felt bogged down by his descriptions.
"Doubt had always been as big an enemy as any."
There are fantastical griffin creatures, airships, infectious plague, magic, curses, and so much more. Griffins are a little underrepresented in the fantasy genre. I'm glad Abdalla has included these fierce beasts in his series. The griffins are often used in battles and wars, as well as transportation and protection. They are fierce beasts symbolizing strength and courage. I loved how the Sentinels had a connection to their griffins and could pull strength and speed from them.
Darkness around the eyes. Nails grown into claws. Beastly strength. Abdalla let loose the madness with expert control, bringing forth a masterclass in pacing. Each character encountered bits and pieces of the madness which allowed the reader to form a more complete picture of what was plaguing them. The way this piece to the story was handled kept me utterly engaged and eagerly anticipating what would happen next.
Before I finish my review, I wanted to mention that there is a sighting of everyone's favorite chain of taverns that have reached across worlds and books and authors… The Dripping Bucket. I've said it before and I'll say it again, it brings me so much joy to see many different authors embrace this idea and include it within their own works. I'm looking forward to where the next Dripping Bucket will land.
Overall, the sequel is a must-read for fans of the series and anyone looking for a well-crafted and engaging story. I'm eagerly anticipating the next installment.
I use a rating system that considers the characters, setting/worldbuilding, atmosphere/tone, writing/narrative style, plot, intrigue, enjoyment, pacing, originality of ideas, and use of themes. After rating each of these areas individually out of 10, I add up, divide and I'm left with a final score that has taken into consideration many different aspects of the story. For the purpose of the blog, this is a rating of 9.2 out of 10.