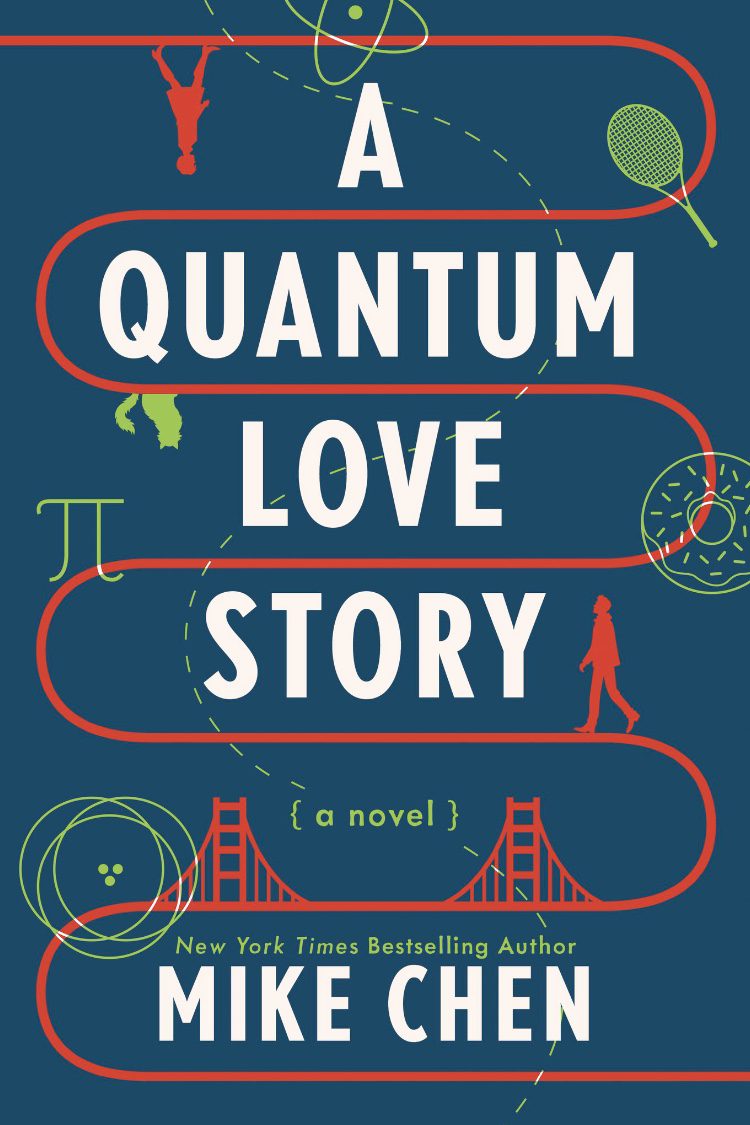 Rating: 10/10
Synopsis
The only thing harder than finding someone in a time loop is losing them.
Grieving her best friend's recent death, neuroscientist Mariana Pineda's ready to give up everything to start anew. Even her career—after one last week consulting at a top secret particle accelerator.
Except the strangest thing happens: a man stops her…and claims they've met before. Carter Cho knows who she is, why she's mourning, why she's there. And he needs Mariana to remember everything he's saying.
Because time is about to loop.
In a flash of energy, it's Monday morning. Again. Together, Mariana and Carter enter an inevitable life, four days at a time, over and over, without permanence except for what they share.
But just as they figure out this new life, everything changes. Because Carter's memories of the time loop are slowly disappearing. And their only chance at happiness is breaking out of the loop—forever.
Review
A Quantum Love Story is the definitive time-loop romance, and one for the ages. I quantum loved it.
Mike Chen has already proven he can write an exceptional time-travel story. His debut novel (Here And Now And Then) is one of my favourites in the genre, but this latest offering is on a different level. A Quantum Love Story takes the concept of a time-loop and dares to twist it into a brand new shape. It's one of the most accessible, character-driven, enjoyable, and downright awesome books I've read in what feels like forever.
The premise is a familiar one. Boy meets girl. Boy brings girl into a Groundhog Day-esque time-loop. Boy and girl fall in love. Then stuff gets CRAZY!
As with all love stories, it juggles its sweetness with suspense, leaving you on the cusp of "will they / won't they" until the very last word. There's a feeling of build and momentum which is present here that's extremely impressive when you consider that these characters are stuck in a loop. And as for the characters themselves, these might just be my favourite Mike Chen creations yet.
One of the standout features of Chen's writing is his ability to craft relatable and believable characters. Well, he's raised the bar even further this time. I fell in love with Mariana and Carter long before they fell for each other! Their quirks and habits, the subtlety of their nuances, their flaws and foibles — it all added up to make them feel like more than just characters. They felt alive. There's nothing idealised about them. They're an absolute joy to imagine in every layer and dimension, and they'll live with me for a long time yet.
One of the most exciting things about the experience of reading A Quantum Love Story is how it helped me come to terms with the claustrophobia of a time-loop. The themes it throws up are so well-considered, and it'll get you thinking about the nature of time. Is it a trap? Is it a gift? Is there freedom in the passing of a second? How do our relationships evolve without time? For anybody who's contemplated how our identity and relationships are affected by the march of days, weeks, months, and years, this is destined to give you plenty to think about. But it never feels like a dense or heavy read. It's fun, but not frivolous. There's a huge amount of merit and worth that it manages to pack into its punch.
Also, after reading this story, you'll never take the simple pleasure of a glazed donut for granted ever again!
Comparison titles should be really obvious with this one, but they aren't! Groundhog Day. Palm Springs. Looper. Live, Die, Repeat (Edge Of Tomorrow). Those are all time-loop movies. But it didn't really feel like any of them. The atmosphere made it more like a heist story, with a "save the world" sub-plot that kept surprising me. If anything, it's more of Mission Impossible meets When Harry Met Sally. It's what Passengers tried to pull off: a genuine genre-blend that makes its own rules and is sure to please sci-fi fans as well as die-hard romantics.
I would happily read this book over and over again in a four day loop. A Quantum Love Story is a masterpiece. I've often said that I've yet to meet a time-travel story I didn't like. But this is one that I truly and wholeheartedly adored. Go and read it, and get ready to fall in love.
---
Release date: 30 January 2024
Published by MIRA