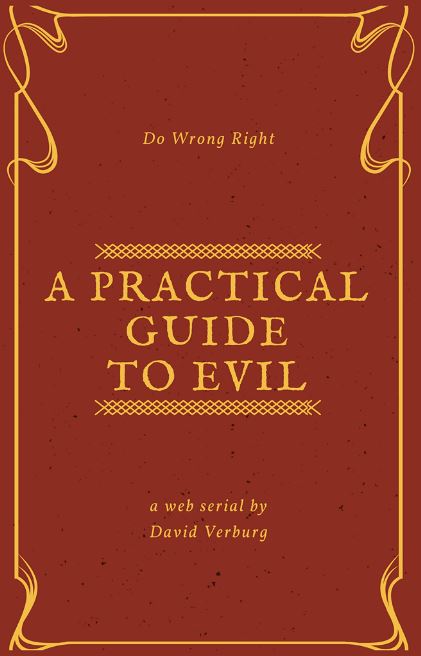 Rating: 9.75/10
Synopsis
Catherine Foundling has a plan.
She'll join the Legions of Terror that occupy her homeland and work her way up the ladder until she can effect the kind of changes the former Kingdom of Callow so badly needs. Yet after a night gone from bad to worse she is offered a once-in-a-lifetime opportunity by the right hand of the Empress, the infamous Black Knight: to become his apprentice and learn the business of villainy from one of the most dangerous men in Creation. It's probably a trap, but when has that ever stopped her? For the sake of the land of her birth, she is more than willing to get her hands dirty. They say the first step on the path to the Tower is the hardest.
Considering the amount of people already trying to kill her, 'they' might have a point.
A Practical Guide to Evil is a fantasy series about a young girl named Catherine Foundling making her way through the world – though, in a departure from the norm, not on the side of the heroes. Is there such a thing as doing bad things for good reasons, or is she just rationalizing her desire for control? Good and Evil are tricky concepts, and the more power you get the blurrier the lines between them become.
Review
Before you dive into the review, I want to highlight two points:
1. This is the series that I have rated the highest for the blog till date, and
2. This is a free web novel. There are no eBooks available for purchase far as I know.
Now with that done, here's my super glowing review of one of the best epic fantasies that I've read till date.
The world of APGTE is just called "Creation" and majority of the plot happens in continent of Calernia. What makes this world unique, is that the entire world runs a book rules. People, factions and countries are divided into Good vs Evil. When people embody a certain virtue, they become "named" i.e.take the name of the virtue and depending on whether they are on side are on, they become either Heroes or Villains. Being a names gives them supernatural physical attributes and some magic which are in line with whichever virtue the get their names from. For example, if a person embodies the nature of thievery, they become the "Thief" and gain stealth, deception skills.

What we consider tropes in other fantasy are the pillars of reality in here. For example, Villains actively counsel themselves to not monologue as everyone knows once monologue is done, the Hero pulls out a surprise card and wins. Another one would be that if someone saves your life, they are tied to you and will meet in a pivotal moment in future. And similar. What we consider as narrative in other books becomes the world here. It was a very refreshing take that I have never read in any other book.

Despite the explicit binary naming conventions, the reality is deliciously blurred and grey. We see Heroes sacrificing people for "greater good" , Villains playing Robin Hood and whole spectrum in-between. The dissonance between the Names, their Roles and their actions is just plain brilliant. Forget Fifty Shades of Grey, this book has probably Five gazillion shades!
As we see in the synopsis, the book is the story of Catherine Foundling an orphan who has grand plans for herself and her country backed only by stubbornness, spite and a healthy disregard for personal safety. Her plot is the most visible piece of the puzzle board the author creates with so many moving parts, changing alliances, back-court power plays, deceit and treachery abound. The way the geopolitical conflict shakes out either driven or cause by the protagonists is superbly written and kept me engrossed through all seven books.
The character work is brilliant. No matter major or minor, every character performs a function that makes an impact and etched in well. Their motivations and intentions are absolutely realistic and more so in a very human and flawed manner as they try to gain control of events that multiple other key characters are trying to influence. It's a geopolitical chess game played with the precision, skill and subtlety of a ballet. Every action has a reaction and more repercussions all coming together in unexpected manner, that I'm stunned that the author was able to visualize far less write the whole thing out! I'm speechless and stunned into instant fandom.
We don't really feel the passage of time, but the book is ACTION PACKED! It's like a domino that sets off from page 1, ever branching out but never stops falling all the way to the climax of a epic seven book series!
What brings all this together is a prose filled with dark/Black humour. There's rarely segments that went without eliciting a smile from me. It's a dark world filled with strife and war, but rather than do a grimdark kind of realistic take, the author paints a more surreal picture that straddles the fine line between reality and a fantasy story (which again, is how this world works!) poking fun of the characters, the plot and in a backhanded way, the reader themselves for reading this.
I really can't wax more eloquence on how much I loved this book. So, why a 9.75 and a perfect 10? Honestly, I can't explain without it becoming a spoiler on it's own, so, read up and make your own decision.