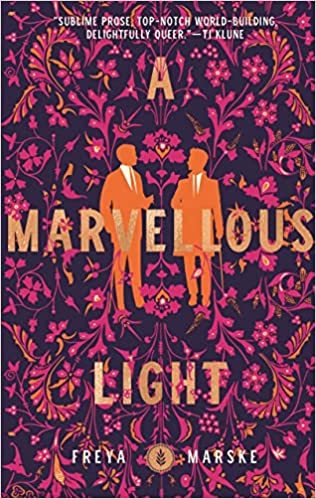 Rating: 8.0/10
Synopsis
Robin Blyth has more than enough bother in his life. He's struggling to be a good older brother, a responsible employer, and the harried baronet of a seat gutted by his late parents' excesses. When an administrative mistake sees him named the civil service liaison to a hidden magical society, he discovers what's been operating beneath the unextraordinary reality he's always known.
Now Robin must contend with the beauty and danger of magic, an excruciating deadly curse, and the alarming visions of the future that come with it—not to mention Edwin Courcey, his cold and prickly counterpart in the magical bureaucracy, who clearly wishes Robin were anyone and anywhere else.
Robin's predecessor has disappeared, and the mystery of what happened to him reveals unsettling truths about the very oldest stories they've been told about the land they live on and what binds it. Thrown together and facing unexpected dangers, Robin and Edwin discover a plot that threatens every magician in the British Isles—and a secret that more than one person has already died to keep.
Review
A Marvellous Light is the first installment in Freya Marske's The Last Binding trilogy, and the author's debut novel (though, it is not the author's first published writing, as Marske has published short stories in the past). Honestly, I was not sure about this book at the start; but, by about a third of the way in the characters had grown on me and the intrigue of the plot began to set in. Not to mention the beauty of the prose. Needless to say, I really liked this book.

It starts a little slow for my tastes, and I do not mean that necessarily in an action-y sort of way. This is clearly not an a big battle kind of book, so when I say "slow" I mean it took a few chapters to get the to the meat of the conflict. In the first part of the book I did not feel the drama and tension as much as I did going forward. This may have been due to the time in which the story is set: "Edwardian England" the publisher describes it as. I am not exactly sure what that means, but I think the fact that I am not used to reading stories written from this time period is the likely cause of my inability to get into it from the start.

What that being said, once it the story had its hooks in me I could not put it down. I actually really loved the detail on the magic. There are lots of scenes where they are researching spells and magic accoutrements (materials, runes, etc), and it was so interesting. I love books like this that dig into the particulars as opposed to magic just being this all-encompassing thing that exists. I like to think of magic as a constructed thing, well thought-out and developed. And that is not always the case (sometimes people do just cast spells willy-nilly), but for the most part that is how the magic functions in this book.

The characters were so interesting, too. It is a bit of an examination on what it would look like if you gave a family generational wealth, inherited magic, and a grand estate, and left them to their own devices. It is wacky, and crazy, and absolutely full of drama. Then add Robin to the mix, someone who is not even aware magic exists, and it really becomes a party. This aspect of the book was so much fun.
"If a dragon comes crashing the library window in the next hour, you'll have to save us."
"A dragon…" Robin grinned. "You sod. You really got my hopes up."
Earlier, I mentioned how great the writing was. Again, for me this was a bit of an acquired taste, but it ended up being a really important aspect of the book. The descriptions, time period, and scenery all really contributed to the projected. Also, as in the quote above, the dialogue was great. It was really cheeky at times, while others it was soft and velvety. When put together, it was all very tonal, making it easy to get lost in.

There were several romantic scenes, too, and they were really well-written. Getting me all hot under the collar will definitely earn you points, and the author succeeds with this book, for sure.

I really enjoyed reading A Marvellous Light. It is magicky, whimsical, and full of drama with a splash of romance. Not only did it turn out to be quite a fun read, but I realized after I finished that it is the first book in a series (which really explains the ending). If you are into books about magic and family drama, I definitely recommend it.