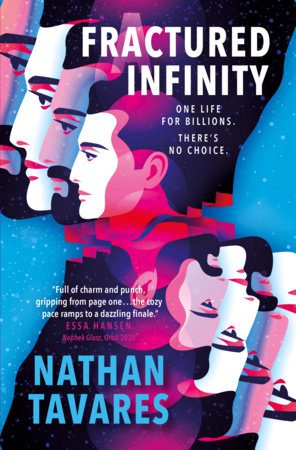 Rating: 9/10
Synopsis:
A thrilling race across the multiverse to save the infinite Earths – and the love of your life – from total destruction for fans of The First Fifteen Lives of Harry August, The Time Traveller's Wife and Rick and Morty.
Film-maker Hayes Figueiredo is struggling to finish the documentary of his heart when handsome physicist Yusuf Hassan shows up, claiming Hayes is the key to understanding the Envisioner – a mysterious device that can predict the future.
Hayes is taken to a top-secret research facility where he discovers his alternate self from an alternate universe created the Envisioner and sent it to his reality. Hayes studies footage of the other him, he discovers a self he doesn't recognize, angry and obsessive, and footage of Yusuf… as his husband.
As Hayes finds himself falling for Yusuf, he studies the parallel universe and imagines the perfect life they will live together. But their lives are inextricably linked to the other reality, and when that couple's story ends in tragedy Hayes realises he must do anything he can to save Yusuf's life. Because there are infinite realities, but only one Yusuf.
With the fate of countless realities and his heart in his hands, Hayes leads Yusuf on the run, tumbling through a kaleidoscope of universes trying to save it all. But even escaping into infinity, Hayes is running out of space – soon he will have to decide how much he's willing to pay to save the love of his life.
Review:
Thank you, Titan, for sending me a review copy of A Fractured Infinity.
Wow. Just wow. I completely devoured A Fractured Infinity. Honestly, I'm almost lost for words because Nathan Tavares has just crafted this truly incredible book.
The big question at the heart of the book is 'how far would you go for love'. It's this epic multiverse-spanning sci-fi tale with a love story at its very heart. We might have machines that span infinite universes, alternate selves and some crazy science, but really the focus is on Hayes and what he'll do to save the love of his life.
Hayes is very much a morally grey character. As much as you find yourself rooting for him, you're also quite aware that he's not always making the morally correct choices. I never really questioned what he was doing, he makes saving Yusuf seem like the right choice, but you know that really it isn't the best choice for everyone.
Where the book really comes into its own is when Hayes and Yusuf begin jumping through alternate realities. Tavares explores some of these alternate realities in more detail than others, and they are fascinating. Most of the big differences are based upon 'what happens if…' and Tavares really crafts some interesting realities based off of this.
I really, really loved A Fractured Infinity, and I highly recommend picking it up.