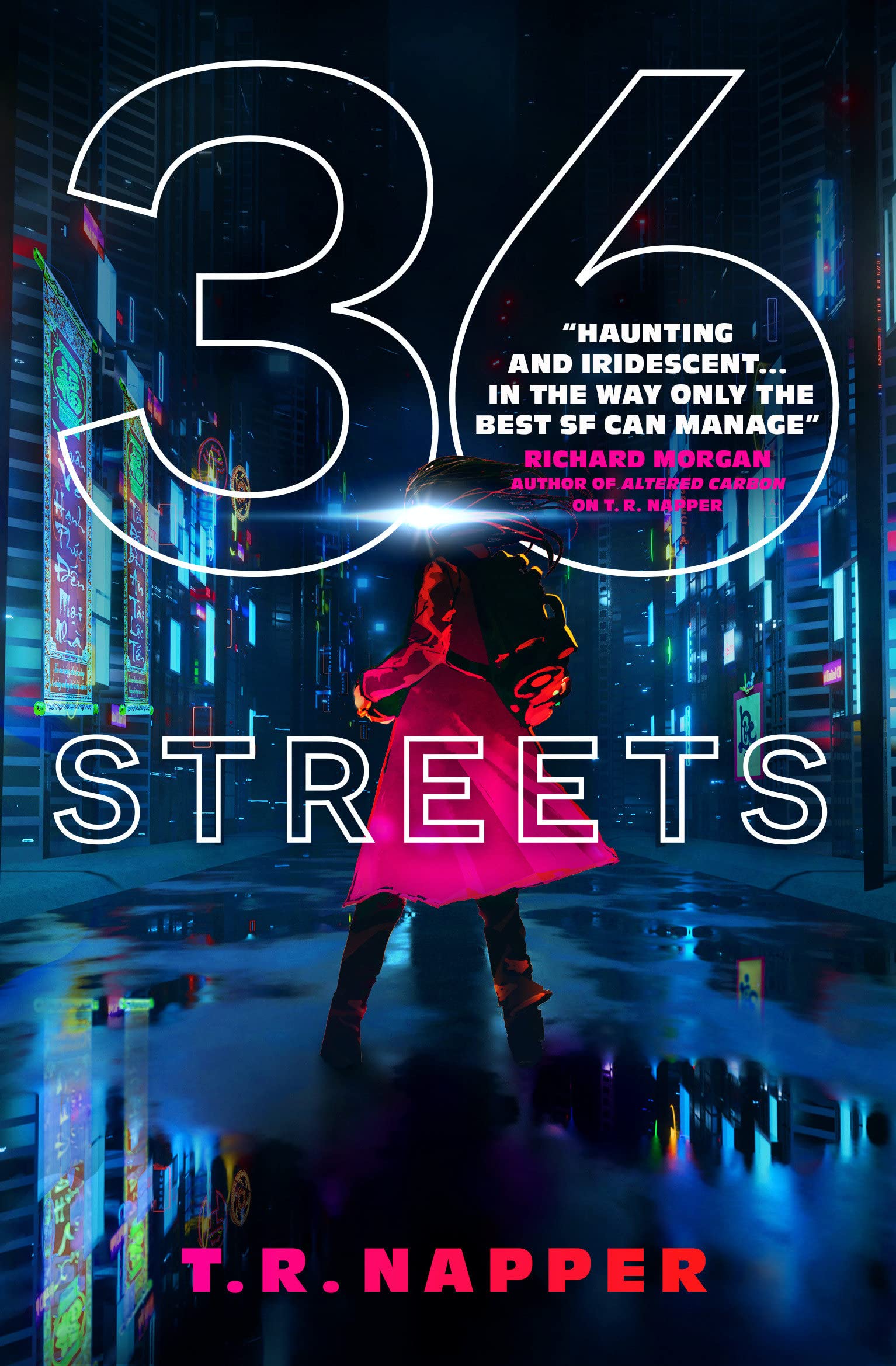 Rating: 8.75/10
Synopsis
Altered Carbon and The Wind-Up Girl meet Apocalypse Now in this fast-paced, intelligent, action-driven cyberpunk, probing questions of memory, identity and the power of narratives.

Lin 'The Silent One' Vu is a gangster in Chinese-occupied Hanoi, living in the steaming, paranoid alleyways of the 36 Streets. Born in Vietnam, raised in Australia, everywhere she is an outsider.

Through grit and courage, Lin has carved a place for herself in the Hanoi underworld under the tutelage of Bao Nguyen, who is training her to fight and survive. Because on the streets there are no second chances.

Meanwhile the people of Hanoi are succumbing to Fat Victory, an addictive immersive simulation of the US-Vietnam war. When an Englishman – one of the game's developers – comes to Hanoi on the trail of his friend's murderer, Lin is drawn into the grand conspiracies of the neon gods: the mega-corporations backed by powerful regimes that seek to control her city.

Lin must confront the immutable moral calculus of unjust wars. She must choose: family, country, or gang. Blood, truth, or redemption. No choice is easy on the 36 Streets.
---
Thank you to Titan Books for sending me an ARC of this book for review consideration before its worldwide release on Feb. 8. This does not influence my thoughts or opinions.
---
Review
A fast-paced cyberpunk story with a complex protagonist and a gut-punch narrative that hits high on both action and emotion.
T. R. Napper's debut novel 36 Streets is a rich, multi-layered thrill ride. On one hand, it delivers a slick, neon-soaked cyberpunk narrative, with a gruff anti-hero protagonist, tense action and near-future tech. But on the other, it's a surprisingly thoughtful story, with nuanced explorations of family, identity and memory in the face of immense tragedy. Pair that with the living trauma of its Vietnamese setting (specifically its capital city Hanoi) and the result is a potent mix of futurism and the human condition.
The highlight of this book was two-fold for me: first, the setting. Napper's future vision of Hanoi is gorgeously detailed, with neighborhoods and citizens coming to life with subtle descriptions. Of course, being a cyberpunk book, there is neon glow, glittering futuristic vehicles and lots of rain, but it feels natural within the borders of this city. Plus, Napper's own experiences in Hanoi and Vietnam (he lived there for three years) add an extra layer of believability to the setting. And, to make it even cooler, he sprinkles the setting and story with hints and connections to his short story collection, Neon Leviathan, as it takes place in the same fictional future.
What's more impressive though, is how he ties the setting directly into the experiences and history of the protagonist, Lin—this was highlight #2 for me. She is second-in-command in a Hanoi street gang, and her nickname is 'The Silent One,' so there are lots of cyberpunk tropes here. What makes Napper's execution successful is how Lin is an outsider on two fronts. She was born in Vietnam, but grew up in Australia, so she doesn't fully belong in either. Lin exists in the liminal spaces of identity in relation to the city, its language and its culture. The result is a character who is constantly seeking something, somewhere to belong, and that was engaging for me as a reader.
As Lin takes on a job from a mysterious foreigner, investigating a murder of his colleague, her relationship with both Hanoi and her own mind, memory and identity begins to dissolve. Her troubled family history is also skillfully woven throughout the tense narrative, and I ended up caring a lot for Lin's sister and adoptive mother. They also helped to balance the outward gangster toughness of Lin, revealing her flawed, relatable internality. Then, to make it all tragic, the ways in which her investigation ramps up and intersects with her personal life was devastating and beautiful.
Napper's play on identity and memory made 36 Streets stand out in the cyberpunk milieu. He's taking well-worn tropes and toying with them, applying them to a character who exudes the typical anti-hero toughness but trickles out complex emotions. On top of that, Lin has agency, ultimately choosing how her confused identity and a lifetime of traumatic memories would come to define her. Or not.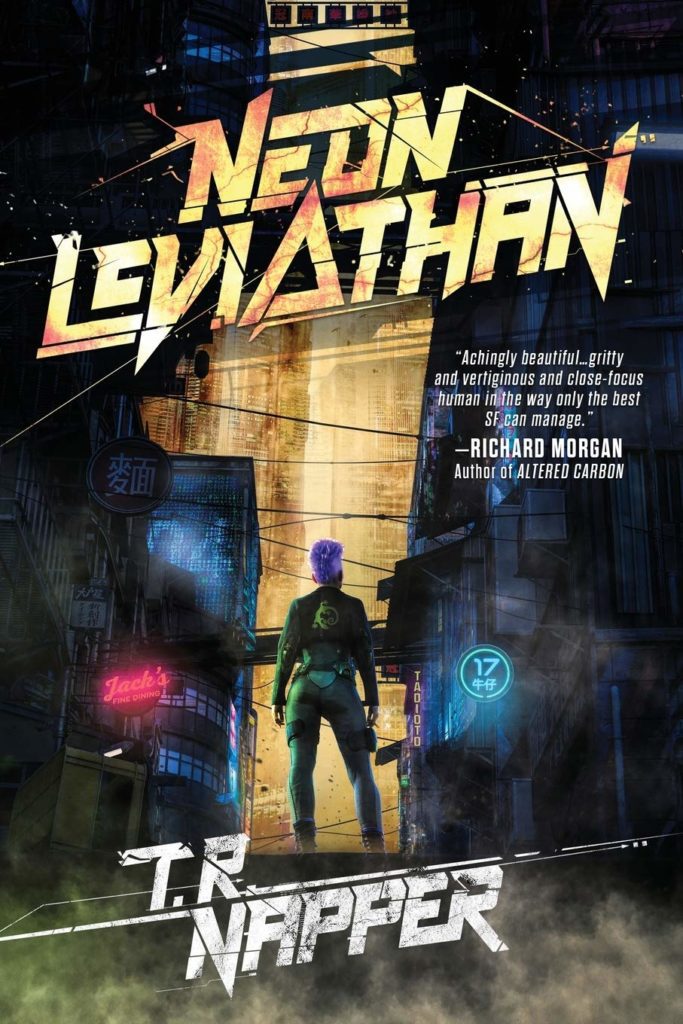 That paired in such a dark and delicate manner with Vietnam itself. The nation and its people have been subjected to countless horrors, from Chinese invasion to the Vietnam War, and that trauma persists as an underlying narrative for the Vietnamese. Aspects of their memory and identity, their collective consciousness, is rooted in trauma, and it has the ability to permeate the culture in so many ways. Napper comments heavily on this, imagining a future Chinese occupation of northern Vietnam—a reclamation of territory that used to be a province of China. In doing so, Napper puts front and center the long-lasting effects of war on the psyche of individuals and a greater population. How much can they sustain, and how can a collective narrative normalize something like PTSD or trauma?
It's fascinating stuff, especially for a history buff like myself. But, on the flip side, there was one section that was visceral to the point of overwhelming. Part of the story involves a VR immersion experience called Fat Victory, a virtual recreation of the Vietnam War where players can assume the role of the American soldiers as they lose. It's an empathy experiment gone awry, video game addiction run rampant, and as a reader it was incredibly jarring. Napper wholly succeeded in evoking the sheer brutality and hallucinatory chaos of war, but itcaptured the grotesqueness of war so purely that I had to put the book aside for a day after reading those few chapters.
I applaud him for including this, and it tore me open in ways that few experiences have (Apocalypse Now being the main one). But I have no doubt it will put some people off, and the distinct need for me to put the book down after the Fat Victory section threw off my sense of pacing for a little while as I reacclimatized to Lin's reality. I guess it works in the sense that Lin too was thrown for a loop by her VR experience.
That being said, most of the book clicked for me. I don't get put off by the brutalities of war or trauma, rather I use those moments for intense contemplation of what the human experience has been and can be like for many throughout history. But there were a few things that nudged me out of truly deep immersion, the main one I'll mention being my lack of investment in the side characters.
For example, the crime kingpin Bao Nguyen, who is Lin's boss and mentor, gave off an interesting veneer, especially how he appeared in both the present and in harsh combat training flashbacks, but there wasn't a ton of complexity there. Lin's family too, while I empathized with them, didn't have as much depth as I needed to connect with them. And that's pretty much the case across the board—with Lin's gangster compatriots, the English foreigner who hires her, or the story's antagonists. Many characters cared for Lin or tried to use her, revealing tidbits about themselves in the process, but Lin and Hanoi carried the story for me.
There were also small stylistic choices in the writing, such as the overuse of forward slashes ('/') in fight scenes to give an effect of combat strikes hitting in rapid succession. The depiction of fighting was brutal and weighty, hitting hard in the right ways, but style things like that didn't work for me. It's a minute criticism though, and ultimately didn't hamper my enjoyment of the book.
As a cyberpunk aficionado, I can safely say that Napper is solidifying himself as a pillar of the genre's future. Neon Leviathan was an experiment in worldbuilding, each short story deepening the lavish details of Napper's futuristic vision of Australia and Southeast Asia. Beyond that, it established themes that have seeped into the forefront of the author's imagination: war, trauma and PTSD; identity, memory and history; and technology, both in the ways we use it and the ways it uses us. Whereas Napper's short stories felt like ruminations, 36 Streets is a cleanse—a true explosion of brilliant ideas. While the execution isn't perfect, this novel presents a complex protagonist in a complex world, fleshes out its concepts in fascinating ways, and hits the landing with style.
Click here to find out more about T. R. and his work, and click here to check out my one-on-one interview with the author.