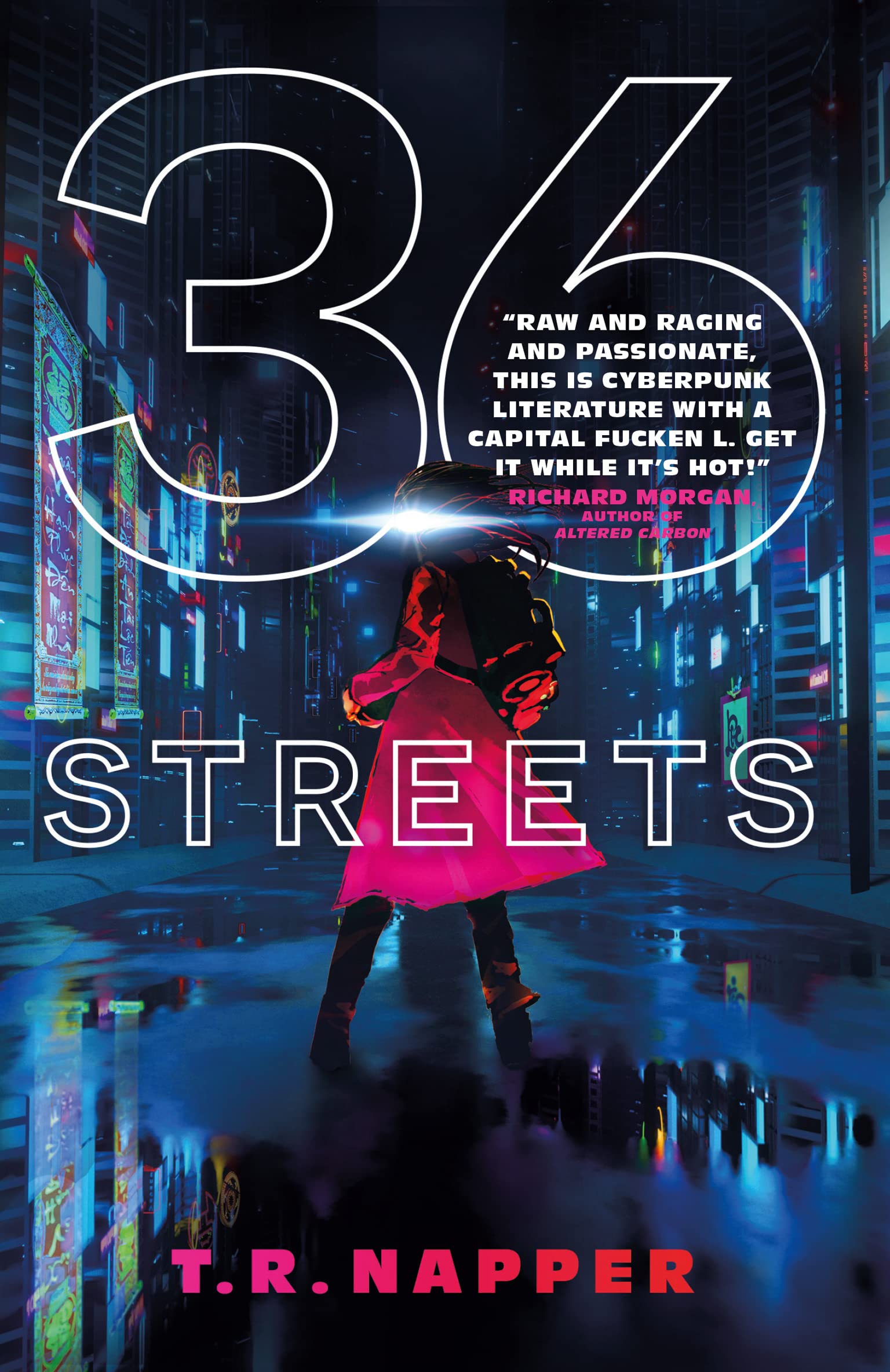 Rating: 9/10
Synopsis
Altered Carbon and The Wind-Up Girl meet Apocalypse Now in this fast-paced, intelligent, action-driven cyberpunk, probing questions of memory, identity and the power of narratives. Lin 'The Silent One' Vu is a gangster and sometime private investigator living in Chinese-occupied Hanoi, in the steaming, paranoid alleyways of the 36 Streets. Born in Vietnam, raised in Australia, everywhere she is an outsider. Through grit and courage Lin has carved a place for herself in the Vietnamese underworld where Hanoi's crime boss, Bao Nguyen, is training her to fight and lead. Bao drives her hard; on the streets there are no second chances. Meanwhile the people of Hanoi are succumbing to Fat Victory – a dangerously addictive immersive simulation of the US-Vietnam war. When an Englishman comes to Hanoi on the trail of his friend's murderer, Lin's life is turned upside down. She is drawn into the grand conspiracies of the neon gods – of regimes and mega-corporations – as they unleash dangerous new technologies. Lin must confront the immutable moral calculus of unjust wars. She must family, country, or gang. Blood, truth, or redemption. No choice is easy on the 36 Streets.
Review
36 Streets is a gritty, hard-hitting, cyberpunk thriller that has both style and substance. A multi-layered story of morally grey characters, set in a futuristic Chinese-occupied Vietnam.
The 36 Streets is a district of the Vietnamese City of Hanoi, where we find our main character, Lin. A member of a notorious street gang, Lin is a troubled young woman. We get to understand Lin through her fractured family relationships, her interactions with her gang, and through flashbacks of her brutal fight training.
The tense relationship between Lin and her sister is visceral and authentic. There are some truly gut-wrenching moments that build through the story, impacting later events, that left me feeling raw and shell-shocked.
The story is layered, evolving throughout. The story really takes off when Lin is tasked with investigating a murder which has links to a controversial VR game based on the Vietnam War with America. This plot line has threads that weave themselves in many directions, to the point where you think everything will unravel. But the author pulls everything together so tightly by the end that no thread is left hanging. Superbly executed.
The murder mystery plotline gave the story a crime noir vibe that I really enjoyed. The investigation, the mystery, the intrigue, is all there.
The usual cyberpunk elements are all present, along with body augments, tech, memory manipulation, the works. Despite the expected hard sci-fi elements, this story is primarily character and plot driven.
There are strong socio-political themes surrounding war, particularly the Vietnam war. A philosophical view of the mindset of the Vietnamese, through the speculative future occupation by China, and a future version of Earth, was fascinating and worrisome in equal measure. There is nothing redeeming, no silver lining here; this world is grim, neon-grim.
Let's talk about the writing. Napper's prose is concise and vivid, with snappy descriptions. His descriptions, often inserted mid-sentence, are like snapshots, glimpsed in the moment or flashes of memory, all providing an immediacy that is experienced as you read – like seeing things through the character's eyes. This style lends itself to an extremely immersive reading experience, creating a great atmosphere and tempo through sharp, focused prose that provides everything needed in an economical way that never loses its impact.
There are some extremely hard-hitting moments in this book. Fight scenes are intense. But one of the most memorable moments is the section where Lin is immersed in the VR war game. This is a psychological, no holds-barred, trip, that is emotionally and mentally taxing. The language and behaviour of the 'characters' in the game are of the time – the Vietnam War – so it may be offensive to some readers. For me, I felt it was essential this experience was as real as it appeared. I thought it was brilliantly envisioned by the author and left a mental image that was hard to shake off, but necessary to the story as a whole.
This book is everything I want from cyberpunk. I want morally grey characters. I want a dystopian world. I want mind-bending tech. I want to question what is real. I want the story to ask the difficult questions. I want everything that 36 Streets delivered – a challenging and rewarding story.