Hey, book friends! As big as our TBRs are and with our busy schedules, it is often difficult to reread books and series – something I have vowed to do more of in 2022.

With that in mind, and as one of my favorite series being completed this year, I decided it was the perfect time for a reread of Jenn Lyons' A Chorus of Dragons series. The final book, The Discord of Gods, releases in April, and the series is so epic in scope that I needed a refresh of the events from the first 4 books.

My goal here is just to post my thoughts on rereading – not to review, again; in fact, I am going to try to keep it to a couple paragraphs for each book. I intend for these to be quick takes that explore how I feel after a second read. I am going to attempt not to post any big spoilers, but there may be minor ones from book to book, so I will say it now:

SPOILER ALERT

I am going to start with the first book in the series, then add the others to this post every couple of days. With that being said, let us get on with it.
Synopsis
Kihrin is a bastard orphan who grew up on storybook tales of long-lost princes and grand quests. When he is claimed against his will as the long-lost son of a treasonous prince, Kihrin finds that being a long-lost prince isn't what the storybooks promised.
Far from living the dream, Kihrin finds himself practically a prisoner, at the mercy of his new family's power plays and ambitions. He also discovers that the storybooks have lied about a lot of other things too: dragons, demons, gods, prophecies, true love, and how the hero always wins.
Then again, maybe he's not the hero, for Kihrin is not destined to save the empire.
He's destined to destroy it.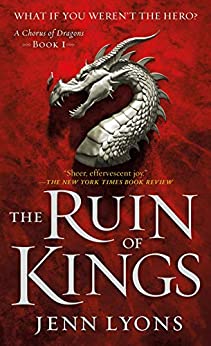 "Play my game, Bright-Eyes, or I'll come back here wearing your mother's skin cinched by a belt of your father's intestines. I'll reenact the moments of their deaths for you, over and over…"
I am always so nervous when I go back to read something I absolutely loved the first time. I am really afraid I will not like it as much, and I want to avoid having that feeling snatched away from me. But, those fears were alleviated right away because I loved it even more than the first time. I think that is because having the knowledge I do about this world and the continuing story it actually feels refreshing to read the opening scenes.

This book does a great job of establishing The Empire of Quur and the surrounding areas to the reader. It also really sets up Kihrin's plight really well from the first scene, and introduces many of the other important characters, as well. In addition, I think we get just enough information here to understand the significance of the history of the Empire. And, we will come to find out later just how important that history is.

Awesome first book! It really hooked me, and I was ecstatic to go back to the beginning.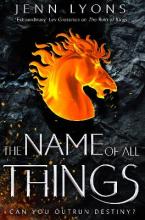 "If I'm a monster, the everyone who opposes me is by logical definition a hero, yes? It's not that simple. Sometimes everyone is wrong and you have to decide whose wrongness is more acceptable."
Just like The Ruin of Kings, the opening sequence of The Name of All Things is captivating from the start. Expect this theme to continue, as Lyons seems to put a lot of thought into making sure readers are engrossed in the story right off the bat.

The most important aspect of this book is the cast of characters it introduces. This series is extremely character-driven in my opinion, which is great because there are so many characters in this series. Each and every one plays such an important role. In book 2 the reader meets Janel, Qown, Ninavis, Senera, and Dorna, to name a few. Plus more dragons, and the characters from book 1 are, of course, included in the narrative. The character set doubles, and that is a good thing because Lyons is so good at writing them.

I also love the way this book explores gender and sexuality. It is kind of an interesting thought-experiment on what a society might look like if so many were not hung up on traditional roles. These are topics that are not discussed often enough in epic fantasy, and I love the inclusion.

Of course, the hijinx centered around perspective continue, much to my enjoyment. And that ending… you will not want to wait to go on to book 3. I promise.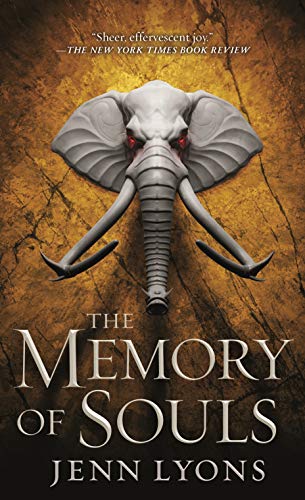 "It turns out you don't automatically get a happy ending just because you're the hero of the story."
This book is, in many ways, a typical-ish mid-series book: there is a lot movement, both physical on the part of the characters, as well as within the narrative itself. Everyone is getting set in place for a push to the big finish.

While most of the story is focused on preparations for one big event, there is still a lot going on. So much that it sometimes feels chaotic, while other times it feels everything is just as it should be. That does not just go for the plot, either. Many of the character-swap machinations come to a head, and there are a lot of explanations of who is who, and who everybody used to be in their previous lives, and who switched bodies with whom. At times it seems as though every answer brings about 5 new questions. It all kind of makes my head spin. But, it is necessary because there is a ton of relevant information that explains happenings from the past and sets up future events.

So, while this may be my least favorite book in the series, it is still very well-written. Amidst all the disarray and areas of grey (as the quote prefaces), it does set up the events of book 4 very well.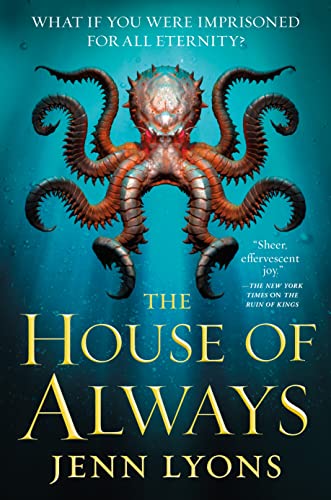 "There's this rather large hole in the universe that's going to destroy everything , and someone has to fix it."

"It doesn't have to be you."

"Yeah, it kind of does."
I have made no bones about it: The House of Always is my favorite book in this series. It contains double of everything I love about this series. Lyons plays with perspective to the thousandth degree. All of the amazing characters are in one place (well, most of them, anyway). The drama is ratcheted up to 100, and the plot is dripping with suspense as Kihrin tries to do his hero thing (or is he the villain?).

The other really great thing this book does is, in addition to continuing the current storyline, it tells the stories of what happened for other characters while we were following one particular set. For instance, we get a ton of backstory for Talea and Xivan. There is so much brought to light that was previously unknown to the reader, and it is all super relevant to the ongoing narrative.

The one aspect of this book that I was not a huge fan of (and I do not remember this bothering me so much the first time around) is the quantity of romances. I think everyone pairs up with someone else in the end. I like some romance and sexy scenes in my fantasy (don't get me started on Janel-Teraeth-Kihrin… whooo!), but I think the amount of love story we get is a little overboard.

It is still the best book of the series, in my opinion. I think I said it was a horror story in an epic fantasy in an escape room thriller. I also believe I called Jenn Lyons a genius, and I stand by my original assessment.

Next up: an actual review of the fifth and final book, The Discord of Gods.