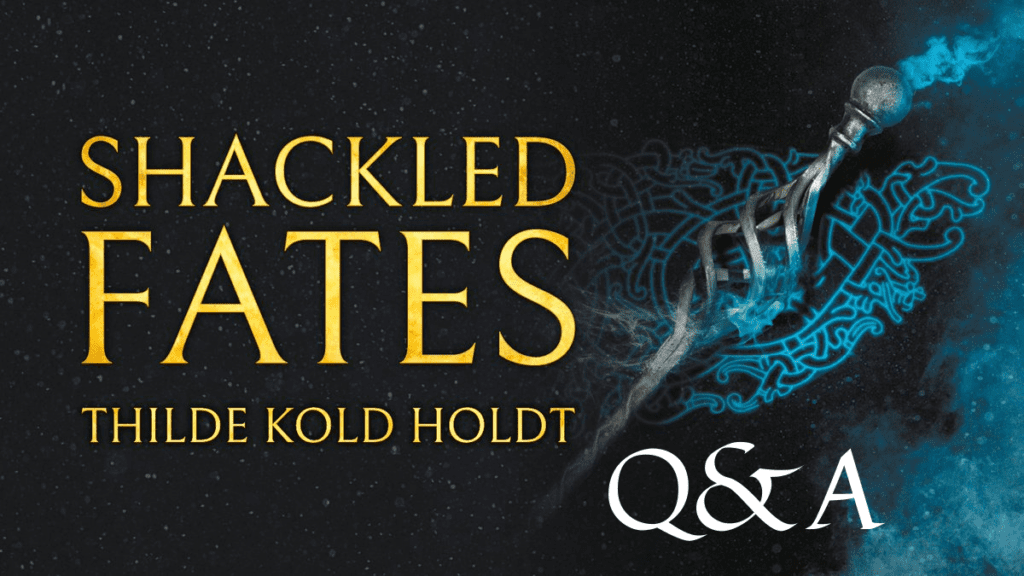 So, onto today's treat: we have none other than your favourite Viking Fantasy author, who has kindly agreed to this interview, Thilde Kold Holdt. Thanks a lot for joining us, Thilde! It's great to have you.
Thank you so much for having me, it's a pleasure to be here! You do a lot of fine work on the site, so I'm very excited to be here.
Brilliant stuff. And first onto the elephant in the room: Shackled Fates has released today, the second book in the Hanged God trilogy. However, for those keen eyed, you'd have noticed the book does not start from Chapter One, it starts at Chapter Sixty-Nine; this is because it's treated as a continuous story, the trilogy is one book. Now, this intrigued me no end, because this is certainly the first time I've seen this. Thilde, can you tell us a little bit about why you went for this style, and whether this was your intention from the outset, or did your journey to published author have any influence on this?
Eagle-eyed perception! I'll gladly tell you the behind story. Settle in with a hot beverage and let me tell you the story.
From the very start of penning Northern Wrath, it was clear to me that this was going to be one long epic adventure and I struggled to decide where to end one book and where to start another. A 2000 page stand-alone book seemed a bit overkill for a debut. I wondered if it ought to be five books or three. I couldn't figure it out, I just knew I had to write all of it.
My agent understood that and advised me to just write it all and trust him to find it a home (which he did). In our brainstorming sessions, one of the things we kept discussing was exactly where to end Northern Wrath, as there seemed to be several possibilities. And since I didn't quite know where to end one book and where to start the next, I just kept writing, racking up chapter numbers in the hundreds.
When Northern Wrath was published, I was so pleased to see that my editor had that exact same impression of the story as my agent and I. Because my editor was the one who wisely chose to not call Northern Wrath Book 1, but to call it "Part 1 of the Hanged God Trilogy". This really drove home the idea that it was one long story. So when it was time for me to submit the manuscript for Shackled Fates, I looked at the high chapter numbers and thought: you know what, I quite like this.
I can't be the only one who has seen a book that looked awesome and bought it not realising that it was the second in a series until I was lying on the beach ready for a good reading session. If combing through it in the bookshop, the first chapter was some outrageous number I would quickly figure out that it was a book 2, and I would still buy it, I would just ALSO make a point to buy book 1. That's me as a reader.
I also could see arguments why this might be killing sales, but hey, I'm just the author, not the sales or marketing expert. So, I decided to let my editor decide. I handed the manuscript over with a Chapter 69 instead of Chapter 1 without saying a word about it to get my editor's candid thoughts.
To my joy, my editor liked the idea enough to entertain it and enough to go for it. Like me, he also felt that it reinforced the thought of it being one long story; an idea he had already started to solidify by calling Northern Wrath Part 1.
I don't know if it has been done before, but like you, I also haven't seen it elsewhere.
What a wonderfully in depth reply! Leading on from the continuous aspect of the story, did this have any ramifications on how you plotted the book?
As you can probably guess from my explanation above, it was difficult for me to plot singular books. I knew where the overall story would start and I knew exactly where it would end in the last book. In fact, I had the last three chapters of the trilogy written when I was half-way through penning Northern Wrath. But I didn't know where to end Northern Wrath or where to end Shackled Fates. I just knew the end of Slaughtered Gods and that somehow I needed to transport both my characters and readers from the start to that epic ending.
What this ended up meaning for Shackled Fates was that it was only after finishing the entire trilogy that I could really shape the plot of Shackled Fates so that it had a clear beginning and a clear ending!
Without wanting to spoil it for anyone else, and fresh from a reread of Northern Wrath, I'm really attached to Hilda's story and was very excited to see how this panned out in Shackled Fates, are there any character you're more attached to?
Not to play favourites, but… I do tend to be attached to minor characters. With main characters like Hilda, we know each other SO well, that I instead tend to lean to characters whose stories I still don't know much about.
So let me turn your eye to the character I think might be the strongest in the entire story. Thora. She's a character we see very little of and she is almost non-existent in Shackled Fates, but she's someone I really look up to. To me she is the ultimate shieldmaiden.
As for the actual writing itself, you write very precise and vivid fight scenes, is this a strength of yours, a favourite to write, or do you find your comforts in other parts of the writing process?
This might come as a surprise, but what I struggle with the most is fight scenes. When I started writing Northern Wrath, battle scenes were my biggest weakness. The thing that no matter how much I tried, I just couldn't get right.
Maybe that's why there are so many of them in Northern Wrath. Because, a bit like Hilda, when there's a wall in my path, I am not going to walk around it. I'm going to keep kicking that stone wall, until it falls down.
That's what I did with the fight scenes. I kept at it.
My biggest issue was that I really struggled describing choreography. Whenever characters in my stories needed to physically move, my readers were confused. And fights scenes are entirely made up of choreography.
My other challenge was that I usually don't enjoy reading battle scenes either. So the big question was: how could I create battle scenes that even I would want to read?
It made me search for different ways to treat battle scenes. With each battle scene, I tried a different approach to see how I would fare with that and how I could make it interesting. My battle scenes were constantly critiqued and torn apart in workshops, but I kept writing them and trying to improve them.
The first time my battle scenes were ever praised to my face was when Northern Wrath was released and reviewers said they loved them. I cried tears of joy. The hard work paid off. Battle scenes were no longer my biggest weakness. They're still tough to write, but now I know that it is possible for me to write a battle scene that readers will engage with.
What I love to write the most is dialogue. I love the ping-pong game of characters talking!
I described your first book as a fireside tale and something that felt torn from the annals of history, embellished only with the magic the Vikings believed true in those days … how much of the Hanged God trilogy is inspired by actual history?
That's a brilliant way to describe it. I tend to pitch it in a similar way. The magic and fantasy parts of it is just what the Vikings believed in. The Hanged God trilogy is very much rooted in real history and mythology.
I like to use lesser-known facts of the mythology to flesh out the nine worlds and our understanding of how they work. For example (staying vague to avoid spoilers), in Shackled Fates, I used the often ignored identity of Odin's mother to my advantage to really get to the root of who Odin is and also what Ragnarok is all about.
Most of what I have invented instead of lifting from myths are connections made between different mythological and historical people or events. Even a lot of the details, of how the nine worlds look are lifted straight from the myths.
The events that happen in Jutland at the beginning of Northern Wrath are real historical events. The events that happen at the end of that book are my own invention, so they can't be proved in history, but I like to think that someone would have acted in a similar way. That's the biggest thing I've invented, outside of characters. But even there… Tyra is a real historical person, and through her journey we meet many other real historical people.
In terms of mythology what I've invented is mostly inserting my own characters into the mixture, and to make connections between known historical and mythological events and give us a fresh take on them. I think many would be surprised to learn how much I've lifted from original sources.
What has most excited you about the release of Shackled Fates and how do you prepare for a book release?
I still don't really know how to prepare. With my debut the release really took over my world for a long while there, so this time I have a schedule for release month which will hopefully help me to still be able to do something, other than blankly sit and stare and think: "MY BOOK IS OUT AHHH".
What I'm the most excited about this time is reader response. The weeks that surround a release date when real readers get to hold the book in their hands and I get tweets and messages from people reading it. I loved that for Northern Wrath. I didn't realise that it would be such an emotional experience, but the thought that people are reading and enjoying something that's so precious to me makes me feel proud.
You debuted during a pandemic, and the second book is coming out nearing the end, is there anything you've got to do this time around that you didn't with Northern Wrath?
Unfortunately not. I live in a non-English speaking country and travelling is still a bit complicated, but I'm crossing my fingers that physical signings and meetings might be possible with Book 3!
That being said, there are things that are different this time around. One of them is that there are readers who have read Northern Wrath and as a result have certain expectations for Shackled Fates and the rest of the story. That's new to me and it's incredibly exciting. Releasing a sequel feels like its own kind of thing, so it'll be a new experience for me.
What are you most looking forward to as a published author coming out of a pandemic?
Meeting readers. I was really lucky last year to be able to hold a low-key book signing in my local town in Denmark and seeing people's candid reactions was really nerve-wrecking but also fun. Once everything opens up again, that's something I'd like to be able to do: meet readers, both readers I don't know and readers I've already interacted with online.
The people I have met in person who have read and enjoyed my book… It's very special to see them light up when they talk about what surprised them and what they liked. I get shy about it, but it's marvellous to be able to have such interactions.
I've been watching your YouTube channel (Thilde Kold Holdt) and have been enthralled by your enthusiasm for the history in which you're inspired … do you do this much research into all the topics you write on or is Norse mythology/Vikings something that will always be closer to your heart?
I get really obsessed with my research. It's why I wanted to start the YouTube channel, to share some of that passion, both for writing and for the topics I've researched for my books.
Research is my first love so this is a general trend for me. I get REALLY into the things I'm learning about and just amass all of the knowledge I can because I want to know everything about whichever topic it is. To tell you how intense it is… I'm currently penning a historical fantasy series set in Korea and for that set out to learn Korean at higher level with the specific goal of being able to do research in Korean; reading old sources but also research papers. Both because enough sources weren't available in English but also because researching Vikings has taught me that the research available in English is quite different from the research available in local languages.
I get quite intense and passionate about the things I research. Hopefully that shines through a little in my writing and maybe in videos too.
Now for the bits about you, is there anything else you do other than writing?
Writing is the most consistent thing in my life. In fact, building on the last question, one could say that I write as an excuse to do research into a bunch of different things. I want to experience and see and learn everything and writing is how I do that.
When I had to apply for university, I was flip-flopping between doing something in the arts, or law, or maybe physics? I'm still flip-flopping in certain ways, and that's why writing suits me so well and gives structure to my life. It gives opportunities for me to get really deep into specific research and essentially become an expert on some miniscule level, and then pour my everything into that for a few years.
It allows me to live all of the lives I could never quite choose between, and that's an immense chance to have. I think a lot of readers might feel similarly as they try on books and get into the skin of different characters.
And lastly, we're all eager to know, what are you working on right now? (If you're allowed to tell the world through our humble website).
Currently I'm writing the second volume in a historical fantasy duology set in seventh century Korea. For people who don't know me, this might come out of a left field, but I've wanted to write this story for years—since before I started the Hanged God Trilogy.
I speak fluent Korean and I spent years doing research for this set of novels. Korea is a place that has called to me for as long as I can remember, and that's a big part of why I feel a need to write about it. When I was writing about Vikings, it was an opportunity for me to connect to the place where I was born. It came as a search for a piece of Scandinavia I could connect with. For the Korean story it's an opportunity for me to explore why I feel so drawn to this place and culture.
The first novel is tentatively called "The Bone Snatcher" and it is currently with my agent. At the moment I'm finishing up my first draft of the second and final and then we will have to wait see if and when this Ancient Korea series will find as fitting of a home as the Hanged God Trilogy did.
Thank you so much for your time, Thilde. I know you're busy with the release of Shackled Fates. So, if you've come out of this Q&A wondering whether you should buy Shackled Fates. Yes, you should. If you've come out of Shackled Fates wondering where you should start … go read Northern Wrath, you could purchase both books from here!