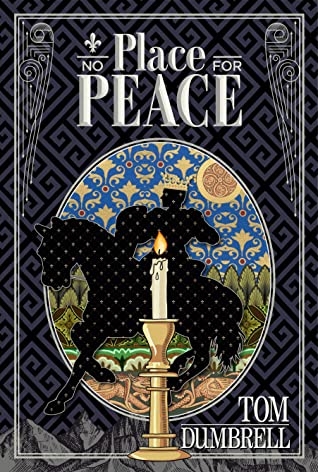 Rating: 9/10
Synopsis
As Cyrus rides away from the safety of his family in Highcastle to face his destiny in cunning King Simeon's kingdom, Augustus braces himself for the arrival of a new threat: an invading army is coming for the capital.
Easthaven's young king will need the support of those closest to him if there is any hope of saving not just the city but their kingdom. Will Thaddeus and Adaline be able to guide Augustus toward victory, or will a magnetic new influence cloud his judgement?
What fate awaits Cyrus in Auldhaven, and is there more to Simeon than meets the eye? As Cyrus's journey takes him farther from home than ever before, his future will become more unpredictable. The outcome seems destined to be explosive.
War is coming, but the fiercest battles are often fought within.
Review
Tom Dumbrell created a captivating world, filled with unique characters in The Look of a King, capturing me with likeable characters and villains and a captivating world. No Place for Peace continued in the same manner but added a nice amount of flavour to spice things up.
*Minor Spoilers ahead*
No Place for Peace begins with Cyrus returning to confront Simeon, and it's unclear as to where that confrontation will lead. Surprisingly it leads in a completely different direction than I would have expected, opening up the novel to some surprising twists and turns that ultimately end in a huge conflict. What was done so well in this novel is that the world felt more complex and large in scope, yet not difficult to follow. The plot and characters within it felt natural and unforced, while also managing to be fast paced.
I love a good fantasy world as much as any, however it's the characters that really make the novel and, in this regard, Dumbrell does not disappoint. Cyrus as before is your standard, yet likeable hero, forging his own path with mostly his own wit, somewhat better with a weapon this time. What makes him so unique is his ability to make friends and allies along his path, and proving himself both loyal and…kind of a badass. Alongside Cyrus stood a strong cast of side characters that drove the story forward and added intriguing levels of betrayal and intrigue. One of these was Wendell, who despite seeming like the villain, had an absolutely fantastic redemption arc, and also some genuinely amazing inner dialogue. One of my other favourites of No Place for Peace was Cyrus' trusty stead Adagio, who managed to save Cyrus from some rather sticky situations. Who doesn't love a good animal companion?! Francine unfortunately still had a rather small role in the book, despite hints at her apparent badassness in regards to fighting. This is definitely someone I'm hoping will have more of a play in the final book.
The writing as before, is incredibly immersive and easy to read – I'm actually not fully able to describe it but for me it's the perfect blend of well-paced, humorous, descriptive and well thought out. Alongside this was an element of comfort that made this book one that I fully intend to re-read one day.
Obviously if you've already read The Look of a King, you're probably going to continue with this one, but if you didn't have plans to, then I highly recommend you do, as No Place for Peace is an excellent continuation, that adds further layers of intrigue in an already excellently developed world.