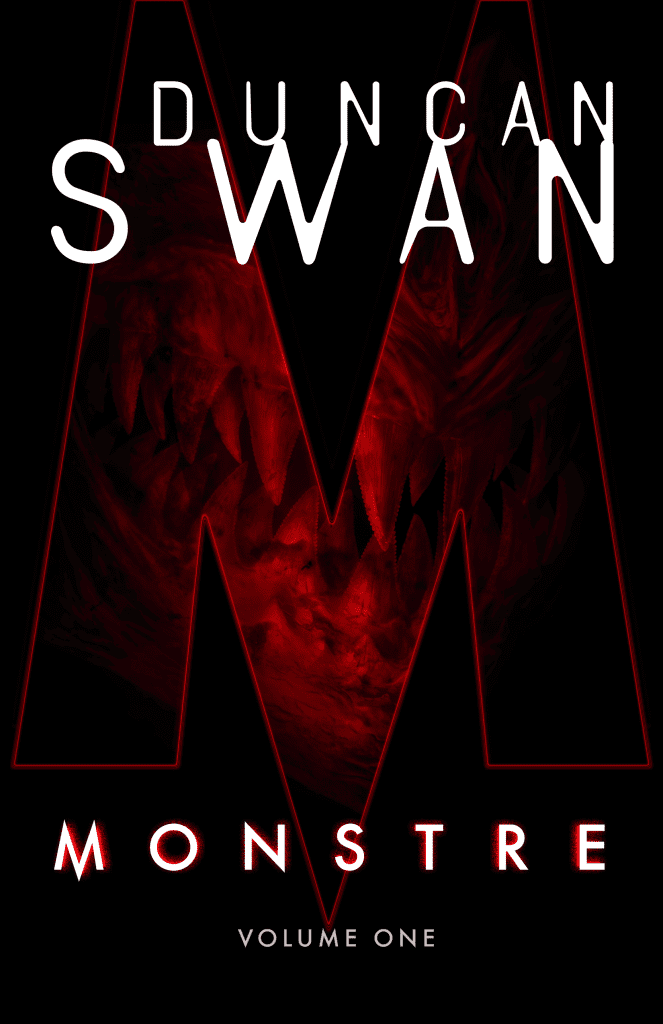 Genre: sci-fi > dystopian > post-apocalypse > horror
Distributor: Ingram Spark & Amazon KDP
Page count: 480
Publication date: September 15, 2020
Simultaneous release in audiobook (Audible)
MONSTRE: VOLUME ONE SYNOPSIS
There is no stopping it.
The Cloud is armageddon, steamrolling the world at a walking pace.
In his thrilling debut novel Monstre, author Duncan Swan crafts a
relentless, terrifying, genre-bending tale of courage, desperation, and
redemption that shows just how fragile our civilization is… and how far
we will go to survive.
Day 0. From the wreckage of a research facility in Switzerland, a plume of toxic smoke and ash pours into the sky, forming an impenetrable cloud that is slowly smothering the world in darkness. As Europe disappears beneath the Cloud, a squad of United States Marines are sent on a desperate mission to find out what went wrong, and how to undo it before it's too late. Venturing into a cold, dark world, the Marines must travel deep under the Cloud, with
no comms, no backup, and no idea of what they will face.
Day 89. Half a world away, the Cloud has reached the East Coast of the U.S. With nowhere to run and no hope of survival, the American people have descended into madness, turning on themselves and each other. From the sidelines, an old Tennessee sheriff watches as his country unravels. But he can't bring himself to take the easy way out. Quitting isn't in his DNA. So when one of his deputies asks him to help protect her family, he leads them west,
chasing a miracle—a rumor of an old nuclear bunker that just may be their only hope for survival. Because if the Cloud doesn't kill them, what's hiding in the dark will.
Q&A

1. Tell me a little bit about yourself (i.e. growing up, schooling, etc)
I especially want to know about your inconsistency in staying put in one country.
Okay, so long story short, I'm South African by birth, lived most of my early years in Cape Town, but when I was fifteen my family immigrated to New Zealand to a small town on the North Island called Wanganui where I finished off the last three years of high school. At that point (end of 2000) I was looking at College (or University to the non-Americans in the audience) and I had a few options. Option A: stay in New Zealand and pursue dentistry (btw my dad is a dentist), or Option B: move to Sydney, Australia to study Aeronautical Space Engineering (which sounded far more interesting than looking in people's mouths). Needless to say, I chose Option B.
I finished my undergrad in 2005, took six months off to get my Australian permanent residency, then went back to College to do a Masters in Commerce (finance). I finished that just in time for the GFC (fucking irony), but somehow / luckily got a good job with a US Funds Manager. I lasted about five years before I realized it simply wasn't for me, and knew I needed to pull the eject lever while I still could. All along I'd been writing stories as a hobby with the aim to publish. So I quit finance, burnt the ships, went full time on the writing and told myself I'd succeed or die. Then just over four years ago, my wife and I moved to the US (my wife's American), and we currently live in LA.
2. What sort of career were you pursuing prior to writing?
I was a Portfolio Analyst working for a US Quant-based Fund Manager, basically the people who manage / invest your 401k and large Institutional client's diversified stock portfolios.
Do you still have a full-time job outside of being an author?
I did, before moving to the US and before I got married. I was in Finance working for a very large Custodial Banking Services company as a Business Analyst.
Why give up on becoming an astronaut? Honestly kidding, but seriously.
A couple of reasons really. I was still on a South African Passport when I finished my undergrad (which isn't a great passport at the best of times), and career wise there wasn't much happening in Australia – most aerospace roles were in the US or Europe. The final nail in the coffin was when the US Space Shuttle program was cancelled in 2011 – and SpaceX was but a twinkle in Musk's eye. So, short of building my own rocket I realized my chances of being an Astronaut were pretty slim.
3. When did you start writing? When did you start writing seriously?
My first forays in writing were the usual school ones, which is when I first realized I enjoyed it. Through my teachers' reactions, I realized I was pretty good at it. My first year of finance I was writing in Excel cells to hide it – writing was an itch I couldn't ignore. As for taking it seriously, sometime around 2011 (when I bought my first laptop specifically for writing).
4. How do you combat writer's block, or do you simply not acknowledge it?
Not to jinx myself, but I haven't really encountered writer's block, at least not to the extent where my mind is completely blank. I tend to write / approach my stories in terms of solving a problem, and my characters generally have to act / think their way out of whatever situation they find themselves in, which means most dead-ends I write myself into can be solved with a bit of reverse engineering. Ie. I know where they have to get to, I just have to find a realistic and reasonable pathway there.
5. Who are some of your writing influences?
Writing / publishing Inspiration:
Hugh Howey (for giving me the inspiration to go the self-pub route)
Brent Weeks (for giving me confidence to believe I could be writer)
Tone / style:
Lee Child
Mark Lawrence
Joe Abercrombie
Peter F. Hamilton
Michael Crichton
M. R. Carey
6. Did you read growing up? If so, what genres really struck you?
Voraciously, I'm terrible at falling asleep so reading until 2am on school nights was pretty much habit. As for my favorite genres…scifi fo sho, and by extension, fantasy (but I'm not a huge fan of elves).
7. Tell me about your writing process. Has it changed over the years?
Process wise, I'm much more a pantser than a plotter. I've tried to brainstorm / plan out my books, but as soon as start writing, things tend to go off script pretty quickly. Going forward it's definitely something I want to experiment with a bit more, I mean, a plan is a great thing to have, and sticking to it sounds far more efficient than my current method. Other than that, I get my best work done in the morning, and then again, super late at night. I also used to print out my drafts and edit using sticky notes, but quickly learned that was a terrible and time-consuming way to do it.
8. Can you tell the audience a little bit about Monstre Vol. 1?
The quick elevator pitch: Imagine Alien, World War Z and Generation Kill had a three-way in a very dark place.
The longer version: There's a cloud of death rolling over the entire world and not a damn thing anyone can do to stop it or the creatures that hide in the darkness underneath it. Monstre tells the story of a major incident at a research facility where a toxic cloud of smoke pours into the sky and starts to spread. We then follow several groups of survivors in different parts of the world at different times since the incident as they either try to fight evade or simply accept what's coming.
9. What were some of your inspirations behind your debut novel?
My biggest inspirations are actually a bunch of movies, primarily:
World War Z
Alien
The Darkness
Edge of Tomorrow
Generation Kill
Pitch Black
Why did you want to write a novel about survival?

It wasn't really meant to be a book about survival, because spoiler alert: not many characters survive. Monstre was more about taking the classic end of the world story, but then approaching it from the angle of what happens if humanity loses, so it's a more 'delaying the inevitable' than 'survival' story.
10. Tell me about "The Cloud"
The Cloud is kinda like nuclear winter, but on steroids, just imagine a dark black storm thick enough to block all sunlight and radio signals, poison to breathe and constantly, inexorably growing to smother the whole world in darkness. That's the Cloud.
11. How exactly would you classify the novel? Horror? Science Fiction? Post-apocalyptic? A mash-up?
Definitely a mashup, Monstre doesn't fit in a single genre, which has perhaps been one of it's biggest appeals to early reviewers and readers.
12. What was it like running a Kickstarter for a novel, let alone a debut?
Honestly, a lot more work than I expected, and as a debut, even more so, especially given that I had no following or social presence at the time, and thereby no low-cost advertising route. Luckily, Monstre just seemed to resonate with people on Kickstarter and I had a few posts of Imgur that went viral and brought in a lot of traffic. The success of that campaign pretty much kickstarted (pun intended) everything since, from getting the ARCs printed to commissioning an audiobook via ACX (still a WIP) as well as gaining me my first fans.
13. What are you working on now?
Lately and for the last ~six months it's all been about launching and marketing Monstre: Volume One. Not much else. Luckily 90% of Volume Two is written and has already gone through a rough edit, so I'm pretty excited to get back in and finish it off.
14. Do you have any book recommendations for the audience? Maybe something you have read recently?
Gideon the Ninth by Tasmyn Muir is my current recommendation to just about everyone, and Light Brigade by Kameron Hurley as a new / slightly different take on the Forever War by Joe Halderman.
ABOUT THE AUTHOR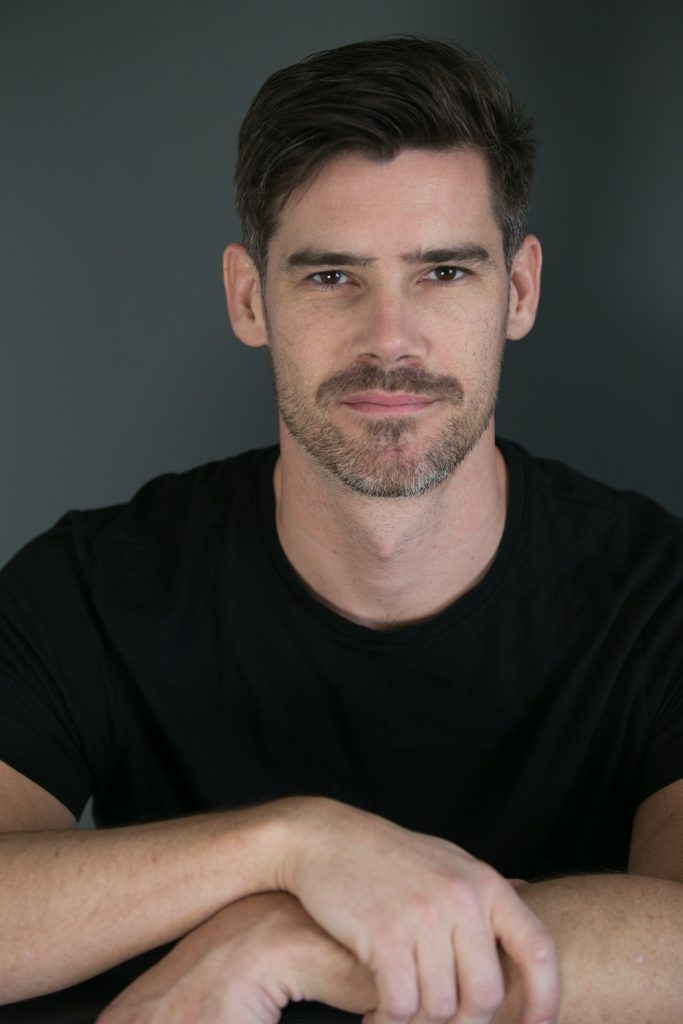 South African born and raised, Kiwi immigrant, Australian citizen, and now a U.S. Permanent Resident, Duncan Swan holds a degree in Aerospace Engineering and a Master of Commerce. He originally wanted to be an astronaut, but somehow wound up working in finance as a portfolio analyst and making fancy spreadsheets. Now, he lives in Los Angeles with his wife and daughter and tells stories, working with amazing artists, editors, publishers, and marketing geniuses to create something new. Duncan's debut novel, Monstre – a story about survival and mad desperation, described as "sci-fi with teeth" – will be released in two parts, with Volume 1 due in paperback, ebook, and audiobook formats on September 15, 2020, and Volume 2 to follow in Summer 2021.
WEBSITE & SOCIAL LINKS
Website: www.duncanswan.me
Twitter: @duncan_swan
Instagram: @duncan5wan
Goodreads: @DuncanSwan
Facebook: @duncan5wan
Pinterest: @duncanswan
GIVEAWAY
One lucky winner (US Only) will win the amazing swag bundle below. This giveaway will run until midnight on Halloween (Saturday, October 31st) and I will announce the winner on Monday, November 2nd.
How to Enter:
1. "Like" this post
2. "Comment" on this post
3. "Follow" the blog
4. "Follow" me on Twitter @DWalters29
5. "Follow" me on Instagram fanfiaddict
6. "Follow" Duncan on Twitter @duncan_swan
7. "Follow" Duncan on Instagram @duncan5wan
8. Add Monstre: Volume One to your Shelf on Goodreads
Swag Bundle:
•Signed limited edition book⁣
•Custom 'Bullet' 32gb USB⁣
•24x14in Mousepad / playmat⁣
•24x18in poster ⁣