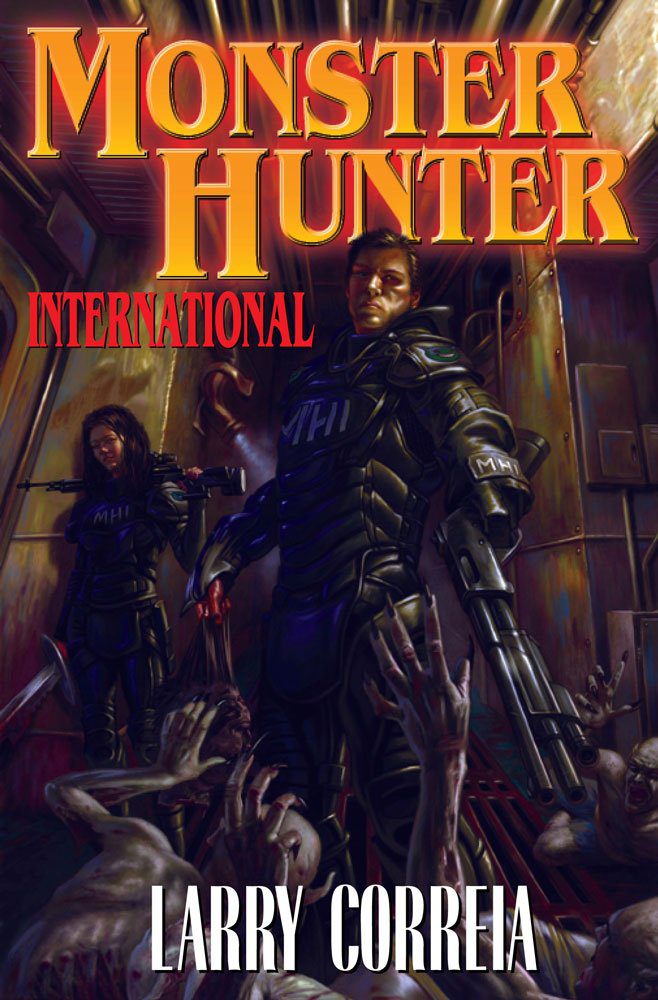 Rating: 7.0/10
Synopsis
Five days after Owen Zastava Pitt pushed his insufferable boss out of a fourteenth story window, he woke up in the hospital with a scarred face, an unbelievable memory, and a job offer.

It turns out that monsters are real. All the things from myth, legend, and B-movies are out there, waiting in the shadows. Officially secret, some of them are evil, and some are just hungry. On the other side are the people who kill monsters for a living. Monster Hunter International is the premier eradication company in the business. And now Owen is their newest recruit.

It's actually a pretty sweet gig, except for one little problem. An ancient entity known as the Cursed One has returned to settle a centuries old vendetta. Should the Cursed One succeed, it means the end of the world, and MHI is the only thing standing in his way. With the clock ticking towards Armageddon, Owen finds himself trapped between legions of undead minions, belligerent federal agents, a cryptic ghost who has taken up residence inside his head, and the cursed family of the woman he loves.

Business is good… Welcome to Monster Hunter International.
Review
Monsters are real. But Monster Hunting is [semi] privatized. Enter Monster Hunter International (MHI)!

This was first introduced to me as 'pulp fantasy'. I was immediately intrigued, but took me some time to get around to reading it. Oh, it was so much fun and I now kick myself for not getting around to this earlier. Not all plots need to be complex. Not all worlds need to be rich and fancy. Sometimes the solution is as simplistically elegant as picking up a gun and shooting a monster in the head. Simple yet such a exciting premise! The author describes this as "a conglomeration of B-Movie stereotypes but tackled from the perspective tactical realism" and it's just that. Cracking read!

The book is told mostly from the PoV of the MC, Owen Z Pitt, who starts off working a standard 9-to-5 job in a accounting firm. His boss is a d*ck but Owen manages to surviving by blending into the woodwork….till that fateful night, when he finds out his boss is a werewolf. After a scrap which Own survives, he learns that monsters are real. Government as usual has a secret department which tries to put a lid on all of this, since it's a huge menace, they also offer bounties for private individuals/parties who help. Owen joins up with the titular MHI and there starts his roller coaster of a career!

Owen is such as easy character to get behind. Nothing particularly heroic stands out with him and his whole take on the monster hunting seems to be "work that needs to be done". He has enough humor and sarcasm to lighten up the read without sounding too cringe-y. His actions and reactions feel thought out and real (with one exception of his romantic overtures which were cringe-y). Even though there's not many other characters in the limelight, every character who features has a niche part and stands out despite lack of pace time.

The world expands organically and as we go into second book, we get fed more information on MHI and it's origins, backstory from other characters and more on the overarching plot. The sheer amount of monsters and villains keep the book refreshing and enjoyable to read all through.

There's a lot of things I liked in the book. for one, it keeps the concept simple. You have monsters, you have guns and you have people who are very good in using those guns to shoot the monsters. Simple as. Brilliant! The book picks you up from the get go and it's a non stop thrill ride till the end. The pacing is excellent and I just binge reading till the finish. The author is a self declared gun-geek and it shows. We are treated to a buffet of arms and ammo stuff. it is done tastefully that you don't really see them as infodumps and they don't overwhelm the story. Balance is just right.

Having said that, this is a book I'd gladly recommend to everyone who's looking for a fun action fantasy.