---
Hello all and welcome to my first ever map reveal! Oh, I am so excited to share a couple of wonderful maps for Thomas Howard Riley's upcoming debut, We Break Immortals. The maps have long been one of my favorite things about finding a new fantasy story, so when I saw Thomas, who's as map crazy as I am, talking about potentially doing a reveal for his upcoming debut, I jumped on the chance to help him out with it. We have all kinds of goodies in store for you today, including some high-res images of the maps themselves and a short Q&A with the author. There might even be some news on when you can [REDACTED].
Before I spoil any of the fun to be had, let's get into it!
---
Author Q&A
Before we get into the map reveal proper, Thomas was kind enough to take the time to answer a few questions about fantasy maps. Honestly, I am just excited to have found someone that seems to love fantasy maps as much as I do. I think his answers to the questions I posed reveal quite a bit about him as an author and really have me that much more excited to read We Break Immortals.
Obviously, there was a lot of thought put into creating the world for We Break Immortals. How crucial was the worldbuilding specifically related to the story that you've written?
First of all, I want to say a hearty thank you for hosting this reveal and for taking the time to find out more about this world that I have put so much love into! I love maps so much and so it was very important to me to sink a lot of effort into making them just right.
In answer to your question, the map-making worldbuilding was absolutely essential. My number one goal was to make a world that felt expansive and alive. I wanted a sense that outside of a character's story there was a wider world that they had never seen, and might never see, but maybe had heard about. Even if we never got to see the rest of it, I wanted that Whole World™ to be out there. So my maps have a tendency to be more like pages out of an atlas than the average.
Some might call this overkill. But anyone who knows me knows that I am not one doing things small. (Don't even get me started on the thousands of years of history I bothered to create for each of the kingdoms. That is a whole other conversation.) I am known to obsess about these things, and keep pursuing perfection often well past the point of reason, and this was no different. But the consolation is there will be much more exploring of this world as the series moves along. I am going to be spending a LOT of time in this world, both in this series and in stand-alones, so it is worth it to have it perfect from the start.
Above all I wanted to avoid having a world-in-a-box map, with rectangular continents or square kingdoms arranged very conveniently to fit to the edges of a page. I wanted it to feel organic, sprawling, and very inconvenient.
As you mentioned (and thank you for noticing!), I spent a LOT of time putting together this world. Imagine the time it takes to make the average fantasy map, then multiply it by ten, then by a thousand squared and you will begin to have an idea of the temporal capital I sacrificed for this thing, I went through thousands of revisions over many years, in some cases making copies and cutting out the landmasses like puzzle pieces and moving them around, and pushing them together, and breaking them apart. It was like manually moving tectonic plates (and took almost as long to do).
But it was important. A good amount of the worldbuilding is tied to the geography. The concept for the series itself developed alongside the maps, so it was crucial to have everything thought out. I know this book is still just shy of being released, but I am already chomping at the bit to let you dive deep into some of these other places in the sequel.
Did you have an idea of what you wanted your maps to look like? What direction did you give the artist?
Oh yes, I had a very clear eye for what they needed to be. I had the entire world already drafted up myself, including mock-ups of the various regions. I already had the basic contours of every coastline, and had laid out most every mountain range, river system, desert, and forest. I had all the cities and every place-name thought out in advance. This made things both very easy and very difficult for my map artist. Because my templates were there to be the guide, but because it had to be as close to what my fixed worldbuilding required, it left little room to maneuver in the presentation when space became tight. But it came through wonderfully. My artist is an exemplary cartographer, and he of course put flavor into the maps, adjusting mountains and rivers to be more in line with real world geography than I had already set, and brilliantly beautifying my concept to bring my ideas to life. I brought the ingredients; he brought the sizzle. I really could not have found a more perfect artist for this process.
Map making is difficult because we all have a basic understanding of how our world is laid out. Were there any real world inspirations that you drew from? If so, do you care to explain?
Great question! I wanted this world to have as realistic elements as possible, but I wanted it in no way to resemble our own world in the aggregate. I wanted it to stand alone as its own place, so that people could not just point to a region and say, 'oh, that bit must be meant to be the "Spain", and that area must be the "China", and over here is the "Norway".
Yet because I also wanted to avoid the world-in-a-box, I spent a lot of time studying examples of our own geography for the elements I wanted to include in my own. I pored over atlases and cross-referenced geographic locations with real historical events. I studied the effects of our own geography on societies, culture, and warfare, and tried to include choke points in this world where conflicts would be bound to happen, or where cultures would be certain to mingle. This led me to focus mostly on areas where different regions tended to rub against one another—regions of eastern Europe, the Caucasus, Mesopotamia, east Africa, Manchuria, the regions of the Silk Road, and pretty much the entire Mediterranean. Mind you this was for references of physical geography only, not for importing any specific cultures or conflicts along with it. (That was a separate process)
So I would narrow this strip of land over here, or expand that one. I would place a desert to make a barrier between one place and another, or connect two distant places with a seaway so that they are more likely to interact. I would arrange the mountains and rivers so that some areas would be forced into conflicts with others. For a map geek like myself it was a lot of fun.
By setting up the geography in such a way as a part of the initial worldbuilding, it then became more than just points on a map. The maps themselves became a source of inspiration. Now when I look at my maps, cultures jump out at me from the different regions based on their geography, and from those cultures bumping against one another, conflicts emerge, and from that, histories begin to bubble up, and these histories provide context for more worldbuilding, and can give characters even more background. (These concepts will mostly come into play in the sequels, which are already well underway) So now with the next book and the next, I can place characters in certain locations, and the locations themselves will provide jumping off points for different types of conflicts and developments, sometimes generating entire story arcs for me just from looking at what places are near where a new character comes from.
When thinking about fantasy maps, are there any that stand out as your favorites?
My greatest inspiration came from my early reading—Dragonlance, Forgotten Realms, Lord of the Rings. All of these had corresponding RPG modules littered with glorious maps. The first two especially had worlds designed for their own "expanded universe" of franchised books, so they were compelled to design worlds that would be way too big for any one story to take over everything, and yet still have many common places that disparate characters might end up at one time or another. These worlds set my expectations very high for what a fantasy world should be, and I have not been able to escape that feeling. It has ruined me! Haha. (I have atlases of all 3 of those worlds, by the way, each done by the brilliant Karen Wynn Fonstad. The Middle Earth one is still in print now, but for the others you will likely need to flex your ebay skills).
Some other maps I have seen more recently that have stood out to me are: Kings of the Wyld by Nicholas Eames, which reminds me very much of the style of some of the old Middle Earth maps; the Malazan maps from Steven Erikson's series, intense and jam packed; and Ben Galley's maps for the Emaneska books, which are absolutely beautiful.
Do you have a favorite part of your own map?
I really don't. I love every bit of these maps.
Maps are one of my favorite things in fantasy and yours are outstanding. Can you tell us who designed your maps and a little bit about them?
Absolutely! Permit me to gush for a moment. Thom Rey was my cartographer. He is incredibly talented and wonderful to work with. (And not just because his name is almost my name) His talent speaks for itself, and his communication is fantastic. He worked hand in hand with me to make sure every single detail would be realized in the way I needed it to be, including plenty of problem-solving to make sure everything was clear.
As you can see from these maps, I threw a number of challenges at him. The quantity of labels and the proximity of some of the landforms are not the easiest to pack together and still be clear, but he was able to work magick. I can't recommend him highly enough. And I intend to work with him again for all my future maps.
I discovered him while perusing artists on Twitter and stumbled across a pair of maps from his portfolio, one color, and one black & white. The style was exactly what I had been imaging but had been unable to put into words. It was a perfect match for my world. Serendipity level ten.
---
Synopsis and Map Reveal
The Render Tracers always say magick users deserve to burn. Aren couldn't agree more, Keluwen would beg to differ, and Corrin couldn't care less either way.
In a world where most people use swords for protection, Aren uses tools that let him see what no one else can see, and he takes advantage of loopholes that can undo magick in order to stop the deadliest people in the world. He is a Render Tracer, relentlessly pursuing rogue sorcerers who bend the laws of physics to steal, assault, and kill. But his next hunt will lead him to question his entire life, plunging him into a world where he can't trust anyone, not even his own eyes.
When Keluwen finally escaped her fourthparents' home and set out on her own to become a thief, she never thought she would one day be killing her own kind. She honed her magick on the streets, haunted by her past, hunted by Render Tracers, and feared by a society that hates what she is. Now she joins a crew of outcast magicians on a path of vengeance as they race to stop an insane sorcerer who has unlocked the source of all magick and is trying to use it to make himself a god.
Corrin is a sword fighter first, a drinker second, and a…well, there must be something else he is good at. He'll think of it if you give him enough time. He is a rogue for hire, and he has no special powers of any kind. The most magick he has ever done is piss into the wind without getting any on himself. He is terrible at staying out of trouble, and someone always seems to be chasing him. When he gets caught up in a multi-kingdom manhunt, he finds himself having to care about other people for a change, and he's not happy about it.
They are about to collide on the trail of a man who is impossible to catch, who is on the verge of plunging the world into ruin, and who can turn loyal people into traitors in a single conversation. They must struggle against their own obsessions, their fears, ancient prophecies, and each other. They will each have to balance the people they love against their missions, and struggle to avoid becoming the very thing they are trying to stop.
---
---
My goodness. I could literally pore over these maps for hours. They're so gorgeous! It's obvious from the level of care that Thomas took in crafting this map that worldbuilding is a great priority himself as an author. He has even mentioned to me that there's going to be even more maps for the sequel that zoom in on some of the other areas of the world that aren't highlighted by the two smaller maps included here. I honestly can't wait to learn more about We Break Immortals. I am so impressed by what I have seen so far and it is quickly becoming one of my most anticipated reads of the year.
Speaking of reading it, I have some news to share that I haven't had a chance to up to now:
We Break Immortals will release on 12/07/2021 and is available to pre-order NOW!!!
Keep an eye out for the official cover reveal for We Break Immortals in the coming months. I am foaming at the mouth in anticipation and will be doing the cover reveal whether Thomas likes it or not.
---
About the Author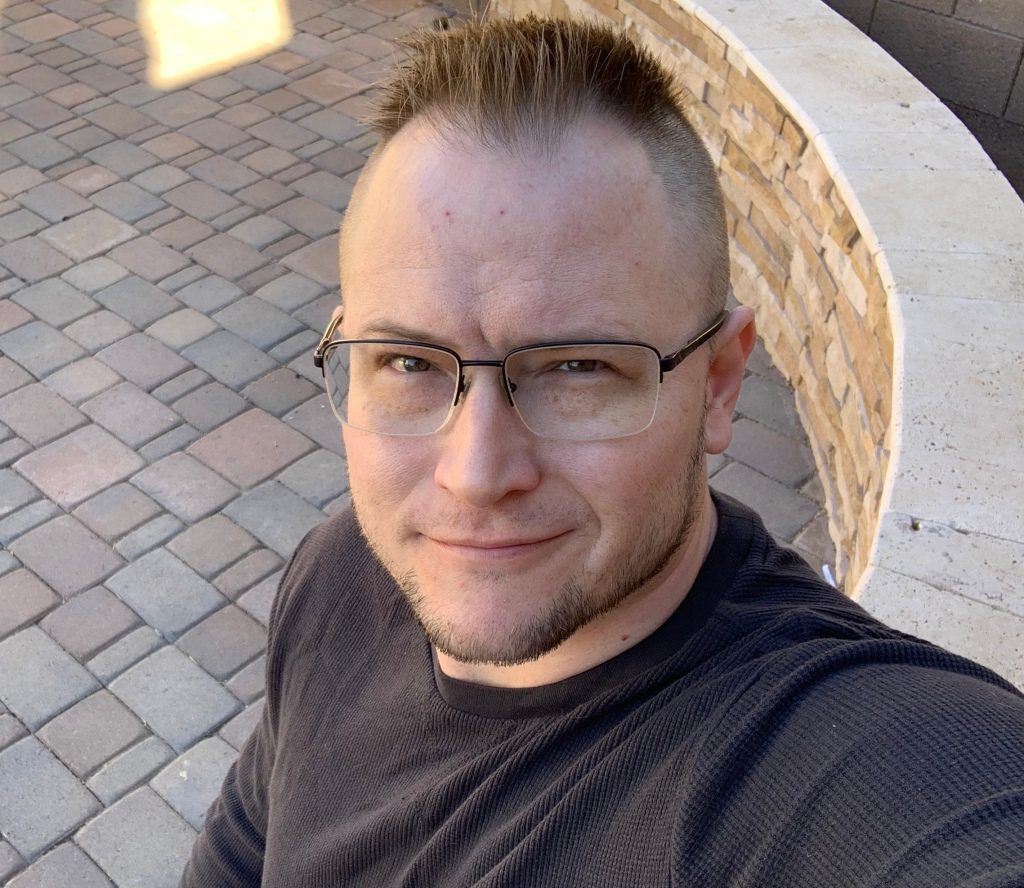 ---
Thomas Howard Riley currently resides in a secluded vista in the wasteland metropolis, where he reads ancient books, plays ancient games, watches ancient movies, jams on ancient guitars, and writes furiously day and night. He sometimes appears on clear nights when the moon is gibbous, and he has often been seen in the presence of cats.
He always wanted to make up his own worlds, tell his own stories, invent his own people, honor the truths of life, and explore both the light and the darkness of human nature. With a few swords thrown in for good measure.
And some magick. Awesome magick.
He can be found digitally at THOMASHOWARDRILEY.COM
On Twitter he is @ornithopteryx, where he is sometimes funny, always clever, and never mean.
---