Here is a look at what I have thoroughly enjoyed so far in 2023, in 'read' order. I offer blurbs for the ones I actually wrote blurbs for. Otherwise, you just get the book blurb 😀
Click the book covers to find out more and to order a copy for yourself!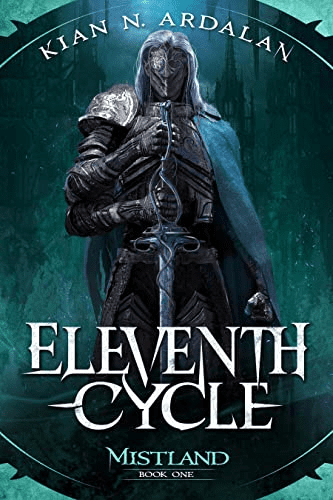 GRIMDARK MAGAZINE: "Eleventh Cycle checks all the boxes of a grimdark masterpiece. It is a stunning achievement, establishing Kian N. Ardalan as one of the most exciting new voices in speculative fiction."
It has been a thousand years since the last Seed abandoned their duty. The mists are closing in. Finally, the Morning Bell tolls. A new Seed is born, but is it too late?
The rot eats away at mortals. The Witnesses pray so that they may not turn into one of the forgotten. And the constricting mists infect the lands with fear.
But there is more to this tale than just the Elders and their Seeds. Four mortals will have a part to play in Minethria's fate. A farmer girl with only love in her eyes. A warrior born to the life of a refugee. A highborn stuck between the realm of gods and men. And a woman running into front lines and away from home.
Will the cycle finally be completed? Or will the mist swallow all?
A seed is born and the evil is slain, so doth another cycle commence. Yet the last Seed born hath turned traitor, and the mists which had been pushed back, returneth.
My thoughts: A grimdark triumph, Eleventh Cycle (Mistland #1) sets the bar in 2023. A perfect mash-up of Kentaro Miura's Berserk and Hidetaka Miyazaki's Dark Souls. Ardalan conjures an epic that will top many 'Best of' lists this year including mind. BUY THIS BOOK!
Action, intrigue, and magic collide in the second book in an epic fantasy trilogy, where Sir Konrad Vonvalt's role as an Emperor's Justice requires him to be a detective, judge, and executioner all in one—but these are dangerous times to be a Justice . . . A Justice's work is never done.

The Battle of Galen's Vale is over, but the war for the Empire's future has just begun. Concerned by rumors that the Magistratum's authority is waning, Sir Konrad Vonvalt returns to Sova to find the capital city gripped by intrigue and whispers of rebellion. In the Senate, patricians speak openly against the Emperor, while fanatics preach holy vengeance on the streets.

Yet facing down these threats to the throne will have to wait, for the Emperor's grandson has been kidnapped – and Vonvalt is charged with rescuing the missing prince. His quest will lead him – and his allies Helena, Bressinger and Sir Radomir – to the southern frontier, where they will once again face the puritanical fury of Bartholomew Claver and his templar knights – and a dark power far more terrifying than they could have imagined.
"Richard Swan's sophisticated take on the fantasy genre will leave readers hungry for more." – Sebastien de Castell on The Justice of Kings

"A fantastic debut." – Peter McLean on The Justice of Kings 
My thoughts: The Tyranny of Faith by Richard Swan rachets up everything you loved about TJoK tenfold, leading to a read this is both gut-wrenching & awe-inspiring. It is a sequel that simply blows its predecessor out of the water. What a remarkable read.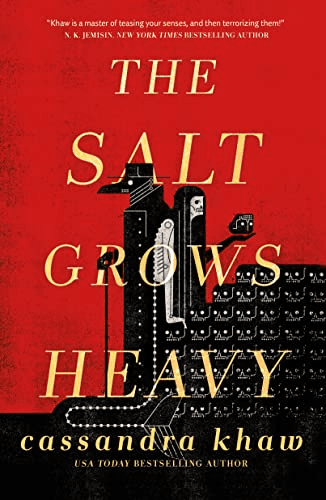 From Cassandra Khaw, USA Today bestselling author of Nothing But Blackened Teeth, comes The Salt Grows Heavy, a razor-sharp and bewitching fairy tale of discovering the darkness in the world, and the darkness within oneself.

"This brilliant novella is not to be missed." —Publishers Weekly, STARRED review
"With this brilliantly constructed tale…Khaw cements their status as a must-read author." —Library Journal, STARRED review

An Indie Next Pick!

You may think you know how the fairy tale goes: a mermaid comes to shore and weds the prince. But what the fables forget is that mermaids have teeth. And now, her daughters have devoured the kingdom and burned it to ashes.

On the run, the mermaid is joined by a mysterious plague doctor with a darkness of their own. Deep in the eerie, snow-crusted forest, the pair stumble upon a village of ageless children who thirst for blood, and the three "saints" who control them.

The mermaid and her doctor must embrace the cruelest parts of their true nature if they hope to survive.
My thoughts: Khaw's The Salt Grows Heavy is dark and bloody and gory and beautiful and disgusting and utterly impossible to put down. Khaw's prose alone is worth the price of admission, but this novella sunk its razor-sharp teeth in and ripped me to shreds by the turn of the last page.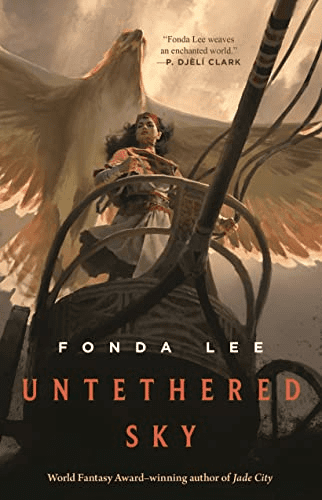 From World Fantasy Award-winning author Fonda Lee comes Untethered Sky, an epic fantasy fable about the pursuit of obsession at all costs.

"Gripping action set in vast spaces writ as clean and spare as a dry bone . . . the result is tremendous."—The New York Times

A Most Anticipated in 2023 Pick for Polygon | Book Riot | Paste Magazine

Ester's family was torn apart when a manticore killed her mother and baby brother, leaving her with nothing but her father's painful silence and a single, overwhelming need to kill the monsters that took her family.

Ester's path leads her to the King's Royal Mews, where the giant rocs of legend are flown to hunt manticores by their brave and dedicated ruhkers. Paired with a fledgling roc named Zahra, Ester finds purpose and acclaim by devoting herself to a calling that demands absolute sacrifice and a creature that will never return her love. The terrifying partnership between woman and roc leads Ester not only on the empire's most dangerous manticore hunt, but on a journey of perseverance and acceptance.
My thoughts: Untethered Sky by Fonda Lee is simply astonishing. Sorrow begets infatuation begets stout-heartedness in this tale of monsters hunting monsters and a young female ruhker trying to find and accept her calling. Fans of Brian Staveley's CotUT will find a lot to love here.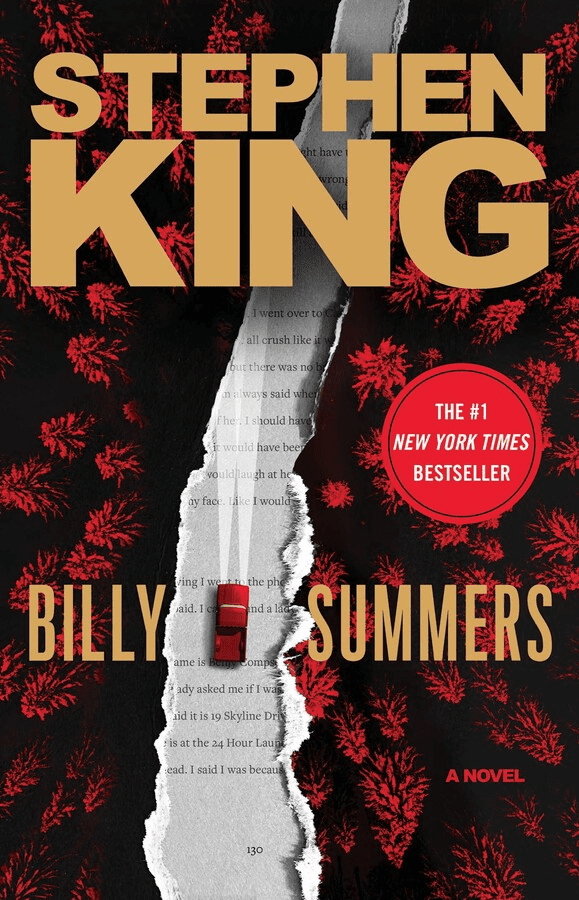 Master storyteller Stephen King, whose "restless imagination is a power that cannot be contained" (The New York Times Book Review), presents an unforgettable and relentless #1 New York Times bestseller about a good guy in a bad job.

Chances are, if you're a target of Billy Summers, two immutable truths apply: You'll never even know what hit you, and you're really getting what you deserve. He's a killer for hire and the best in the business—but he'll do the job only if the assignment is a truly bad person. But now, time is catching up with him, and Billy wants out. Before he can do that though, there's one last hit, which promises a generous payday at the end of the line even as things don't seem quite on the level here. Given that Billy is among the most talented snipers in the world, a decorated Iraq war vet, and a virtual Houdini when it comes to vanishing after the job is done, what could possibly go wrong? How about everything.

Part war story and part love letter to small-town America and the people who live there, this spectacular thriller of luck, fate, and love will grip readers with its electrifying narrative, as a complex antihero with one last shot at redemption must avenge the crimes of an extraordinarily evil man. You won't ever forget this stunning novel from master storyteller Stephen King…and you will never forget Billy.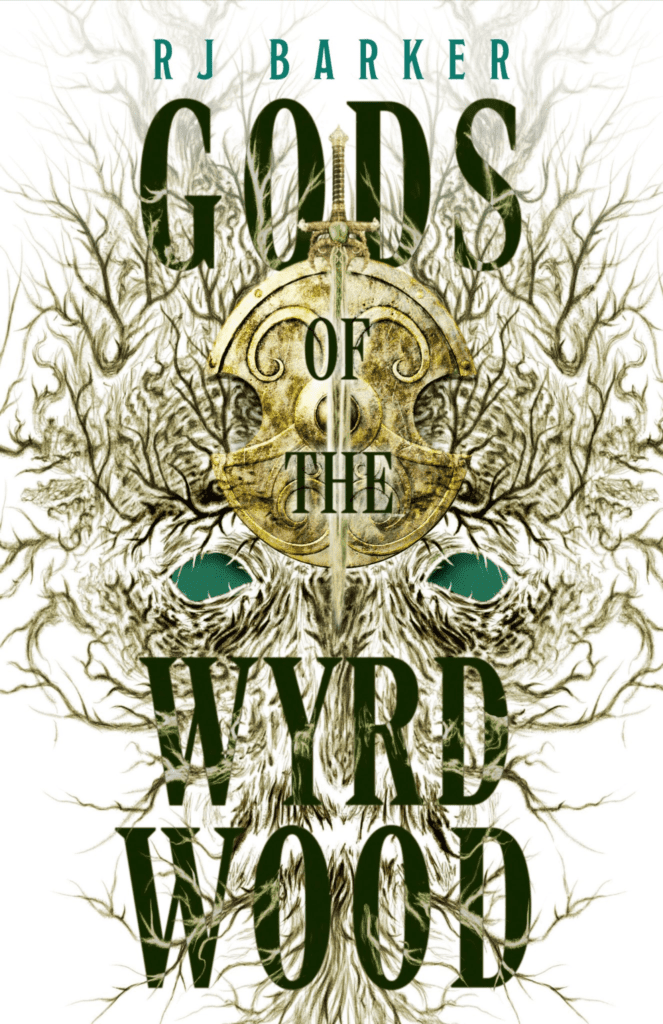 In a land of gods and wars, a brave forester encounters prophets, warrior monks, and mysterious magic in this exciting fantasy novel.Cahan du Nahare is known as the forester—a man who can navigate the dangerous Deepforest like no one else. But once he was more. Once he belonged to the god of fire.
Udinny serves the goddess of the lost, a goddess of small things; when she ventures into the Deepforest to find a lost child, Cahan will be her guide. But in a land where territory is won and lost for uncaring gods, where temples of warrior monks pit one prophet against another—Cahan will need to choose the forest or the fire—and his choice will have consequences for his entire world.
My thoughts: GotW is another astoundingly original & epic fantasy tale from the mind of RJ Barker. From fully realized characters and prodigious world-building to a unique & intriguing magic system, GotW ticks all of the boxes & then some. Simply breathtaking. Note: May contain land squids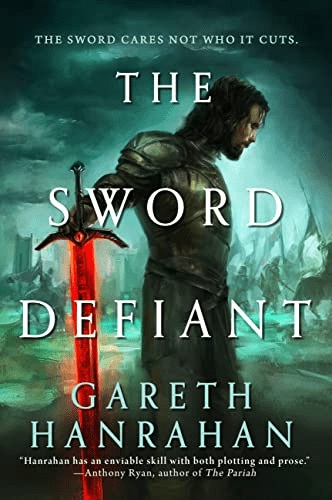 Set in a world of dark myth and dangerous prophecy, this thrilling fantasy launches an epic tale of daring warriors, living weapons, and bloodthirsty vengeance.​

"The Sword Defiant is a treat for all fantasy fans . . . . It's an absolute blast." ― Justin Lee Anderson, author of The Lost War

Many years ago, Sir Aelfric and his nine companions saved the world, seizing the Dark Lord's cursed weapons, along with his dread city of Necrad. That was the easy part.

Now, when Aelfric – keeper of the cursed sword Spellbreaker – learns of a new and terrifying threat, he seeks the nine heroes once again. But they are wandering adventurers no longer. Yesterday's eager heroes are today's weary leaders – and some have turned to the darkness, becoming monsters themselves.

If there's one thing Aelfric knows, it's slaying monsters. Even if they used to be his friends.

"In the tradition of Tolkien and Eddings, with a richly detailed narrative, well-drawn characters, epic battles, and political and religious intrigues, Hanrahan's outstanding first outing in the Lands of the Firstborn series will thrill fantasy readers—who will anxiously await the next book." ― Booklist (starred review)

"This novel has the potential to become a fan-favorite among those who appreciate vast and eloquent epic fantasy. Readers will enjoy the unique twists, absorbing intrigue, and endearing characters." ― Library Journal

"I will buy any novel that Gareth Hanrahan ever writes." ― The Fantasy Inn
My thoughts: TSD packs an efficacious mixture of Joe Abercrombie and Nicholas Eames; one that is deeply rooted in Hanrahan's adoration of RPGs. Gareth's imagination is staggering and his skills are, once again, on full display here. Buy. Read. Love. Definite Grimdark recommend.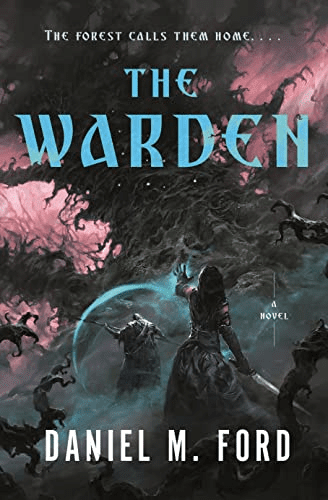 A Most Anticipated Book of the Year for GoodReads and FanfiAddict
A Best Science Fiction & Fantasy Editors' Pick for Amazon

For fans who have always wanted their Twin Peaks to have some wizards, The Warden is a non-stop action adventure story from author Daniel M. Ford.

There was a plan.

She had the money, the connections, even the brains. It was simple: become one of the only female necromancers, earn as many degrees as possible, get a post in one of the grand cities, then prove she's capable of greatness. The funny thing about plans is that they are seldom under your control.

Now Aelis de Lenti, a daughter of a noble house and recent graduate of the esteemed Magisters' Lyceum, finds herself in the far-removed village of Lone Pine. Mending fences, matching wits with goats, and serving people who want nothing to do with her. But, not all is well in Lone Pine, and as the villagers Aelis is reluctantly getting to know start to behave strangely, Aelis begins to suspect that there is far greater need for a Warden of her talents than she previously thought.

Old magics are restless, and an insignificant village on the farthest border of the kingdom might hold secrets far beyond what anyone expected. Aelis might be the only person standing between one of the greatest evils ever known and the rest of the world.
My thoughts: Ford's The Warden is like a cozy fantasy Hallmark movie gone abysmally South; a tale full old magic, witty banter, a compelling female lead and a great supporting cast. Recommended for fans of Andrzej Sapkowski and Richard Swan.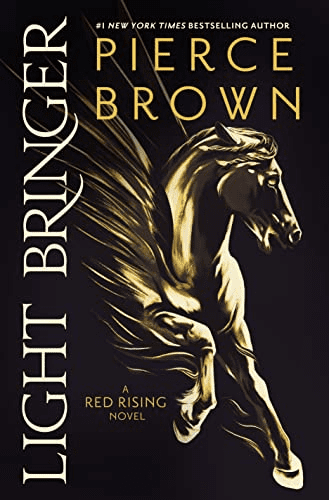 Darrow returns as Pierce Brown's New York Times bestselling Red Rising series continues in the thrilling sequel to Dark Age.

The Reaper is a legend, more myth than man: the savior of worlds, the leader of the Rising, the breaker of chains.

But the Reaper is also Darrow, born of the red soil of Mars: a husband, a father, a friend.

Marooned far from home after a devastating defeat on the battlefields of Mercury, Darrow longs to return to his wife and sovereign, Virginia, to defend Mars from its bloodthirsty would-be conqueror Lysander.

Lysander longs to destroy the Rising and restore the supremacy of Gold, and will raze the worlds to realize his ambitions.

The worlds once needed the Reaper. But now they need Darrow, and Darrow needs the people he loves—Virginia, Cassius, Sevro—in order to defend the Republic.

So begins Darrow's long voyage home, an interplanetary adventure where old friends will reunite, new alliances will be forged, and rivals will clash on the battlefield.

Because Eo's dream is still alive—and after the dark age will come a new age: of light, of victory, of hope.
My thoughts: Light Bringer is a cinematic storytelling masterclass; emotionally charged prose with expeditious pacing and extraordinary characterization. Bloodydamn brilliant. Pierce Brown is this generation's Frank Herbert and I will die on this hill.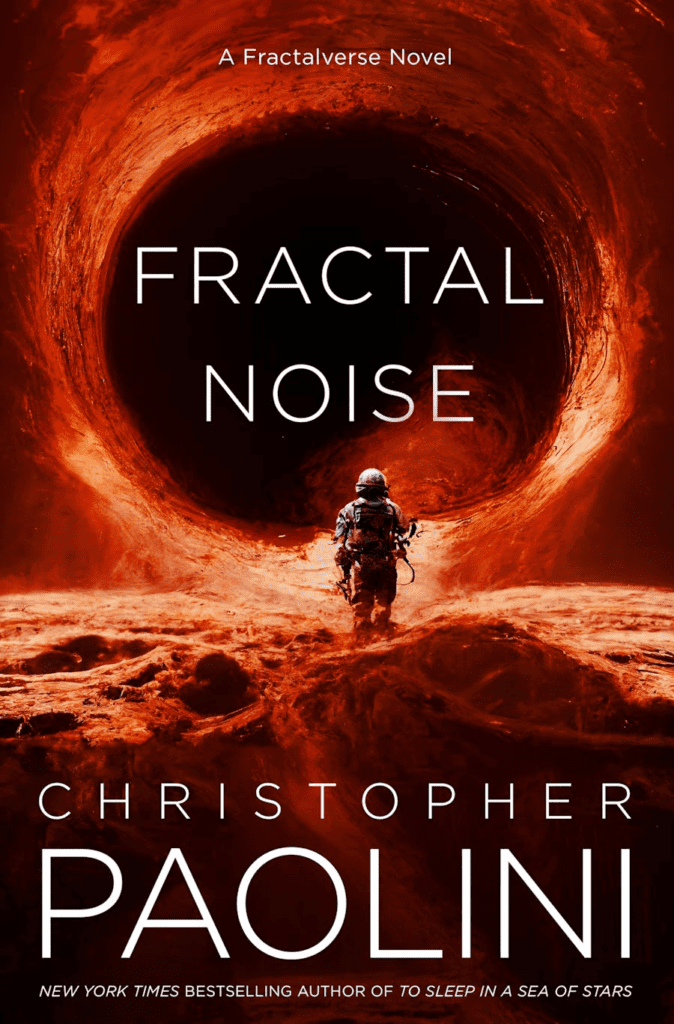 A new blockbuster science fiction adventure from world-wide phenomenon and #1 New York Times bestseller Christopher Paolini, set in the world of New York Times and USA Today bestseller To Sleep in a Sea of Stars.

Instant New York Times bestseller

July 25th, 2234: The crew of the Adamura discovers the anomaly.

On the seemingly uninhabited planet Talos VII: a circular pit, 50 kilometers wide.

Its curve not of nature, but design.

Now, a small team must land and journey on foot across the surface to learn who built the hole and why.

But they all carry the burdens of lives carved out on disparate colonies in the cruel cold of space.

For some the mission is the dream of the lifetime, for others a risk not worth taking, and for one it is a desperate attempt to find meaning in an uncaring universe.

Each step they take toward the mysterious abyss is more punishing than the last.

And the ghosts of their past follow.
My thoughts: Fractal Noise by Christopher Paolini is an ambitious addition to the Fractalverse that started a few years ago with TSiaSoS. Though shorter than its predecessor, FN doesn't lack in BIG ideas. A phenomenal first-contact story fraught with tension & suspense.Andy Weir fans, take note.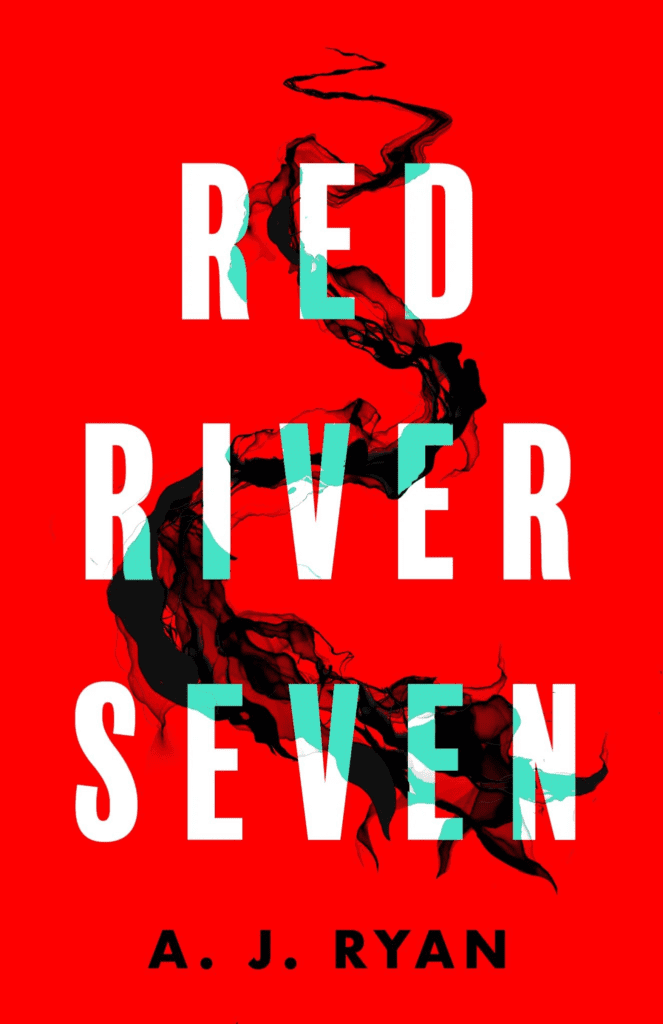 Seven strangers. One mission. Infinite horror.
A man awakes on a boat at sea with no memory of who or where he is. He's not alone – there are six others, each with a unique set of skills. None of them can remember their names. All of them possess a gun.
When a message appears on the onboard computer – Proceeding to Point A – the group agrees to work together to survive whatever is coming.
But as the boat moves through the mist-shrouded waters, divisions begin to form. Who is directing them and to what purpose? Why can't they remember anything?
And what are the screams they can hear beyond the mist?
Internationally bestselling fantasy author Anthony Ryan – writing as A. J. Ryan – delivers a nerve-shredding thriller in which seven strangers must undertake a terrifying journey into the unknown.
My thoughts: Red River Seven perfectly exemplifies why Mark Lawrence calls Ryan a "master storyteller". Parts Josh Malerman's Bird Box and Danny Boyle's 28 Days Later, RRS is a frenetically paced, galvanizing read that will equally excite and terrify you. Absolute recommend.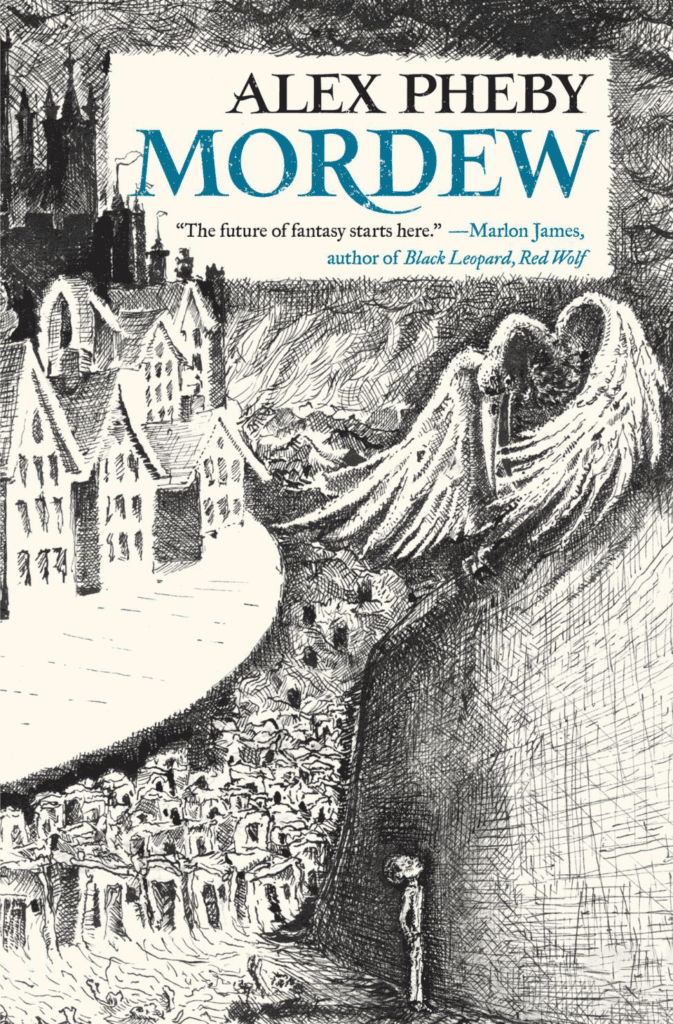 Alex Pheby's Mordew launches an astonishingly inventive epic fantasy trilogy.

God is dead, his corpse hidden in the catacombs beneath Mordew.

In the slums of the sea-battered city, a young boy called Nathan Treeves lives with his parents, eking out a meagre existence by picking treasures from the Living Mud and the half-formed, short-lived creatures it spawns. Until one day his desperate mother sells him to the mysterious Master of Mordew.

The Master derives his magical power from feeding on the corpse of God. But Nathan, despite his fear and lowly station, has his own strength―and it is greater than the Master has ever known. Great enough to destroy everything the Master has built. If only Nathan can discover how to use it.

So it is that the Master begins to scheme against him―and Nathan has to fight his way through the betrayals, secrets, and vendettas of the city where God was murdered, and darkness reigns.

Propulsive, compulsively readable, full of unforgettable characters and a talking dog who wants to be a
philosopher, Mordew is an epic fantasy strange, new, and terrifyingly alive.
My thoughts: Mordew (Cities of the Weft #1) by Alex Pheby is an absolute triumph. A gothic fantasy epic that reads like the brainchild of Tim Burton and Neil Gaiman. On top of that, Kobna Holdbrook-Smith deserves an Audie Award for his narration *chef's kiss*. READ. THIS. BOOK. NOW!