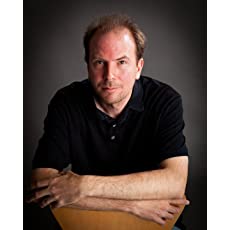 About Mark Lawrence
Mark was born in Champagne-Urbana, Illinois, to British parents but moved to the UK at the age of one. He went back to the US after taking a PhD in mathematics at Imperial College to work on a variety of research projects including the 'Star Wars' missile defence programme. Returning to the UK, he has worked mainly on image processing and decision/reasoning theory. He says he never had any ambition to be a writer so was very surprised when a half-hearted attempt to find an agent turned into a global publishing deal overnight. His first trilogy, THE BROKEN EMPIRE, has been universally acclaimed as a ground-breaking work of fantasy. Following The Broken Empire comes the bestselling RED QUEEN'S WAR trilogy, The BOOK OF THE ANCESTOR trilogy, and the IMPOSSIBLE TIMES trilogy. The BOOK OF THE ICE trilogy, in a setting some should recognize from Book of the Ancestor, commences with THE GIRL AND THE STARS in APRIL 2020. Mark is married, with four children, and lives in Bristol.
Mark, I really appreciate you taking the time to chat with me and answer some questions I'm sure you have answered hundreds of times. It has been a pleasure getting to know you through social media over the past couple of years, and it has been more of a pleasure getting the opportunity to read your novels. So to say that I am a little bit ecstatic is a supreme understatement.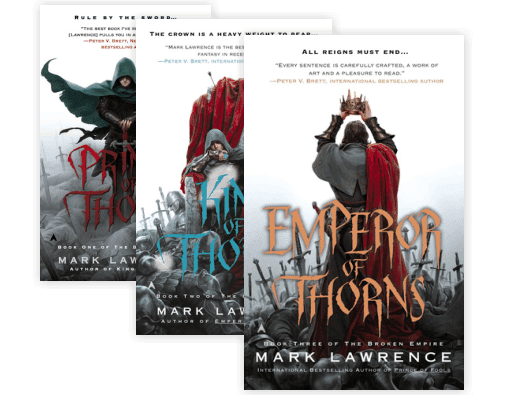 What sort of work were you in prior to writing? What is the oddest job you have ever held?
I became a full-time author in 2015 when the advanced research centre I was working in closed (internal political decision) putting ~150 scientists out of work. My job description had been 'research scientist' for the previous 20-something years since leaving education. So I really don't have a string of odd jobs on which to hang anecdotes. I guess it would have to be an Xmas spent working in the Evening And After Six department in London's iconic Harrods – where I loitered around the evening gowns and tried not to be noticed.
Who are some of your writing influences? Who do you think had the biggest influence on your prose style?
I'm pretty much oblivious to my influences and I don't think anyone else has a handle on them either since the most often cited author is Joe Abercrombie … and I've never read anything by him. When I first began to write in earnest and pay attention to others' writing I was reading a lot of Stephen King. I was aware for a while back then that I my stories did read rather like him.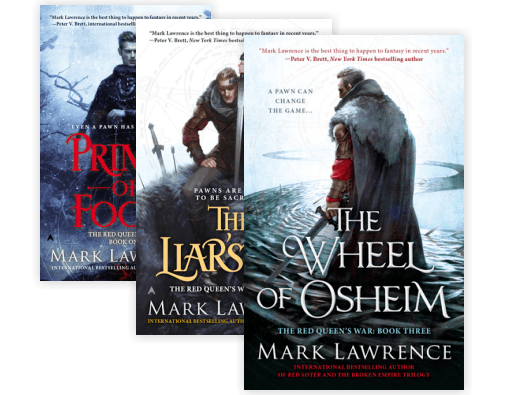 Where do you typically find yourself writing? Home office, coffee shop, neighborhood park (prior to COVD-19)?
Home office. I did write a fair bit of Prince of Thorns in hospital with my youngest daughter back when she was little. I think I can write pretty much anywhere, but I have an office – so I use it.
Tell me a little bit about your writing process. Are you a plotter or a pantser?
Definitely a pantser. I do almost no planning and make the story up as I go. I find it keeps me interested.
What comes first: world-building or characters?
I start with an idea of the main character and the world reveals itself as they explore it.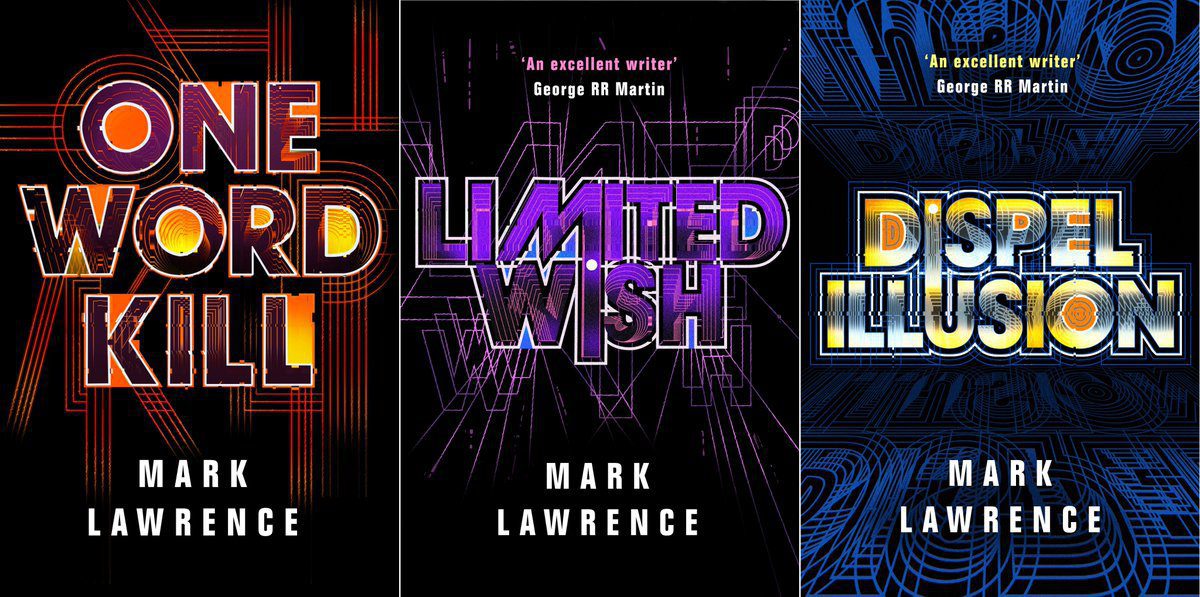 In regard to genre, why fantasy? Having said that, why the sudden wrench throw into science fiction with your Impossible Times trilogy?
All my fantasy so far has had fairly strong science fiction elements embedded, so I don't think the move to a sci-fi series was particularly sudden or a big move. The big move was from a made-up world to a real world setting.
The reason for it was actually more contractual than anything else. I was writing fantasy books faster than my publisher could put them out and I'm contractually forbidden from writing fantasy for other publishers (without first offering it to my current one). So writing science fiction allowed me to look for another outlet for it. It also allowed me to change style without upsetting anyone.
Jorg Ancrath has been a much talked about character since the initial release of Prince of Thorns, but maybe not always in the best of light. Did you intend on making such a character, one some would love and others would hate?
My only intention was to write a character that people would want to read about, and the sales figures have shown that I succeeded in that. I always assumed that people would be interested by Jorg rather than love or hate him. He's the embodiment of a number of questions about nature vs nurture, about when guilt and responsibility stick to us during the transition from child to adult, and about the nature of that change.
I was surprised to find so many people actually settling into a love or hate camp so early on – after a few pages in many cases. I hadn't anticipated people patterning the story into the trending socio-political debate of the time and by extension assigning me to a camp in that debate, one which had nothing in common with my beliefs, politics, or thought processes in writing the book.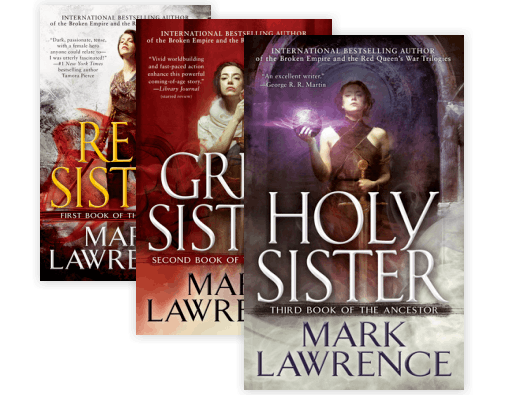 Your new novel, The Girl and the Stars (Book of the Ice #1), which releases on April 21st in the US / 30th in the UK, is the beginning of a new trilogy set in the same world as your Book of the Ancestor Trilogy. Can you tell us a little bit about what we can expect from Book 1 and maybe a tad about the series as a whole?
Actually the ebook is now coming out on the 21st in the UK too. With all the book shops closed the release of the hardback isn't likely to create much of a splash and so the ebook is coming out at the same time as the US release and hoping to combine the impact of any publicity efforts.
I'm very loath to say anything about the story or what to expect. That's born from my own desire not to know anything about books I pick up other than that someone I trust has said they're good. I know not everyone is the same. My best friend immediately turns to the last page of any book he's about to start and reads it. I have a visceral reaction against that, instinctively wanting to punch him out 😀
I know that you enjoy putting easter eggs into your novels that readers of your entire library can seek out. I can only assume you are planning more inside of the Book of the Ice series? Will we see glimpses of the Convent of Sweet Mercy at all?
The story takes place on Abeth and 99.9% of Abeth's surface is covered with a miles-thick layer of ice. Our main character lives far to the north on that ice. By book 3 I do manage to tie the story into a lot of other tales I've told. And that's about as much as I'm going to say.
What are you working on now?
I'm going through the publisher's edit on The Second Book of the Ice. I waited until I'd finished the final installment: The Third Book of the Ice before getting to the edit on book 2. So now I have to have it done reasonably soon. But I do at least get to better foreshadow in book 2 various ideas in book 3 that I had no idea would be coming along when I wrote book 2.
Have you read anything lately that you would recommend to those reading at home?
That rather depends on your definition of "lately". The book I enjoyed most last year was Strange The Dreamer by Laini Taylor. I also really enjoyed Shadow Of The Wind by Carlos Ruiz Zafon and John Gwynne's A Time Of Blood.
What is one bit of advice you would give to aspiring writers?
Just get on with it and write. Like pretty much everything else it's practice that improves your performance. Though of course you need to seek a wide range of unbiased feedback or you'll think you're doing fine when you may well not be. But yes, stop aspiring and do some perspiring instead.
Mark, I want to thank you so much for taking the time to answers all of my questions, no matter how repetitive they may be from the multitude of other interviews you have done. You are one of my favorite writers of all-time and I hope you continue to get the love and support, book sales and readership that you rightly deserve. You are truly a one of a kind writer and we do not deserve the amazing characters and worlds you have built, nor the beautiful language that drips from each and every page written. I wish you luck with the launch of the new series and cannot wait to see what comes next!
Follow Mark pretty much everywhere:

Amazon here: https://www.amazon.com/Mark-Lawrence/e/B004HNAQOQ

Blog here: http://mark—lawrence.blogspot.co.uk/

Facebook here: https://www.facebook.com/MarkLawrenceBooks

Twitter here: https://twitter.com/mark__lawrence

Three-emails-a-year newsletter here:
http://eepurl.com/cimnK1 #Prizes #FreeContent

I'm even on Tumblr!
https://www.tumblr.com/blog/marklawre…

Pintrest!
https://uk.pinterest.com/princeofthor…

& Instagram
https://www.instagram.com/mark___lawr…

Plus I have free stuff on Wattpad!
https://www.wattpad.com/user/MarkLawr…