Thanks to Eerie River Publishing for letting FFA host an interview with David Green. David is the author of the Empire of Ruin series (In Solitude's Shadow & Path of War), as well as quite a few short horror stories that are included in a handful of anthologies.
This interview was set up to bring attention to his newest release, Path of War, which just hit on July 15th.
See more information below.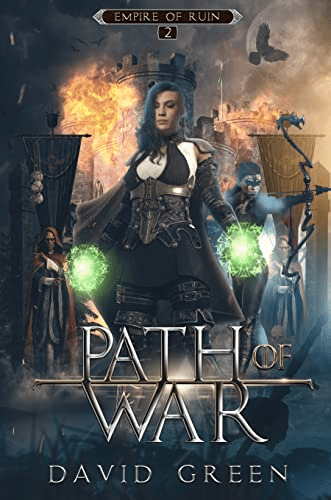 Tell us a little bit about yourself and how you became a horror writer?
Horror has always been a genre I've enjoyed in film more than reading, though I like a lot of that, too. When I first started writing, I didn't set out to write any horror. Fantasy has always been my main go-to for reading, and I thought I might move into that genre after I got some experience, but I found it quite daunting. I love fantasy so much I just wasn't sure if I could do a good enough job at it!

So the first thing I wrote was neither fantasy or horror – it was a noir thriller set in 1940s Santa Monica, which I think is coming out maybe in 2023! This is just how my brain works. I enjoy film noir, but crime thrillers aren't a genre I read at all! When I finished it, I had no idea what to do with it, and I wasn't even a speck in the writing community, so I started looking around to see what I could find, and what I found was lots of anthology open calls for horror! I focused on these, writing stories in different lengths, and had quite a lot accepted, but the more I wrote, the more fantasy elements crept into my work which was inevitable, really.
Let's talk about the Empire of Ruin Series. This is a very complex world, how do you keep it all organized?
When it comes to the actual narrative told in the books, I'm half way between a planner and a pantser (or discovery writer if I'm being polite to myself) with set beginnings, middles and ends for each book and the overall plot of the series, but then I like to see what happens too.
With the rest of the worldbuilding, I have extensive files and documents on cities, duchies, countries and continents including religious beliefs, governmental bodies, geography and weather systems. I do the same with characters, too, and then I group lots of elements in excel sheets to see crossovers and potential areas of conflict to exploit. I love planning, and sometimes I can lose myself in it and I have to remind myself that I have to go and write!
But it's a system that works for me, and I can pull up anything information I like and use it for the characters, places and narrative and try to add some depth into all the places by giving it all some history (I also LOVE history).
In Solitude's Shadow, was the first installment to this series and it has had fantastic reviews, with one reviewer likening it to Brandon Sanderson! How does that feel? Do you feel pressure to have Path of War live up to the hype?
The interviews for In Solitude's Shadow blew me away, and being compared to writers like Brandon Sanderson and John Gwynne was pretty insane but extremely gratifying. Sanderson in particular was great, I'm a massive Wheel of Time fan and he obviously came in to finish that series off, and has great works in his own right, too.
I felt a bit of pressure on Path of War, but most of it came from myself. In Solitude's Shadow was received well, so I wanted to write a better sequel that was bigger, longer, larger in scope but keeping the aspects people enjoyed about Solitude like the focus on characters, the intimacy, the fast pace and so on. I knew the general story of it before I wrote Solitude, but it took me a little while to solidify a satisfying throughline to tie all the separate POVs and storylines together. I think I did that, and my beta readers really loved it which was a huge relief. I genuinely think it's the best book I've written so far and I'm normally very critical of my own work!

Let's hope I've not gone mad!
Path of War, Without giving too much detail, tell us what this story is about and what was the inspiration behind this quirky book?
Path of War is the sequel to In Solitude's Shadow, and is the second book in the Empire of Ruin series. In the first book, we follow three POV characters as they're all drawn to a place called Solitude when an apparent invasion threatens Haltveldt. But all isn't as it seems, and treachery and intrigue follow, as well as big action and revelations as the main characters race to Solitude to save the people there.
The second book picks up right off where the first ended, and the curtain is pulled back a little and we get to explore more of the nation of Haltveldt and all the various factions in play there. We follow some of the characters from the first back as they try to deal with the ramifications of In Solitude's Shadow and the changed world they find themselves in, and we pick up a couple more POVs along the way as the scope expands. There's more intrigue, more adventure, more action and yet the personal stakes are higher than ever and while there is still a good helping of humor, it's a shade darker.
The inspiration was just to follow through on Solitude's set up and write the best book I could. The world itself is inspired by what I love about fantasy and aspects I've always wanted to see, as well as the Roman Empire, the notion of blood family vs found family, and exploring different perspectives to big questions like how far do you go to protect what's yours and your family and so on.
This is a really intense book. Did you find any section particularly hard to write?
The end section of In Solitude's Shadow was challenging as it's quite a complex action scene with lots of POVs and moving pieces, and I wasn't as experienced as I am now!

In Path Of War, we spend time with who many would call the antagonists, though they wouldn't call themselves that, and one in particular is Haltveldt's Master of War Nexes Alimor. He's a devout follower of his nation and the emperor, but is plagued by deep-seated doubts and self-loathing, and his place in the world is challenged by the emperor's vision as to what the future of Haltveldt might be. So we follow him on what's essentially a descent into deeper madness, and he goes to some extreme places internally and externally. They were hard scenes to write, to get into his mindset and paint him as a realistic character at the same time.
Enjoyable, though!
If you wrote yourself into this book what type of character would you be? Would you live or would you die?
If I existed in the world of Haltveldt I would kill myself off quite happily, and give myself as gruesome but ultimately inconsequential death as possible. It would amuse me greatly!

There's a few characters with quite a lot of my personality in them, Kade Besem in particular, but if I were to be in the story fully, I think I'd be an innkeeper or maybe a travelling bard who keeps appearing in the wrong place at the very wrong time.
Where can we find you? List your links and let us know any in person events people can find you at!
All my links can be found at www.linktr.ee/davidgreenwriter if anyone would like to check those out!

I do live reading events on my Facebook page (and will soon set up a group to do the same, so keep an eye out for that!) but I will be at this year's FantasyCon 2022 at Radisson Red, Heathrow in September, and BristolCon at Hilton Double Tree in October!
Extra questions – pick four!
What books did you read as a child that inspired you to become an Author?
The main books that inspired me in later life were the Wheel of Time books as I mentioned before, particularly in worldbuilding but before that, the first book I can really remember going mad over was The Hobbit.
I still have the copy I had as a kid, as I wrote my name, age, and address in it. I was 7, so it's at least 32 years old, and I say at least because I'm pretty sure it was a hand-me-down from my mum. From there I moved onto Lord Of The Rings and had The Silmarillion read by about 11 or 12, and kept reading anything from Middle-Earth since; Unfinished Tales, History Of Middle-Earth, and the longer edited stories like Children Of Hurin and so on.
Other than that, I always loved Arthurian stories, which is probably why, combined with Tolkien, I responded so strongly to Wheel Of Time. The first book is obviously inspired by Rings, but the first arc of the series, and many of the characters, have a massive Arthurian influence.
Are there tropes you actively avoid in your writing?
I'm actually a big fan of tropes and think that most are welcome. It's just a matter of how well they're written and utilized. I love a good twist on an established trope, too.
There are a couple I dislike, though. Fridging is a major one – the act of giving the (usually) male protagonist a wife and/or family only to kill them early on to give the protagonist a reason to do what he does. This trope is even worst if it comes in a second or third book, and an established character is fridged for the sake of the protagonists arc. It can go in the bin!
Any advice for people who are considering becoming an author?
My advice for new authors is always get a good team of beta readers! And when I say team, it can be as little as two, but three or four are always welcome, and don't take the criticism to heart. You want to write the best book you can, and showing it to people at an early stage can help you achieve that. In the end, if you want to publish, you're going to show your work to people in the end, so, in my mind, you want multiple people to have read it before it's "finished" so it's the best it can possibly be.
Characters, motives, arcs and beats can be perfectly clear to the writer as we have the story in our heads, and the character's reasonings, too but they may leave a reader confused. If you have a few beta readers, you get a good sample size.
It's almost cliché that authors live on black coffee and hard liquor. What are you drinking right now?
I'm a red wine drinker when I do late night writing between Friday and Sunday, and cups of tea at other times. Though no alcohol when I'm self-editing something before it goes to a beta reader or publisher, because I need a clear head for that!
About the Author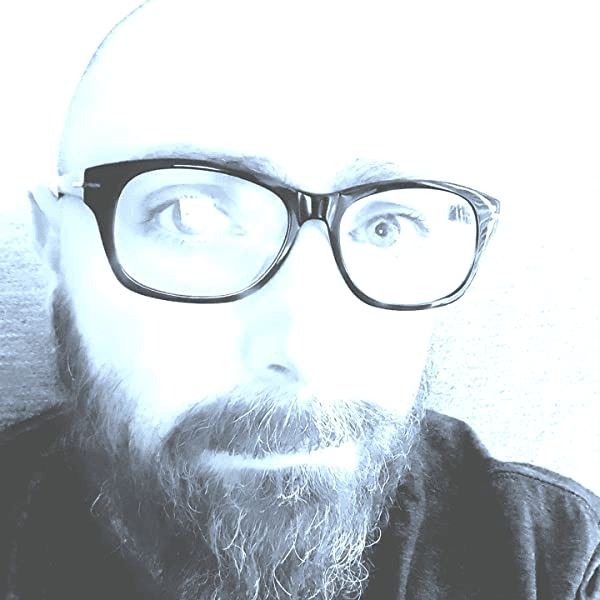 David Green is a neurodiverse internationally best-selling writer of the epic and the urban, the fantastical and the mysterious.
With his character-driven dark fantasy series Empire Of Ruin, or urban fantasy noir Hell In Haven starring Haven's only supernatural PI Nick Holleran, David takes readers on emotional, character-driven, action-packed thrill rides that leaves a reader needing their next fix.
Hailing from the north-west of England, David now lives in County Galway on the west coast of Ireland with his wife and train-obsessed son.
When not writing, David can be found wondering why he chooses to live in, and write about, places where it constantly rains.