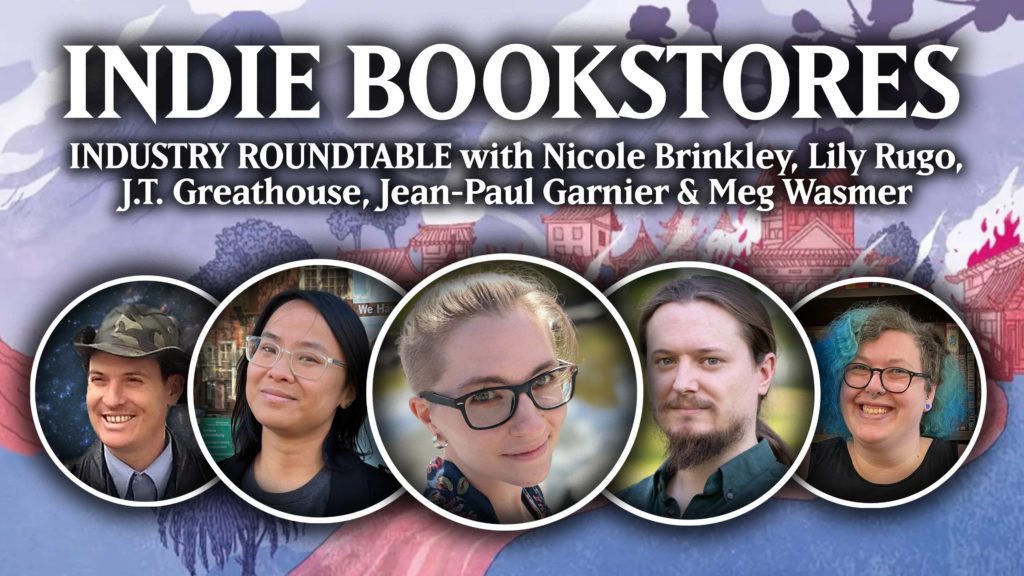 Join indie booksellers Nicole Brinkley, J.T. Greathouse, Lily Rugo, Jean-Paul Garnier and Meg Wasmer for another FanFiAddict roundtable! During the discussion, these five passionate booksellers delve into the ins and outs of Indie Bookstores, exploring the essentials of brick and mortar bookstores/bookselling, being part of a local book community, recommending the right books to customers, developing relationships with publishers/individual authors and more.
This is the fourth edition of our monthly ROUNDTABLE series, where we bring a handful of authors together to discuss a topic related to SF/F/H, writing craft, publishing and more.
---
ABOUT THE PANELISTS:
Nicole Brinkley is a writer, podcaster and bookseller at Oblong Books in Rhinebeck, NY. Find Nicole on ⁠Instagram⁠, ⁠her personal website⁠ or ⁠Oblong Books⁠.
J.T. Greathouse is the author of the Pact and Pattern fantasy series, as well as a bookseller at Auntie's Bookstore in Spokane, WA. Find J.T. on ⁠Twitter⁠, ⁠Amazon⁠, ⁠his personal website⁠ or ⁠Auntie's Bookstore⁠.
Lily Rugo is a bookseller at Harvard Book Store in Cambridge, MA, as well as podcaster and blogger. Find Lily on ⁠Twitter⁠, ⁠her personal website⁠ or ⁠Harvard Book Store⁠.
Jean-Paul Garnier is a science fiction author/poet, producer of the Simultaneous Times podcast and owner of Space Cowboy Bookstore in Joshua Tree, CA. Find Jean-Paul on ⁠Twitter⁠ or ⁠Space Cowboy Bookstore⁠.
Meg Wasmer is the co-owner of Copper Dog Books in Beverly, MA. Find Meg on ⁠Instagram⁠ or ⁠Copper Dog Books⁠.
---
The audio of this panel is available to stream and download on:
Anchor | Apple Podcasts | Spotify | Google Podcasts | Podcast Addict | Stitcher | Amazon Music | Overcast | RadioPublic | Pocket Casts | Breaker | Podbay
You can also watch the panel below via the FanFiAddict YouTube channel or stream the audio via Spotify.