Appreciate you coming to check out my little blog post about using NetGalley, as a book reviewer, to your advantage.
If you've never used NetGalley before, this is what the main page looks like. As you can tell, NetGalley has 5 different sites for the US, France, Germany, Japan and the UK.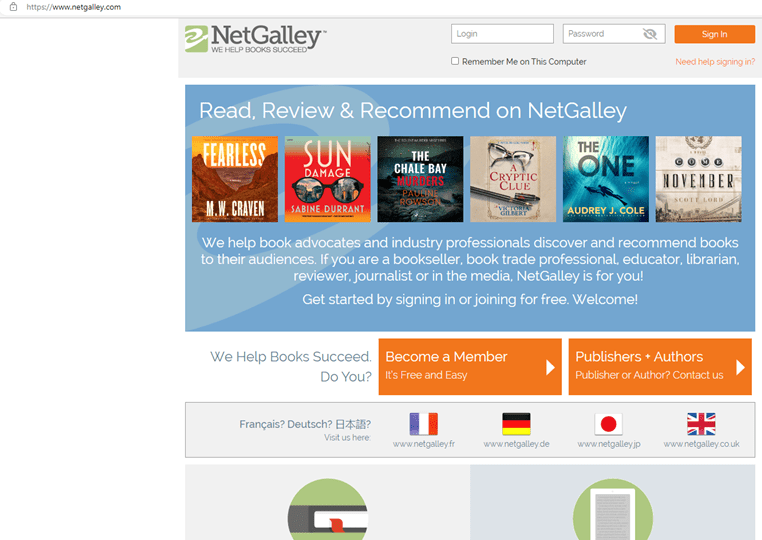 For this post, we will be using the US website.
For starters, you need to make an account – easy, right? Just click on 'Become a Member'. You'll register as a Member/Reader, creating your own login/PW/Member Type/etc.
After putting in all of this info, you will receive a "Thank you for registering with NetGalley' email which you will need to activate your account.
Once activated, you will be taken to this screen where you would choose your "profession", where you primarily review books, your primary focuses (genre), and what other things you might be interested in. My example is below: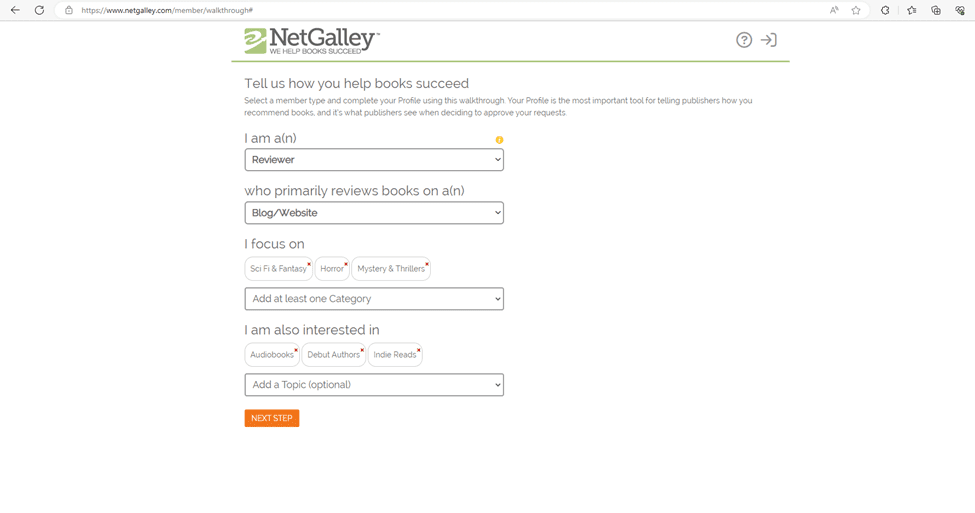 The next page, you can write a little professional Bio and then pick how you want your public profile to be viewed (this will show when you write reviews on NetGalley itself)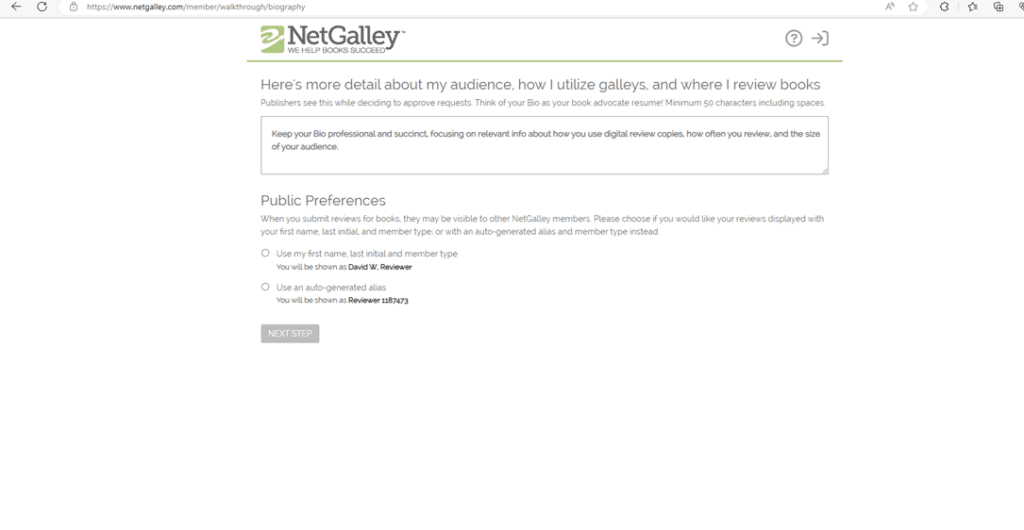 Next page, you can select any social links to connect to and select where your primary audience comes from. For my example, I chose Twitter.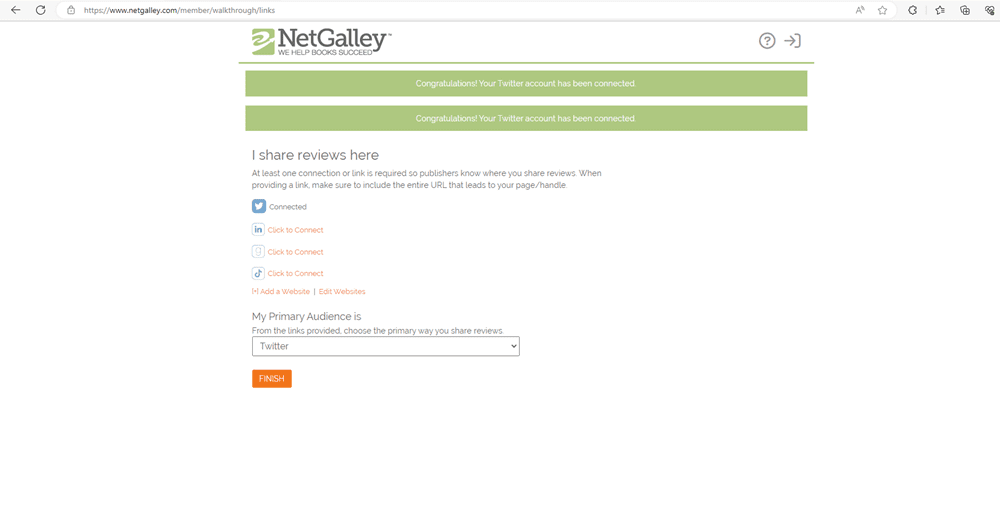 Click Finish and you are done creating your profile.
Now, you have a couple of options:
You can download the NetGalley Shelf App where you can Read and Listen on your phone. It is absolutely FREE and the only way to listen to advance listening copies from NetGalley.
If you are ONLY planning on requesting eBooks, I would suggest setting up the 'Send to Kindle' section on your account. That way, when you get approved for your requests, you will just hit the Send to Kindle button and it will populate quickly and easily on your Kindle device/Tablet/Phone app.
For this instance, let's set up 'Send to Kindle'. If you have never done this, you will need an Amazon account. Once you have that set up, you will go to your Account > Content & Devices > Devices tab > Kindle > Choose your device > look for the email and copy it.
You will then navigate to your NetGalley profile (go to NetGalley's main page, click your name after you have logged in at the top-right corner, and click on 'Devices'.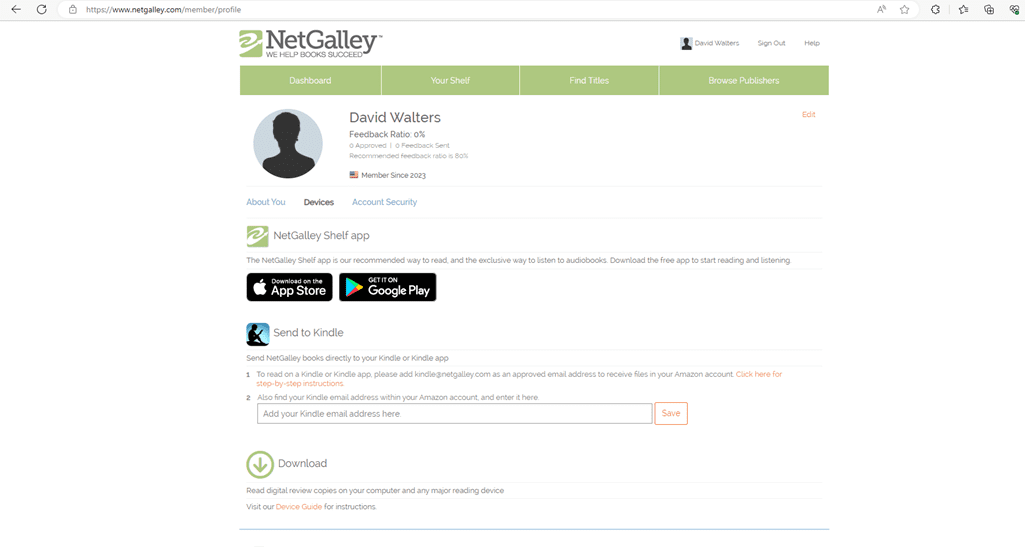 Paste your Send to Kindle email and click 'Save'.
Now, you are ready to browse the entirety of what NetGalley has to offer including recently added audiobooks, recently added titles, featured titles, and the most requested titles across NetGalley.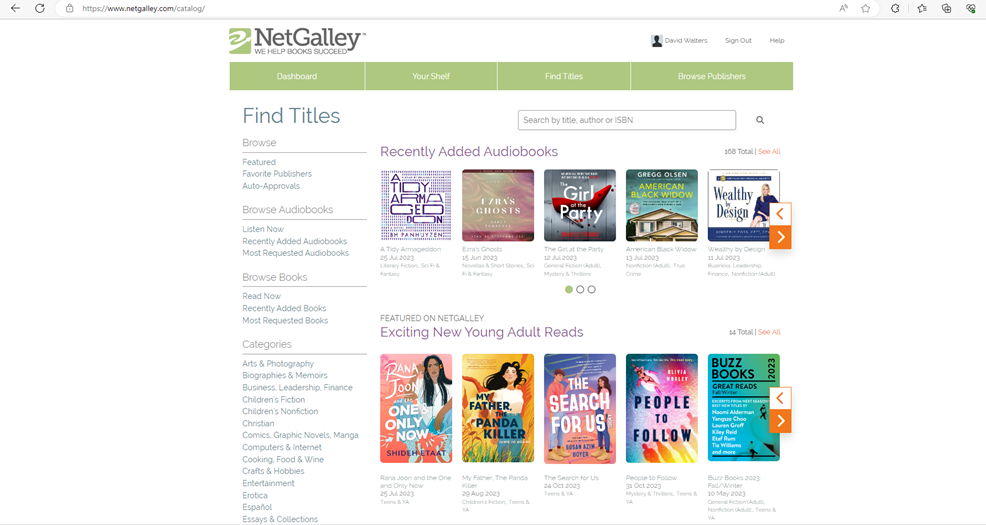 *If you aren't really familiar with who publishes what, it might be best to take notes as you request books. That way, as you read and review, you can begin favoriting those publishers and have an advantage when searching for new titles.*
Your best bet is to simply going into the "Recently Added Books' section and start combing through the library.
So, I want to request These Burning Stars by Bethany Jacobs. As you can see, the name of the book, the author, and the publisher are all promptly displayed at the top of the request.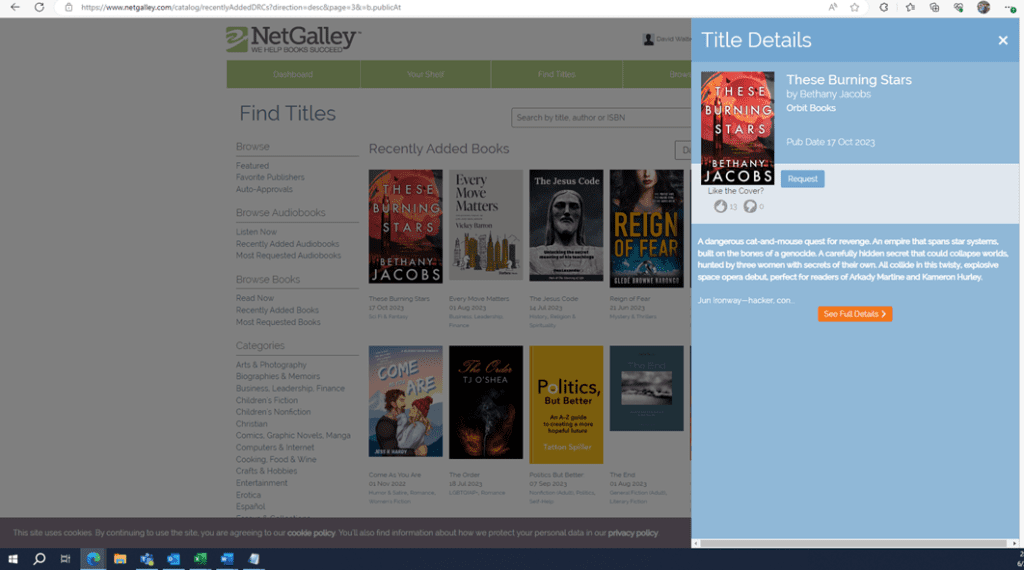 All you have to do is click 'Request'. Now, there are checkboxes that are optional to click under 'What appeals to you about this book?" which simply assist the publisher in this instance. You can also give a thumbs up or down for the cover art if you so choose to do so.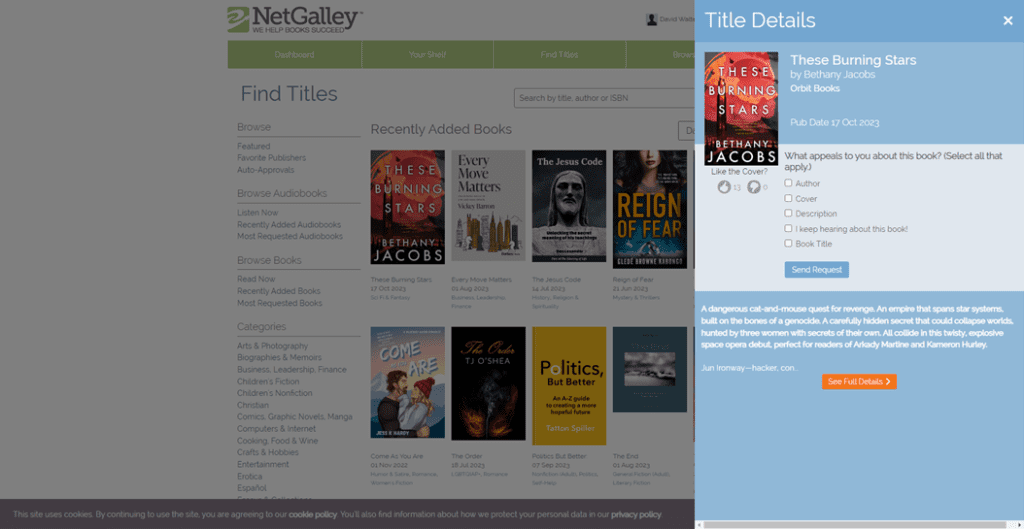 Now, if you aren't chomping at the bit to request a title that quickly, you can hit 'See Full Details' which will bring you to the title's main page where you can read the full synopsis and see reviews from other users (if available).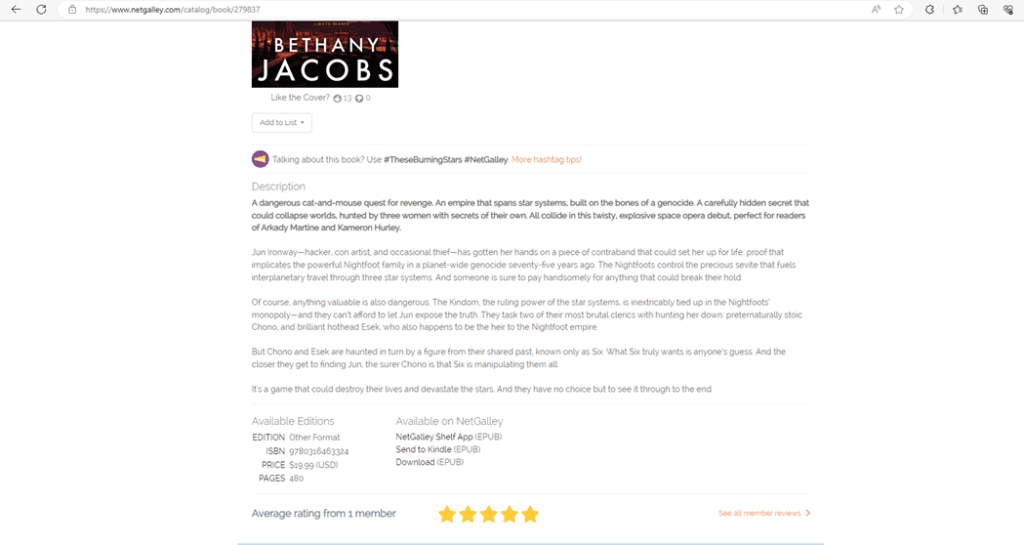 Once you decide on a title, your request will be put in 'Pending' status until the publisher either Approves or Denies your request.
When approved, you can move to the 'Your Shelf' section on the NetGalley homepage to find your title. You can download it to your NetGalley app, using Send to Kindle, or directly to your computer in ACSM format (not recommended).
Make sure you keep an eye on the 'Archive Date' as you will no longer be able to download the title past its archive date. Also of note: these titles are yours once you download them. They don't disappear once you hit 100%. You can reread as many times as you want. Think of them as Kindle eBooks you didn't have to pay for that also happen to have typos 😀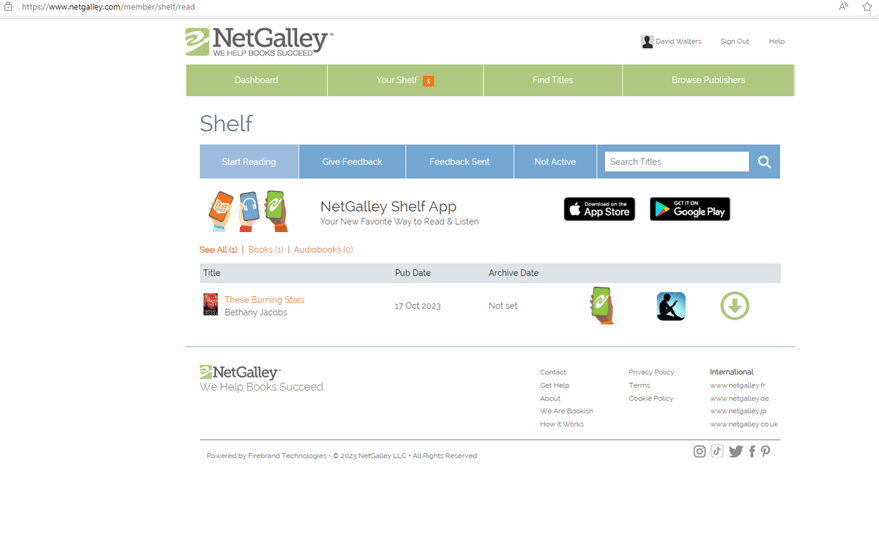 *You'll notice there is an orange notification on 'Your Shelf' whenever there is an approved title on your shelf that you have NOT sent to at least one of these.*
Now, all you have to do is read the book, right?
Well, yes and no.
The next tab over is your right to give feedback, good or bad, on the novel(s) you choose.
Click on the 'Give Feedback' button as shown above and the below screen will come up.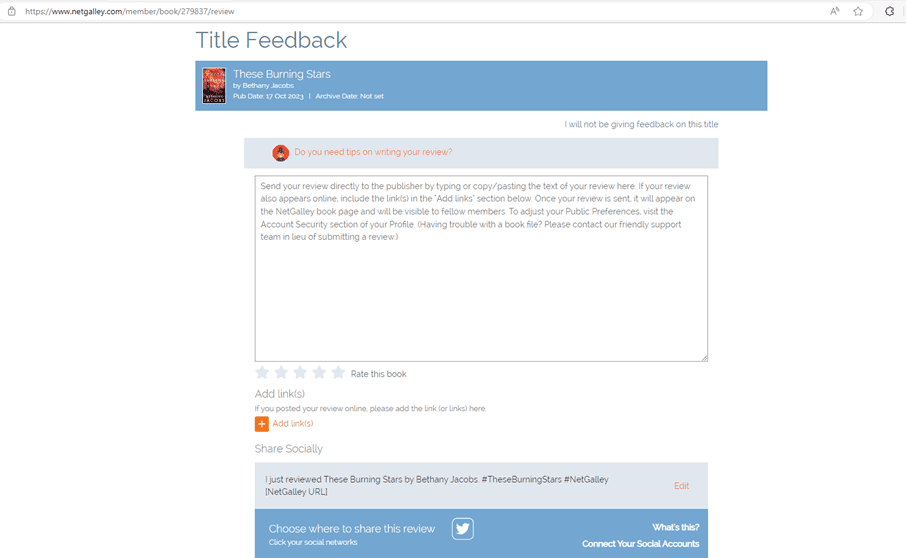 Write your review/thoughts here – few sentences, a paragraph, a novella. Whatever you want – just as long as it is at LEAST 100 characters long. You can also add links where you posted the review online, share that you reviewed via social media.
Another thing you can do on this screen is click on the hyperlink 'I will not be giving feedback on this title' – See below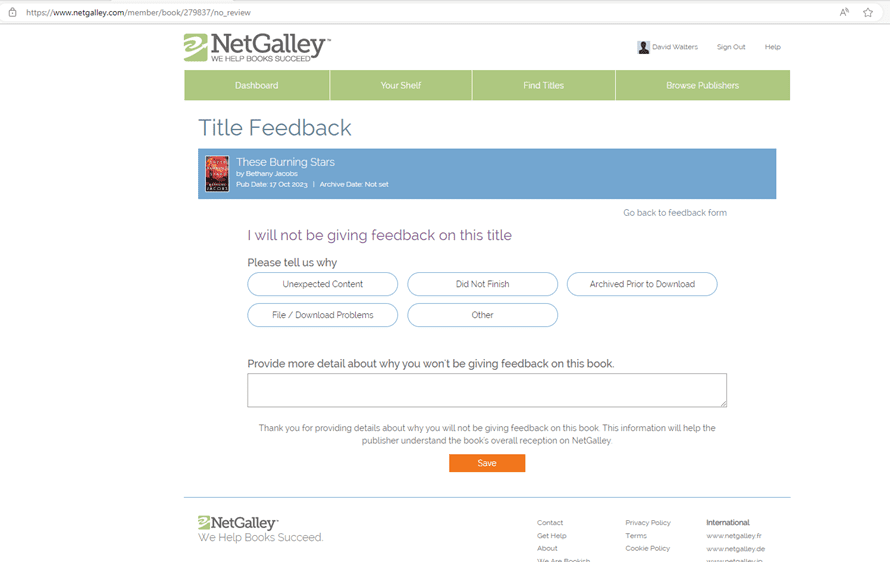 Plenty of items to choose from on this screen, including the ability to provide more details as to why the book didn't work for you or why you won't be giving any feedback.
Why do I bother telling you EVERY SINGLE STEP?
Because no one told me. I made an account and set out to request EVERY. SINGLE. NOVEL. I. WAS. INTERESTED. IN. and my feedback ratio was torched from the very beginning.
Feedback ratio (you can check yours by going to your account (name in the top right hand corner) and looking under your name in the profile page – see below.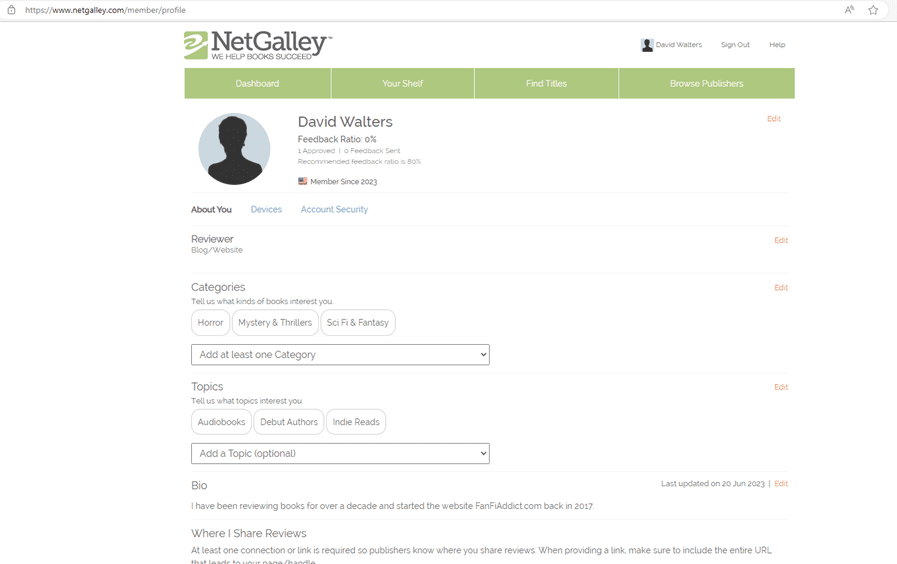 Feedback ratio, while not the MOST important thing on this website, does go a long way in helping you get request approvals from publishers. NetGalley states the recommended feedback ratio is 80%, which looking back at my ratio, is unachievable lol – Let's be frank. But if you try hard to keep your index finger from clicking requests 100x when you first make an account, you can definitely do it.
With the addition of the 'I will not be providing feedback' section, this is an option for titles you've been approved for but don't plan on reading or reviewing for whatever reason. THING IS, this will be a detriment to your ratio so BE CAREFUL when you request titles.
Now, having said all that, if you are getting nowhere with publishers, there is always the 'Read Now' section which will auto-approve your request. It can be found on the left-hand side of your 'Find Titles' section. All you have to do is click Request and you receive an auto-approval on the spot.
OK, Dave. This all sounds great. What can I do to help improve my chances of being approved by trad publishers?
Great question, and thanks for asking.
So, unlike Edelweiss (stay tuned for my next post), you can't give feedback for books you haven't been approved for nor can you give feedback for books that are already archived (BUMMER, I KNOW).
Your best bet is to do the following:
Keep your profile up to date. Bio, social links, follower count, website(s)
Write reviews/fill out the 'i will not give feedback' section for everything you request, even if you only write the length of a Tweet. IT COUNTS.
Tag publishers and authors on social media on POSITIVE reviews. Let me reiterate: POSITIVE REVIEWS. TBH, 4* and higher. I don't care if Mary Sue went on TikTok complaining about 4* reviews. They are positive to publishers, they are positive to authors, and they are positive to other reviewers/general public. *This can be for NetGalley titles or simply ones on your TBR*
While I don't recommend doing it for every single title, it also doesn't hurt to reach out to publishers via email. Requesting physical ARCs is one thing, but you might find that requesting NetGalley widgets easy as pie – this is also a way to get your name out there.
Use the 'Browse Publishers' section to your advantage. That way you stay up to date on the most recent additions by all of your favorite publishers.
When you click on a publisher, you can see what titles they have available, check their Approval Preferences, and also Add them as a favorite.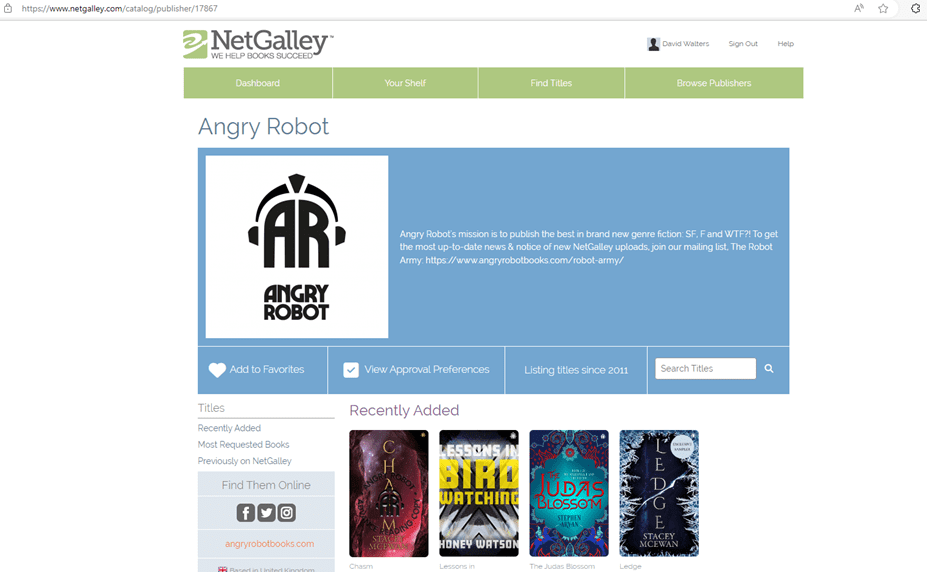 Once you add them as a favorite, you can navigate to your Favorite Publishers via the Home Page > Browse > Favorite Publishers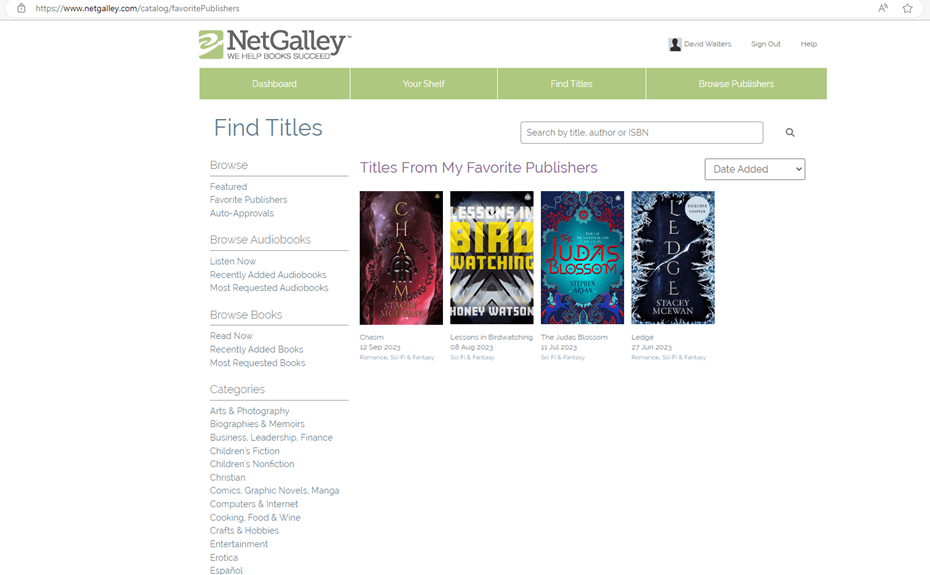 I hope this post has been informative. I am always up to discuss NetGalley anytime. Feel free to leave a comment here or DM me on Twitter @LordTBR_FFA