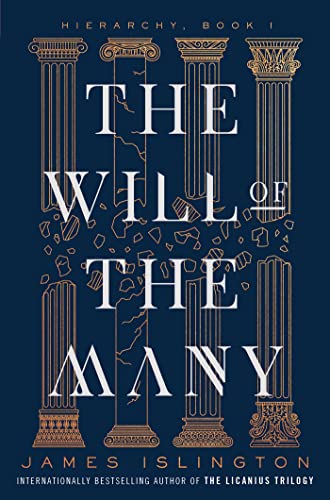 Rating: 10/10
Synopsis
At the elite Catenan Academy, a young fugitive uncovers layered mysteries and world-changing secrets in this new fantasy series by internationally bestselling author of The Licanius Trilogy, James Islington.

AUDI. VIDE. TACE.

The Catenan Republic—the Hierarchy—may rule the world now, but they do not know everything.

I tell them my name is Vis Telimus. I tell them I was orphaned after a tragic accident three years ago, and that good fortune alone has led to my acceptance into their most prestigious school. I tell them that once I graduate, I will gladly join the rest of civilised society in allowing my strength, my drive and my focus—what they call Will—to be leeched away and added to the power of those above me, as millions already do. As all must eventually do.

I tell them that I belong, and they believe me.

But the truth is that I have been sent to the Academy to find answers. To solve a murder. To search for an ancient weapon. To uncover secrets that may tear the Republic apart.

And that I will never, ever cede my Will to the empire that executed my family.

To survive, though, I will still have to rise through the Academy's ranks. I will have to smile, and make friends, and pretend to be one of them and win. Because if I cannot, then those who want to control me, who know my real name, will no longer have any use for me.

And if the Hierarchy finds out who I truly am, they will kill me.
Review
10/10. Recency bias? No, just an instant classic. Immediately one of my favorite books I have ever read.
Wow. Wow. Wow….. I am still gathering myself here after just finishing "The Will of the Many" by James Islington. Book 1 in a new series, "Hierarchy". This book has it all. It completely engulfed me in its world. The characters feel so real like I personally know them. The story is emotional, riveting and contemplative. The pacing is great, every chapter felt like it ended on a cliffhanger. There are constant twists and turns (those last two chapters in the epilogue…speechless!). There is friendship, betrayal, magic, politics, greed, philosophy, reflecting and embracing your past/roots, retribution, love, fortitude, family, trust, and mystery to just name a few. The main character has such an emotional journey throughout this 600+ page book, it really resonated with me.
The crazy thing is that this is just the beginning. It is a meticulously plotted and layered story. As you peel back more and more of the layers the brain just explodes even more. Some questions are answered but greater questions arise. It is like a snowball rolling down a mountain side. What is actually happening? What is the truth? Who is trustworthy? I can go on for days and will be thinking about this for a long time. I need "The Strength of the Few" ASAP. Do yourself a favor and read "The Will of the Many". Jump along for the ride of the "Hierarchy" series. I suspect it has a chance to be an all-time great.