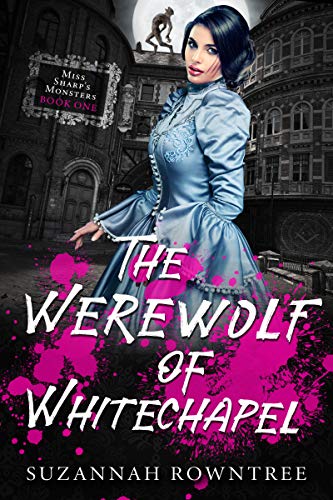 Rating: 9.0/10
Synopsis
Murder, monsters…and a disreputable lady's-maid on a mission.

A killer prowls the grimy streets of Whitechapel. Scotland Yard seems determined to turn a blind eye. But with one look at her best friend's corpse, Liz Sharp knows the truth: the killer is a werewolf, one of the monsters that rules Europe.

If she doesn't hold the monster accountable, no one else will. But Liz is a werewolf victim herself, her scars condemning her as the sort of female who'd sell her blood for easy money. Even if she finds out who's responsible for Sal's death, who would believe her?

Probably not the emotionally repressed princess whom Liz serves as a lady's-maid/bodyguard. And definitely not the irritatingly personable policeman dogging her steps from the slums of Whitechapel to the palaces of St James.

As corpses mount up, Liz discovers that no one is precisely who she thought: not Sal, not herself, and certainly not the werewolf. The one thing she knows for sure? The truth will cost her everything. And Liz is hardly in a position to pay.

Luckily she has a few tricks hidden in the pockets of her trusty bloomers…
Review
The Werewolf of Whitechapel, Book 1 of the Miss Sharp's Monsters series by Suzannah Rowntree, is a gaslamp fantasy set in 1890s Victorian Britain with strong tones of mystery and horror, and it has three things in its favour.
The first is that it has a banger of an idea – what if all the royals who ruled Europe were literally monsters? The second is that, in the protagonist of Miss Sharp, we have an astonishingly good character, a blend of a female Van Helsing with a revolver-packing Jane Eyre. And the third is that it's just incredibly well-written, with dialogue so satisfying you'd order it twice in the world's most expensive restaurant.
Plot-wise, when we meet the aforementioned Miss Sharp, she is in a London-based school for women who have been attacked by the various royalty – vampires, werewolves and sirens – who have a habit of feeding on the poor. Although these women don't become monsters themselves, they do get a little of their strength, and so they are trained to be maids-cum-bodyguards to (ironically) royalty themselves. What are they guarding them against? Not the monsters because, you know, they are the monsters (although British royalty are the only country's monarchy who aren't) but rather the working class anarchists who have correctly spotted how messed up this world is.
Miss Sharp herself, who has prominent scars on her face from a werewolf attack which, like her mysterious past, she has no memory of, is soon assigned to a princess betrothed to the son of the Prince of Wales – i.e. in line to be the future king of England. This becomes a lot more complicated when someone Sharp cares deeply for is killed – seemingly by werewolf – and she is compelled to solve the mystery, uncovering a conspiracy that might well see her on the sharp end of werewolf claws again.
Now I am a man who loves werewolves and vampires, a little too much some might say, and so it says a lot for the writing here that my main takeaway from this book was not the monster worldbuilding element (though that is great too) but this most impressive of characters. This is written in the first person, Sharp relating a tale from her past – and what a pleasure it is to be in her company. She is fearless, though not completely unstoppable so we still fear for her; she is witty; she does not suffer fools; she gets into trouble reprimanding those of a higher class then her; she is eloquent; and she is a complete badass, single-handedly taking on raging, drooling werewolves
It is her dialogue exchanges that really won me over and are at times applause-worthy. For example, when she meets an Inspector from Scotland Yard who is investigating the same crime (who readers will not be surprised to hear she soon takes a liking to), we get a wonderful barrage of barbs that makes it clear she can hold her own against the might of Scotland Yard:
Wickedly, I repeated his own words from earlier that afternoon. "Sorry Inspector, but I'm not at liberty to say any more."
He laughed softly and replaced his bowler hat on his head. "Obstruction of justice is a crime, Miss Sharp."
"Then perhaps I ought to make a citizen's arrest, Mr Short. I am getting on nicely with the case, but there's a vexatious policeman who keeps hiding important pieces of evidence and frightening my witnesses."
It would be enough to simply be in her company, but Rowntree has created a fascinating world here. The real historical events of Europe – the late nineteenth-century power struggle between England Germany and Russia, which will soon of course explode into the First World War, is put against the idea of the Germans being werewolves, the Russians being vampires, and the Scandinavians being sirens, who intriguingly steal your actual life years through a kiss, making you literally old before your time.
There's also the scenes where Sharp has to navigate her life as maid/bodyguard to a princess. Amid all the monster stuff, these scenes add a new layer to the book, as Sharp navigates their growing friendship but also the reality that she can never trust the princess – she is still a servant, after all. This is a complicated, beautifully written dynamic that doesn't skimp on the flaws of the aristocracy – May is frustratingly resistant to seeing the truth until it's too late, and never forgets that Sharp is just a servant – but ultimately Rowntree creates a complex, satisfying portrayal of a good women enslaved to a ridiculous and heartless system of aristocracy, arranged marriages and royalty. It's a side-plot of a book that doesn't need to be there but its presence signals the confidence of the writer.
But if all this is making you think, yes but what about the MONSTER FIGHTS, then don't worry, I have you covered, because just when you think the whole book might be satisfying conversations and princesses in dining rooms, we get a series of absolutely fantastic werewolf chases that show that Rowntree is as adept at action as she is as dialogue and character. Take this for example:
A sound struck upon my ear and I threw myself aside, flattening myself against the uneven brick of the wall. The creature hurtled past me, landing on the stairs. Perhaps it was madness, but I threw myself after it, landing on its shoulders and locking myself around its waist. I pressed the muzzle of the revolver around the base of the creature's neck, but before I could pull the trigger it whipped around, lashing out with its claws to destroy the upstart clinging to its back.
If you're blood isn't up at that, then you need to go howl at the moon some more.
All the elements I've described above come together in the final third to produce a thrilling denouement at Balmoral – the Scottish castle used as a home by the British monarchs – that is part Hounds of the Baskervilles horror, part Sherlock mystery, part Van Helsing badassery, and part character study in royalty and how you manage them. It's a fantastic way to wrap up the book.
Overall, I was not prepared for how good this book was. Which is more fool me – Rowntree was a finalist for the sixth edition of premier indie fantasy competition SPFBO, and this book itself is currently in the running for the ninth version of the competition. On this basis, it has to be a strong contender. With the world of Miss Sharp's, we have a fantasy universe to get lost in, and in Miss Sharp herself we frankly have one of the most memorable fantasy protagonists I have ever seen. I intend to feast myself on the rest of this series like a crazed wolf who's missed his breakfast.